If you enjoy trying new gluten-free yeast bread recipes, here's a recipe I've had on repeat for the past few months! It's a good gluten-free bread recipe, and also easy. Or relatively so. This recipe starts with Measure for Measure, King Arthur's versatile xanthan-gum-added flour blend. The sorghum in the flour blend along with the touch of honey and olive oil give the bread a flavor that's almost like a light wheat. I mostly use it for toast, but it's firm enough to hold up to sandwiches.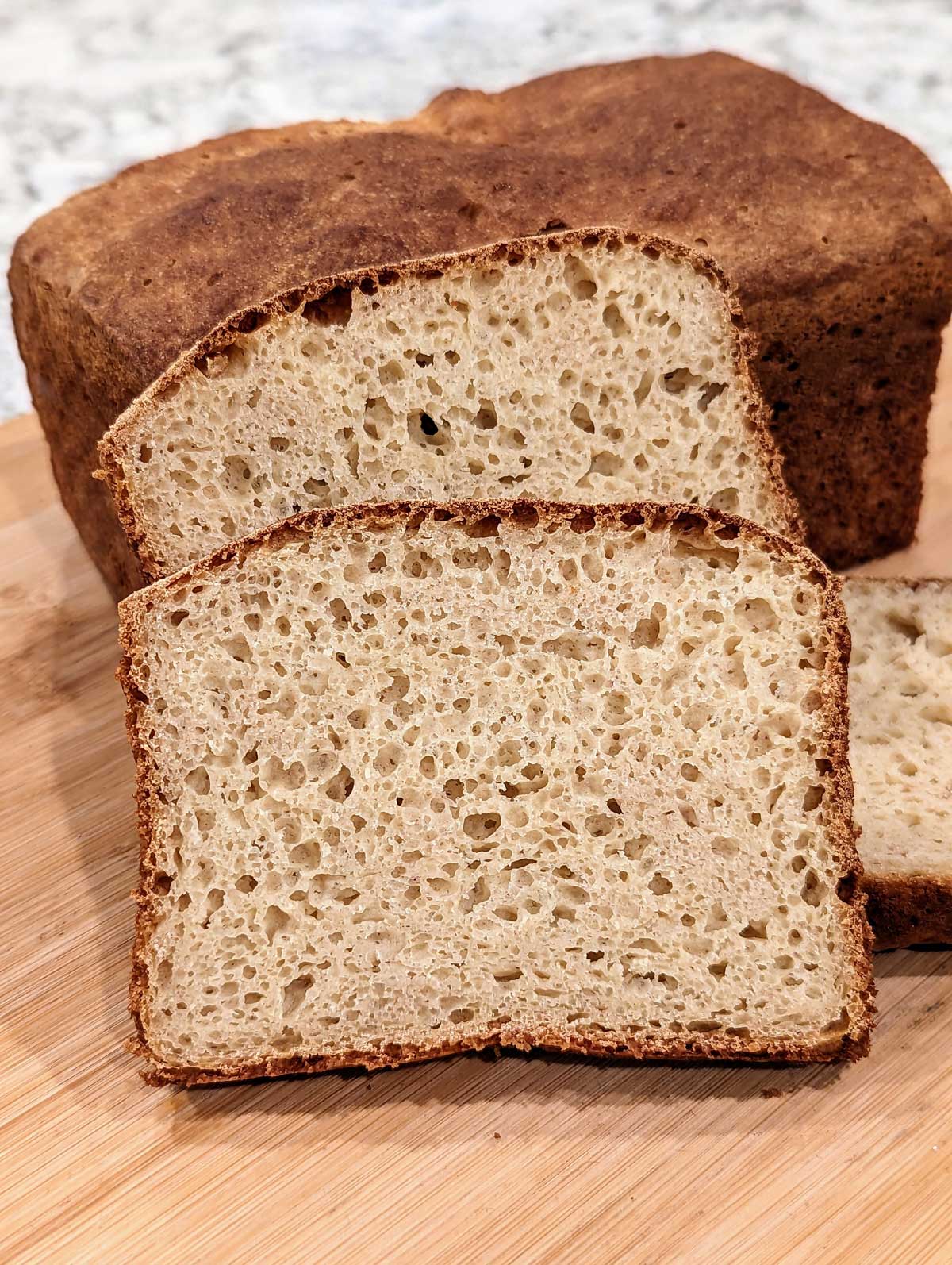 King Arthur Measure for Measure
I often make this bread using my own blend of different flours, but using Measure for Measure makes the process so much quicker. A trick to making it work like bread flour is adding cornstarch, dry milk powder and psyllium husk powder. This actually produces a very good gluten-free bread! King Arthur does have a fairly new gluten-free flour designed especially for bread making, but I prefer using Measure for Measure since it is so versatile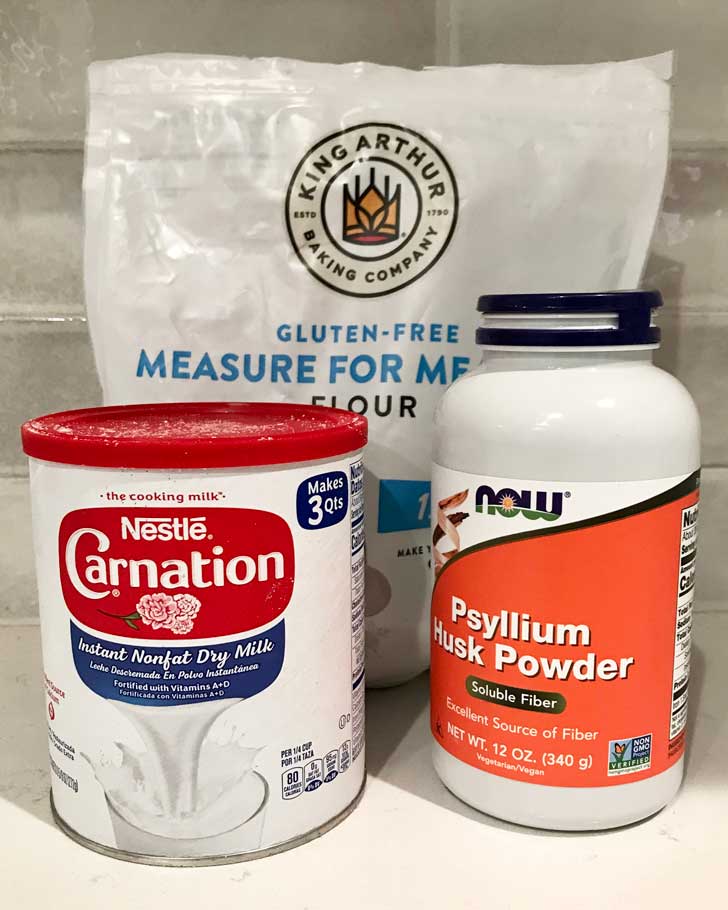 Cornstarch
So why add the cornstarch? Measure for Measure already has some denser flours in it like sorghum and rice. Cornstarch lightens the blend a bit, and since it's pretty much a staple it's an easy and relatively inexpensive addition. Adding it also makes the Measure for Measure last longer.
Psyllium Powder
Psyllium husk is a gluten-free yeast bread hero. The two main types used in gluten-free baking are psyllium husk powder and whole psyllium husks. Psyllium husk powder is finely ground, while the whole husks are larger, fluffier and lighter in weight spoon for spoon. The two can be used interchangeably if you use the same weights, but powder should give you a finer crumb. For this bread I use psyllium husk powder, specifically Now brand, which will not turn your bread purple like some. It comes in a bag like the one I linked to or in a bottle like in the photo.
Milk Powder
Milk powder is another key ingredient in this this gluten-free bread. Milk powder's dairy helps keep the bread soft, and its protein helps with structure. So if you are okay with dairy, it's always worth having dry milk powder around for bread making. Plus it comes in handy when you need a little bit of milk for any recipe.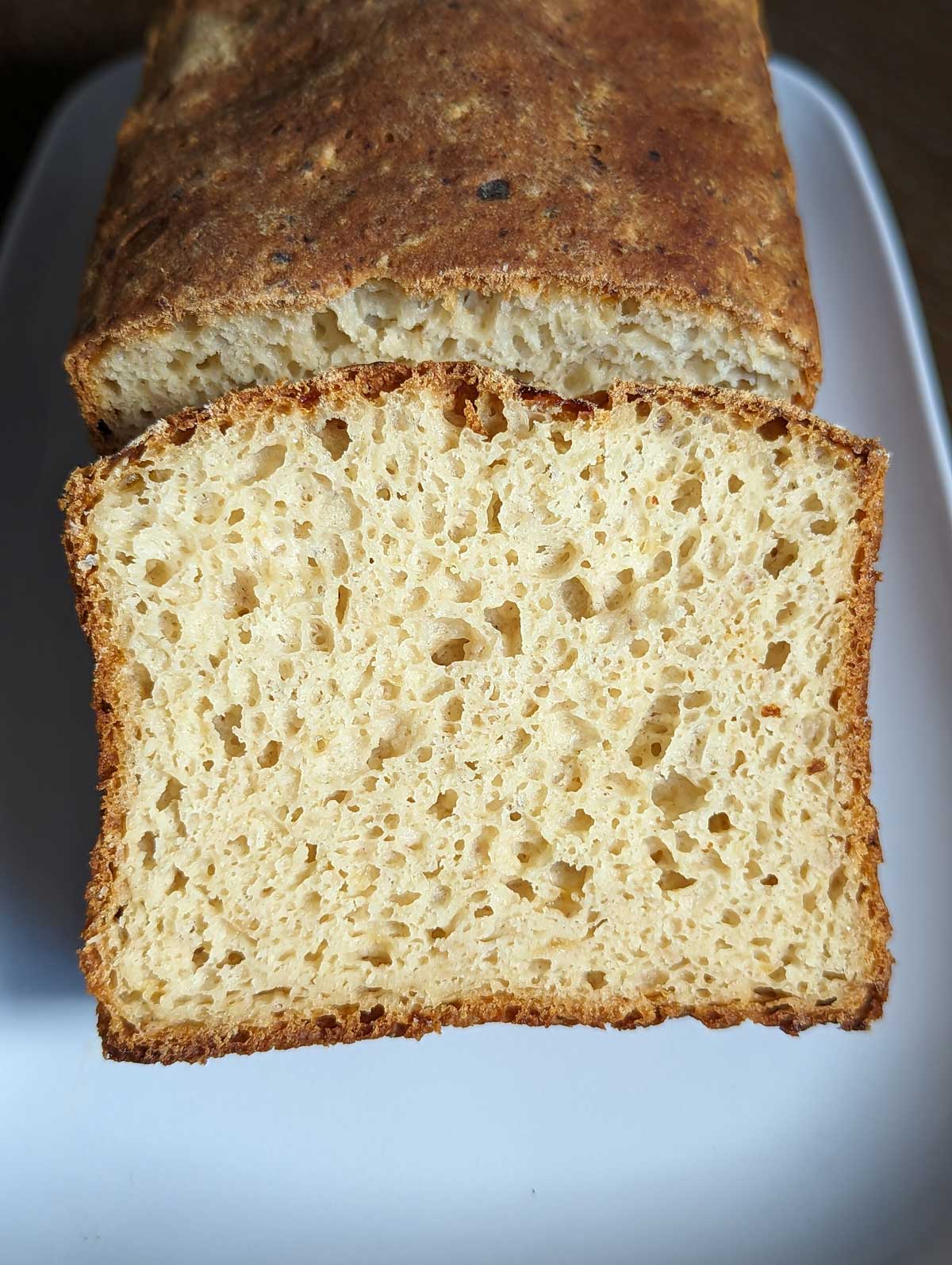 Other Ingredients in the Loaf
All of the other ingredients are basics that you'll find in most gluten-free sandwich bread recipes. Baking powder is used in addition to the yeast to assist the rise. Sugar adds a little sweetness, while honey adds more flavor and helps keep the bread bend-y. Eggs add structural support, moisture and flavor, while oil helps keep the bread from being too crumbly and dry. I haven't tested with butter, but I have tested with buttery flavored olive oil which works well.
Baking Good Gluten-Free Bread Out of the Pan
If your are new to baking gluten-free bread, you'll quickly get used to the fact there's no kneading involved and that the dough is more like a batter. I'm always so happy when the batter actually rises, and even happier when the risen baked bread doesn't collapse. So far, this loaf seems to hold up well even though it starts out very loose.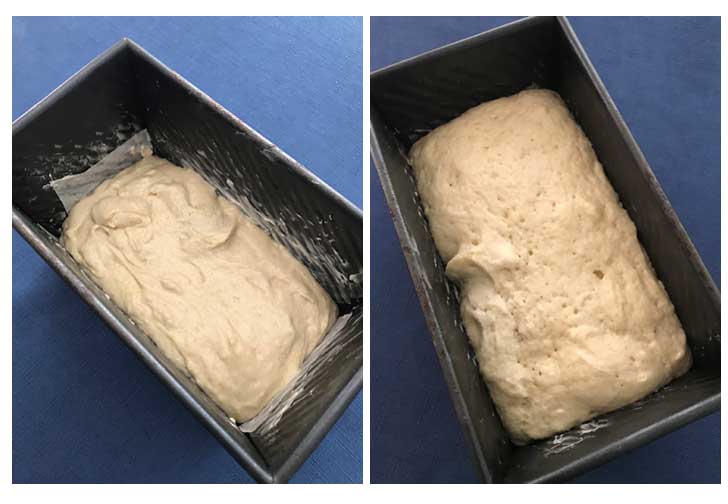 Drying the Crumb
Sometimes gluten-free bread can be gummy. I haven't had that issue here, but just to get the crumb a little dryer and more like traditional wheat bread, I bake this bread at a lower temperature (350F) so that moisture has more time to slowly evaporate. In addition to the 45 minute bake in the loaf pan, I do an additional 15 to 20 minute bake outside the pan, directly on the rack or just sitting on a sheet pan. The second bake hardens the crust, which may seem like a problem at first, but you can cut right through it with a serrated knife and it leaves you with chewy-crusted slices.
Gluten-Free Sandwich Bread Loaf Size
The size of your loaf pan affects the shape of the bread. Sounds obvious, but it's easy to forget or to just think you can scale up or down etc. etc. For best results, it's best to stick with the size given in the recipe. For this recipe I always use a 1 pound high sided Pullman without the lid. The high sides help support the dough as it rises. An 8 ½ by 4 ½ inch pan can work too, but the sides might cave in a bit more. A Pullman is the way to go, and If you are new to bread baking or if you love baking bread and want to make multiple small loaves to give away, you could even try a ½ pound cube shaped Pullman! These smaller size loaves are even better for gluten-free bread.
Storing The Bread
In my opinion, the best way to store gluten-free bread is to slice it, wrap pairs of slices in plastic wrap, then freeze in a heavy duty freezer bag. It's also a little easier to slice when cold, so you may want to chill it briefly before slicing. With this bread that's not a huge issue because the crust is so strong it won't collapse as you slice it.
Notes and Variations
I absolutely love experimenting with gluten-free bread recipes, so I'll post any updates and variations here. The version below is fairly straightforward and should work if you use the correct size loaf pan. My gluten-free loaves seem to work better as slightly smaller loaves so I haven't attempted to double this. It's a pretty strong loaf, though. I think making it 1 ½ times the size would probably be okay, and it would probably fill the whole Pullman.
Recipe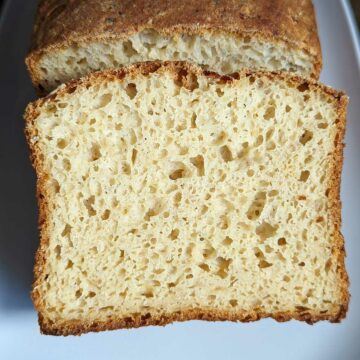 Good Gluten-Free Bread
Soft and bendable! I've only tested this recipe with Measure for Measure brand gluten-free blend and a homemade blend. Please use the weights. The volume measurements are all approximate.
Ingredients 
45

grams

dry milk powder (½ scant cup)

45

grams

cornstarch (5 ½ tablespoons)

10

grams

psyllium husk powder (1 tablespoon)

¾

teaspoon

salt

1

teaspoon

baking powder

2

teaspoons

instant yeast I use SAF (see note for active dry)

1 ½

tablespoon

sugar

(20 grams)

1

cup

very water, warm (120 degrees F)

2

large

room temperature eggs

(95 grams)

1 ½

tablespoons

honey

(30 grams)

2

tablespoons

olive oil or any neutral oil
Instructions 
In the bowl of a stand mixer, combine the Measure for Measure, milk powder, cornstarch, psyllium powder, salt, baking powder, yeast and sugar.

Pour in warm water and begin mixing with the paddle. Add eggs, honey and oil and beat until blended. Scrape side of the bowl and beat with the paddle on medium speed for a full minute. The batter should smooth out somewhat, but will still be slightly coarse and tan colored from the Measure for Measure & psyllum.

Scrape batter into a 1 pound size (8x4x4) Pullman pan or high sided (deep) loaf pan. Cover with a piece of greased plastic wrap and allow it to rise in a warm place for 40- 45 minutes. Meanwhile, preheat the oven to 350 degrees f.

Set the loaf pan on a rimmed baking sheet (especially if your Pullman has little holes in the bottom) and bake at 350 for 45 minutes. Carefully, using oven mitts, remove bread from the loaf pan. Set it directly on the baking sheet and continue baking for another 20 minutes. This helps dry out the inside somewhat and creates a very brown, chewy crust. It might seem overdone, but it will soften somewhat after cooling.

Allow the bread to cool for at least 1 hour, but the longer the better. This is important! Don't try to cut it while it's warm or it will fall apart. Using a serrated knife, cut into thin slices.
Notes
You can  also make the bread with active dry yeast rather than the quick rising instant. To use active dry, heat the water to only about 110-115 and add a full envelope or 2 ¼ teaspoons active dry yeast to the water to proof. Once bubbly, add it to the dry mixure.