I recently bought some tapioca flour, also known as tapioca starch, to use in the Jeni's ice cream base I've been experimenting with. I don't think my ice cream making adventures will keep up with the amount of tapioca, so I baked a batch of Tapioca Flour Brownies just to see how tapioca flour would work in brownies. Success! And as a bonus, they are gluten-free!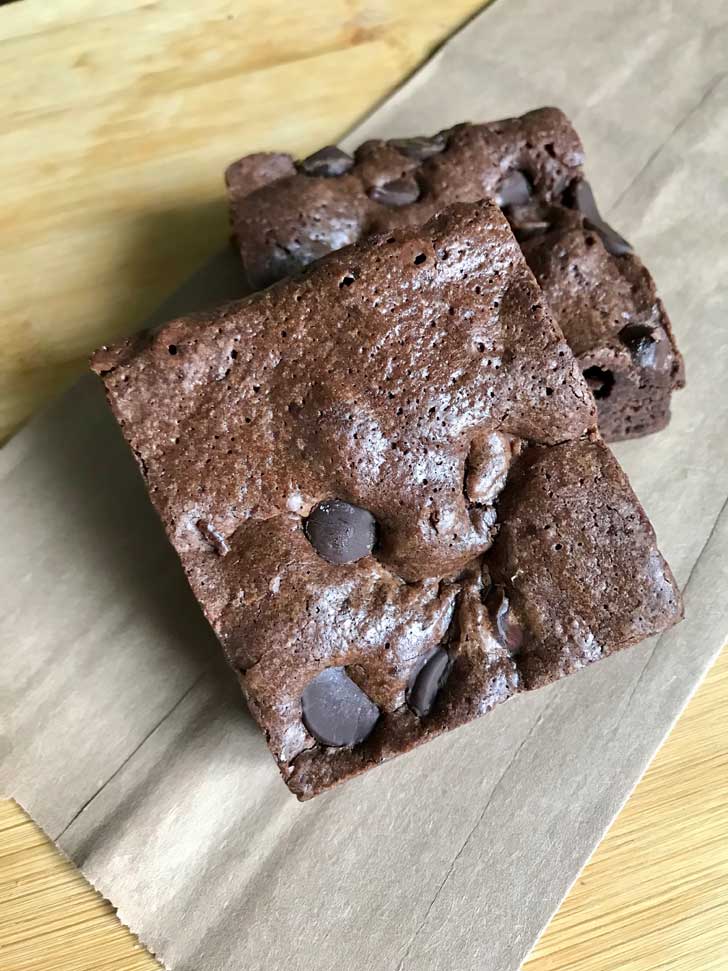 Tapioca Flour Brownies Made With Chocolate Chips
This recipe is a spin-off of another gluten-free brownie recipe called Gluten-Free Coconut Sugar Brownies, but Tapioca Flour Brownies are not quite the same. As mentioned, tapioca flour stands in for the gluten-free blend, and instead of coconut sugar, I used a mixture of granulated and brown. Also, seeing as how May 15 is (was!) National Chocolate Chip Day, I used a cup of Costco's Kirkland brand chocolate chips. The Kirkland chips are a little sweeter than my favorite Ghirardelli Bittersweet chips. They have a good flavor and melt well. Plus they are a bargain if you tend to use a lot of chocolate chips.
Taste and Texture
The brownies are dense and fudgy, but not overly so. They are chewy and maybe a tiny, tiny, bit grittier than AP flour brownies, but still very good. I've seen similar recipes for a Paleo version, so if you are into that you can easily convert to coconut sugar, coconut oil or ghee.
Recipe
Tapioca Flour Brownies
Gluten free fudge brownies made with tapioca flour.
Ingredients 
½

cup

butter, unsalted

(114 grams)

1

cup

dark or semisweet chocolate chips

(170 grams)

¼

cup

unsweetened cocoa powder, natural or Dutch okay

(20 grams)

3

large

eggs

⅔

cup

sugar (can use granulated or half granulated and half brown)

1

tsp

vanilla extract

¼

teaspoon

salt

½

cup

tapioca flour
Instructions 
Preheat oven to 350 degrees F. Grease an 8 inch metal pan and line with foil. Grease bottom oil with extra butter or spray with cooking spray.

Begin melting the butter in a small saucepan over medium heat. When it is about halfway melted, reduce heat to low and add the chocolate chips. Melt the chips, then stir in the cocoa powder and ⅓ cup of the sugar (the brown, if using two kinds). Remove from heat and stir until smooth.

In a mixing bowl, using a handheld electric mixer, beat together the eggs, the other ⅓ cup of sugar, salt and vanilla.

Stir the melted chocolate mixture into the egg mixture, then stir in the tapioca flour.

Spread batter in pan and bake for 25-27 minutes or until top appears set.

Let cool at room temperature for several hours or let cool slightly at room temperature and finish cooling in the refrigerator.

Lift from pan and cut into squares.