If you'd like to incorporate some interesting new flours into your baking, especially non-wheat flours, a good one to start with is sorghum. It's definitely one of my favorites, but now I have a new one to add to the list -- millet flour. I just made a batch of Millet Peanut Butter Chocolate Chip Cookies, and they are so good! They are beautiful, chewy peanut butter cookies with lots of cracks and crevices. The main flavor in the cookies is peanut butter rather than millet, but the millet flour gives them a crackly appearance and lets you skip the wheat.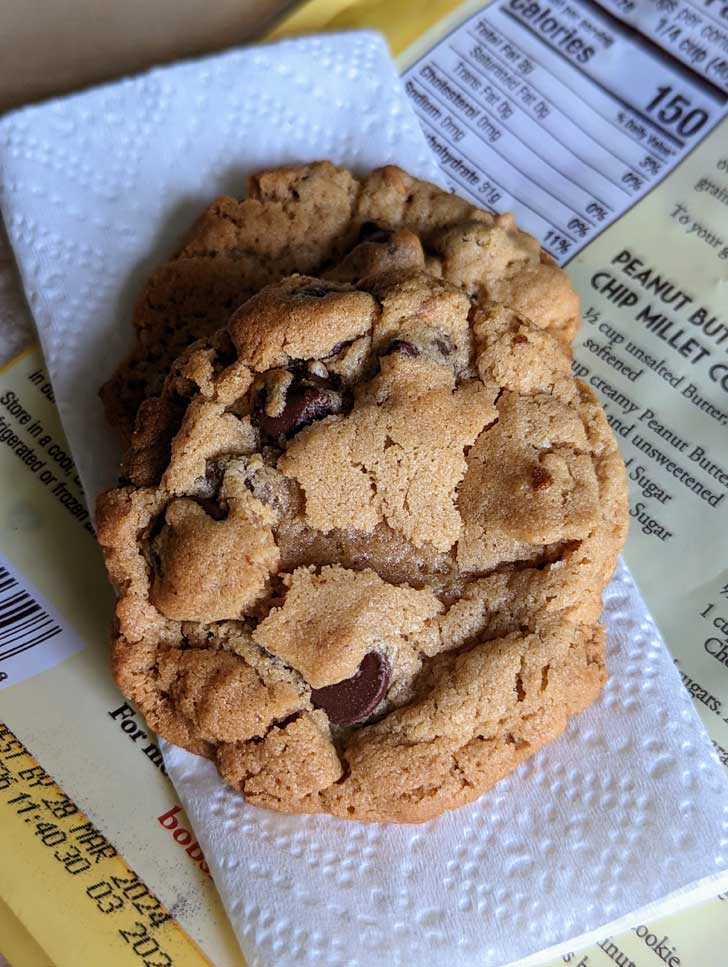 Baking With Millet
Millet, which you may associate with birdseed, is a seed that acts like a grain. It's considered easily digestible, so it's become popular in gluten-free baking. And thanks to that popularity, it is more readily available. I've seen it at Wegmans and Whole Foods, and there are lots of different brands you can order. Just be careful ordering on-line and don't accidentally order millet rather than millet flour like I did. Whoops. Luckily it was easy to grind into flour (unlike Teff, which I also accidentally ordered in its whole form).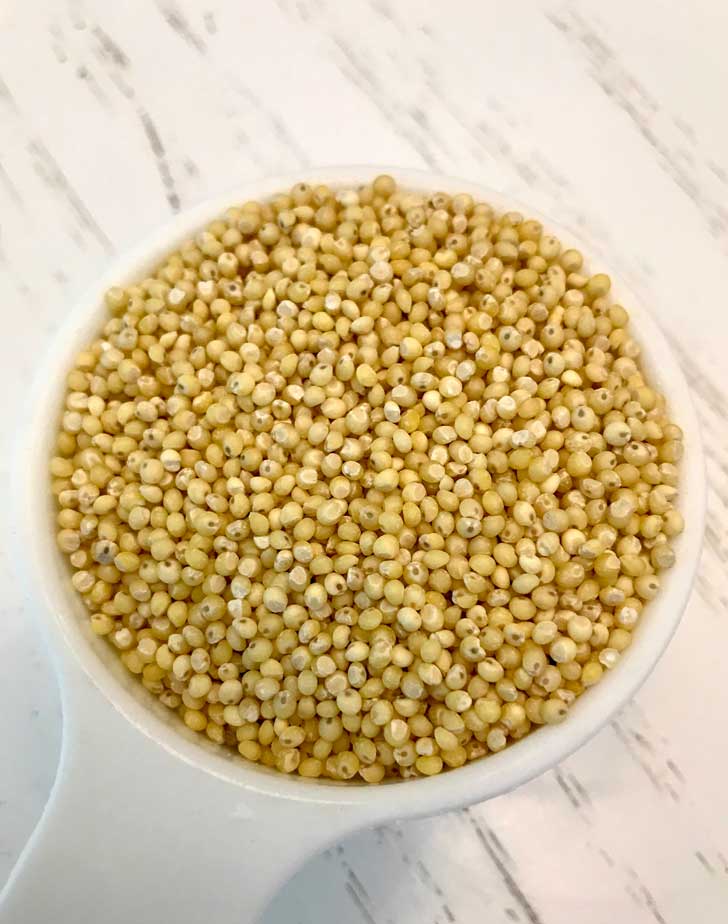 Millet can be boiled and eaten like quinoa, and I intend to try it since I now have a 3 pound bag, but I've mainly been using millet flour. In baking, its properties include adding a touch of sweetness, helping with rise and structure and adding a slightly sweet flavor. I've also heard it described as nutty, but I'm trying to get away from using "nutty" as a descriptor because it's so vague. If nutty, which nut? I'll have to eat another cookie and try to figure it out.
Here's another photo of the cookie. The cookie in the photo above was made with Bob's Red Mill (the original source of the recipe) and the cookie below was made with the Anthony's brand millet that I ground into flour myself.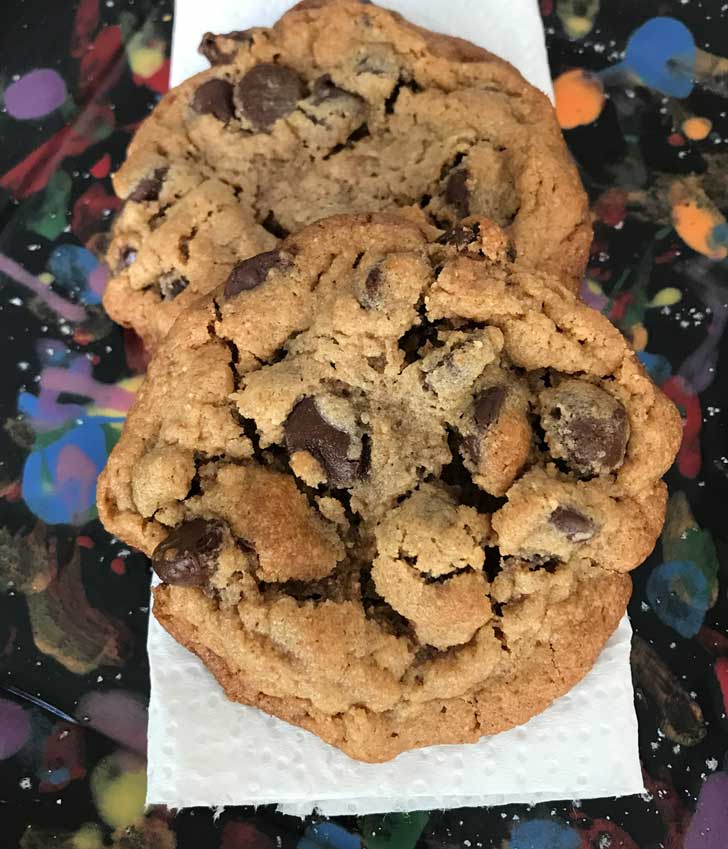 As far as gluten-free peanut butter cookies go, these are terrific and don't have a gritty texture. Fuzz commented on the flavor, so I think she could probably detect the flavor of the millet better than I could, and we all agreed that milk chocolate chips would be just as good as semisweet, so for the next round I'll try those.
Recipe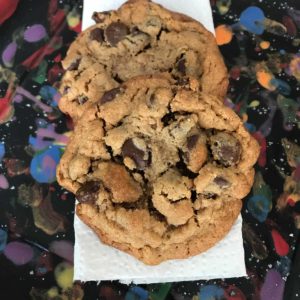 Millet Flour Peanut Butter Chocolate Chip Cookies
Crackly, chewy peanut butter chocolate chip cookies made with a mixture of millet and tapioca flour.
Ingredients 
¾

cup

millet flour

(120 grams)

¼

cup

tapioca flour

(30 grams)

½

tsp

baking soda

(3 grams)

½

tsp

baking powder

½

tsp

salt

1

stick

unsalted butter

softened (114 grams)

¾

cup

creamy peanut butter

unsweetened (200 g)

¼

cup

granulated sugar

(60 grams)

¾

cup

packed brown sugar

(165 grams)

1

egg

(50 grams)

1

tsp

vanilla extract

1

cup

semisweet or milk chocolate chips

(225 grams)
Instructions 
Whisk together flours, baking soda, baking powder and salt. Set aside.

With an electric mixer, beat the butter, peanut butter and sugars until creamy. Add egg and vanilla and beat until light and fluffy.

Add the flour mixture and stir until blended.

Stir in chocolate chips. Cover and chill dough for about a half hour or until ready to use.

Preheat oven to 350°F. (375 also works).

Line a baking sheet with parchment paper. Using a medium size cookie scoop, scoop up balls of dough and arrange about 2 ½ inches apart on the baking sheet.

Bake for 12–15 minutes, or until the edges begin to brown. Let cool on the baking sheet for about 5 minutes, then transfer to a wire rack to finish cooling.