Chocolate Sparkle Cookies, also known as Chocolate Sparkles, are very rich gluten-free chocolate truffle cookies from the great Canadian pastry chef, Thomas Haas. Once proclaimed "the best cookies in the world" by The Vancouver Sun, the recipe has been published in several newspapers in the past decade and shared on food blogs.
Two Versions
There are two versions that I know of. There's this one, which includes honey and a little bit of unsweetened cocoa powder, and another version (featured in The LA Times) that does not have the honey or cocoa powder. Both versions call for a half pound of good quality bittersweet chocolate, butter, sugar, ground almonds, and eggs.
The cookies should be very soft and fudge-like on the inside, but have a slightly crispy shell. To make the cookies sparkle, I've always used sparkling sugar, but other bakers use confectioners' sugar or granulated. All of the different sugars work well, with the sparkling sugar adding a little more crunch to the shell. Here's a texture shot. This cookie is not as thick as some because I only chilled the dough for an hour.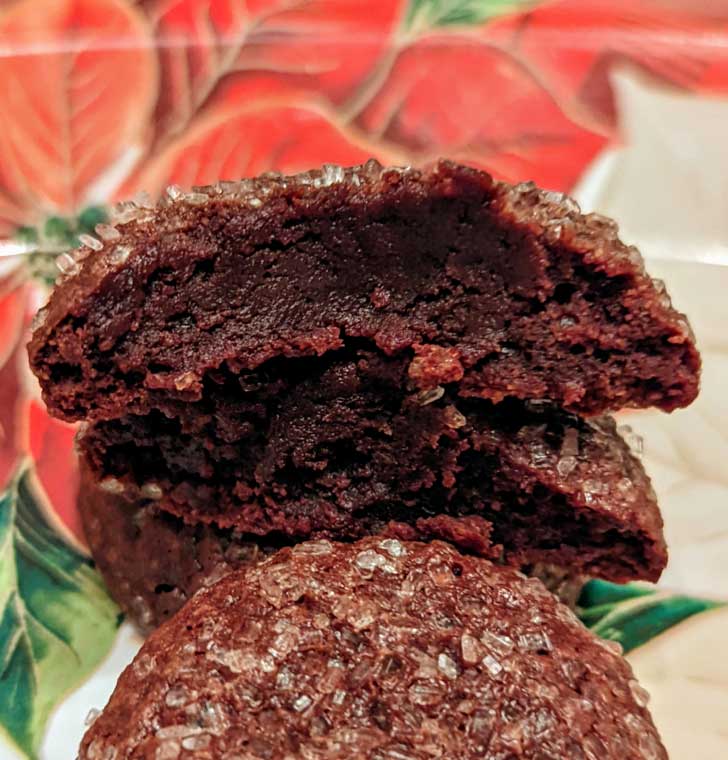 For the chocolate, you'll want to use a chopped bar or disks. The cookies in this photo were made with Guittard disks. You can also make the cookies with Ghirardelli bittersweet chips. With chips in place of chocolate, the cookies tend to bake up thicker, but with a firmer and not so silky texture (though still good!).
Chocolate Sparkle Cookies
½ lb very good quality bittersweet chocolate (230 grams)
3 tablespoons room temperature butter, cut into pieces (42 grams)
2 eggs (100 grams)
1 T honey (20 grams)
⅓ c sugar -- plus more for rolling (65 grams)
¾ c ground almonds or almond flour (85 grams)
2 tsp unsweetened cocoa powder
1 pinch salt
Coarse sugar for garnish
Melt chocolate and butter together on top of a double boiler or just melt in the microwave. If using the microwave, use 50% power and stir every 30 seconds or so. Let cool slightly.
In a mixing bowl, using an electric mixer, beat eggs, gradually adding the sugar and honey until light & the mixture falls in thick ribbons. Fold into the chocolate-butter mixture. Add the cocoa powder and salt to the ground almonds & mix; gently add to the chocolate mixture.
Cover and refrigerate overnight.
Line a baking sheet with parchment paper. Use a small ice cream scoop to form the dough into 1 inch balls (they should weigh about 14 grams each, though mine are usually slightly larger). Working quickly, roll the balls in granulated or sparkling sugar. Place on the baking sheet about 2 inches apart. Bake at 325 degrees F for about 12 minutes, until the centres are most, but not wet. Cool slightly. Dust lightly with coarse (sparkly) sugar or you can use confectioners' sugar.
Makes 36 cookies (I sometimes get 30 to 32)