I typically like my peanut butter cookies thick, soft and slightly crumbly, but this recipe that promised thin and chewy peanut butter cookies sounded interesting. It's adapted from a book called Food Editors' Favorite Cookies and was submitted to the series by Doris Reynolds. Doris added a pinch of ginger for a bit of a flavor twist, but you can leave it out if you want. These are perfect for people who love peanut butter, but find the traditional style "dry".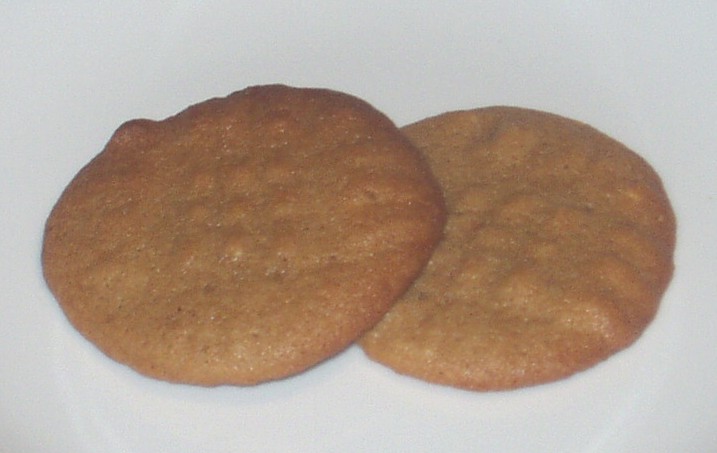 Thin and Chewy Peanut Butter Cookies
1/2 cup butter
1/4 teaspoon salt
1 cup chunky peanut butter
3/4 cup granulated sugar
3/4 cup brown sugar
2 eggs
1 tablespoon milk
1 cup sifted all purpose flour (4.5 oz) — weigh
1/4 teaspoon baking soda
1/4 teaspoon ginger
Preheat oven to 325 degrees F. Beat together butter, salt and peanut butter. Beat in both sugars and eggs and continue beating until fluffy. Beat in milk. Mix together flour, soda, and ginger. Add to butter mixture and stir, by hand, until incorporated. Drop by rounds onto ungreased cookie sheets. Press into criss-cross pattern and bake for 12-14 minutes. Makes 5-6 dozen. Note: my dough was too moist at first. After a few hours in the refrigerator, I was able to do criss crosses.
Related posts: