This recipe for Easy and Good Oatmeal Cookies is one of my oldest and most reliable oatmeal cookie recipes. I make them with different kinds of flours including all-purpose, white whole wheat and for even chewier cookies, bread flour.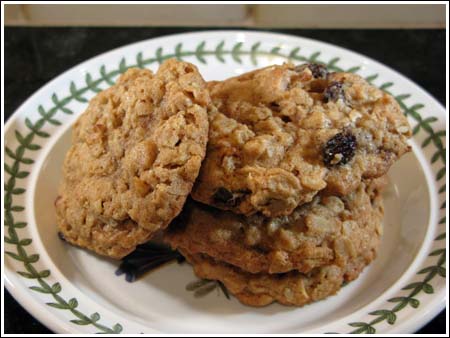 In the past I'd make Easy and Good Oatmeal Cookies with evaporated cane juice sugar (organic sugar), but these days I usually just use granulated. I'm going to test them with coconut sugar one of these days.
Just About Fool Proof
One thing about the Easy and Good Oatmeal Cookies recipe is that it is hard to mess up. Unless you do something crazy like leave out the sugar or try to substitute half the fat, the cookies should be chewy and thick.
Easy and Good Oatmeal Cookies
MAKES ABOUT 30 COOKIES
1 cup unbleached all-purpose flour or white whole wheat flour (4.5 oz/126 grams)
½ teaspoon baking soda
½ teaspoon baking powder
½ teaspoon salt
1 teaspoon ground cinnamon
4 ounces unsalted butter -- cut up, cool room temperature (114 grams)
½ cup granulated sugar or evaporated cane juice crystals (100 grams
½ cup dark brown sugar - firmly packed (110 grams)
1 large egg, room temperature
¾ teaspoon vanilla
1 ½ cups oats, quick cooking or old fashioned
¾ cups raisins (plumped and drained)
⅓ cup chopped -- toasted pecans
Preheat oven to 350 degrees F. Have ready 2 ungreased or parchment lined cookie sheets.
Stir flour, baking soda, baking powder, salt and cinnamon together in a medium bowl; set aside.
Cream butter and both sugars in a mixing bowl using high speed of an electric mixer; add egg and vanilla and beat just until egg is mixed in. Add the flour mixture to the butter mixture and stir just until mixed. Stir in oats, raisins and pecans.
Using a tablespoon measure, scoop up dough and shape it into 1 ¼ inch balls; Arrange about 2 ½ inches apart on baking sheets.
Bake 12-14 minutes, one sheet at a time, on center rack. Remove from oven; let cookies sit on baking sheet for 2-4 minutes. Carefully transfer to a rack to cool.