This is my very favorite oatmeal cookie. To make "Easy and Good Oatmeal Raisin Cookies" more wholesome, I sometimes use white whole wheat flour and evaporated cane juice sugar (organic sugar) – both of which can be found at mainstream grocery stores. White Whole Wheat flour is sold under the name "Ultra Grain" and made by Eagle Mills, while King Arthur makes their own white whole wheat. Evaporated cane juice sugar is a fancy name for less processed granulated sugar. If your store doesn't sell it, try the local health food store.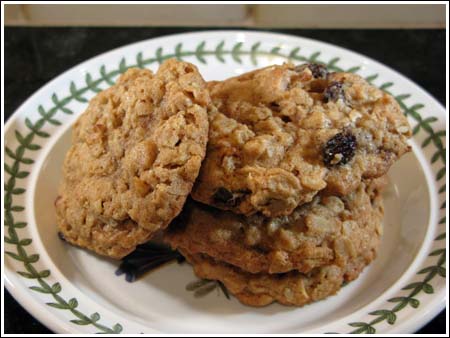 Easy and Good Oatmeal Raisin Cookies
MAKES ABOUT 30 COOKIES
1 cup unbleached all-purpose flour or white whole wheat flour (4.5 oz/126 grams)
1/2 teaspoon baking soda
1/2 teaspoon baking powder
1/2 teaspoon salt
1 teaspoon ground cinnamon
4 ounces unsalted butter — cut up, cool room temperature
1/2 cup granulated sugar or turbinado or evaporated cane juice crystals
1/2 cup dark brown sugar – firmly packed
1 large egg
3/4 teaspoon vanilla
1 1/2 cups oats, quick cooking or old fashioned
3/4 cups raisins (plumped and drained)
1/3 cup chopped — toasted pecans
Preheat oven to 350 degrees F. Have ready 2 ungreased or parchment lined cookie sheets.
Stir flour, baking soda, baking powder, salt and cinnamon together in a medium bowl; set aside.
Cream butter and both sugars in a mixing bowl using high speed of an electric mixer; add egg and vanilla and beat just until egg is mixed in. Add the flour mixture to the butter mixture and stir just until mixed. Stir in oats, raisins and pecans.
Using a tablespoon measure, scoop up dough and shape it into 1 ¼ inch balls; Arrange about 2 1/2 inches apart on baking sheets.
Bake 12-14 minutes, one sheet at a time, on center rack. Remove from oven; let cookies sit on baking sheet for 2-4 minutes. Carefully transfer to a rack to cool.