The weekend is almost over, but we have some fun things ahead — an outing to the Bowie High School candy carnival followed by dinner here at home with friends. This means I have an excuse to make a big, fun cake, so I'll report on that later. In the meantime, I tried a new cookie recipe.
This was sent by Heidi in Colorado, who says she wanted to share the recipe because it's great for kids. Her daughter loves it and so do all her friends.  Heidi got it off a canister of store brand oatmeal but adapted it to her preferences. The only things I did differently than Heidi were to add salt, use bittersweet chocolate chips and add toasted pecans. Heidi mentioned that using smaller chocolate chips helped distribute the chocolate better, but instead of buying mini chips, I just cut some of the bittersweet chips up with a chef's knife.
These were very good! Thanks for the recipe, Heidi.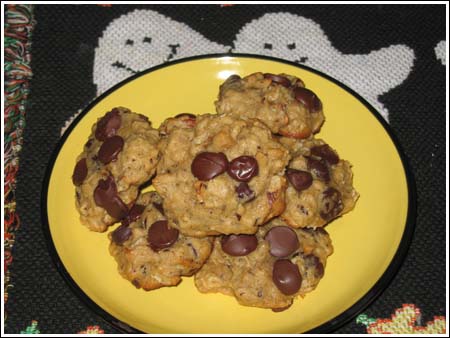 Heidi's Oatmeal Banana Chocolate Chip Cookies
12 tablespoons unsalted butter, room temp
1 c. brown sugar
1 egg, beaten
1 1/2 c. all purpose flour
1/2 teaspoon baking soda
1/2 scant teaspoon salt (optional) – use only if using unsalted butter or shortening
1 teaspoon cinnamon (Anna and Heidi both omitted)
1 teaspoon vanilla
1 3/4 c. old-fashioned oatmeal
1 c. mashed banana (about 3 old bananas)
1/2 cup chocolate chips – Dark chocolate has anti-oxidants, so Anna used more
1/2 cup toasted chopped pecans
Preheat oven to 350 degrees F.
Cream butter and sugar. Mix in egg. Add vanilla. Mix in flour, baking soda and salt. Then mix in the oatmeal. Fold in mashed banana then stir in chocolate chips and pecans.
Drop by tablespoons onto parchment lined pans and bake for 11-13 minutes or until cookies appear set. Let cool on wire rack.
Makes about 4 dozen
Related posts: