TGIUUBD! That stands for Thank God it's Use up Banana Day. This special day comes around every 6 months. It starts when my daughter launches a campaign to buy bananas, which no one in the family really eats – including her. Not wanting to hinder the natural evolution of her mercurial little taste buds, I buy her a bunch. She eats one, insists she likes them, then lets the rest turn brown.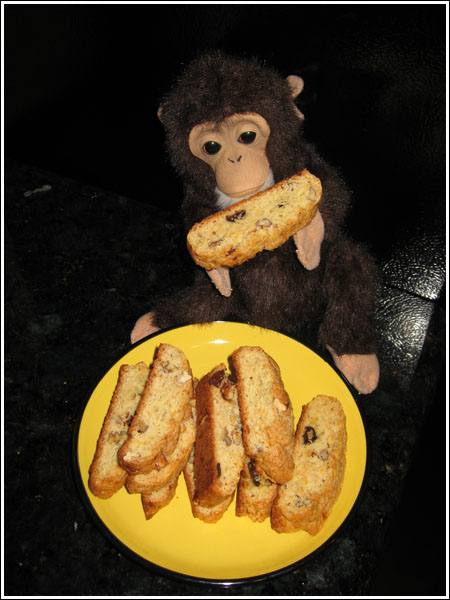 I have to say, today was a really good Use up Banana Day, because I discovered a new way to deal with them. It's called Banana Bread Biscotti, and not only is it good, it's a bit on the lighter side. Lighter than say, banana sour cream coffee cake, which was my alternative and which no one around here would probably eat.
This recipe is adapted from One Smart Cookie, a book I use when I'm looking to cut the fat in cookies. For me, that is not often, since I'd rather eat a half a rich cookie than a whole low fat cookie, but I do have to admit that a few of the recipes in the book are almost as good as full fat.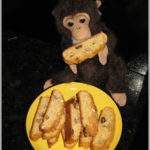 Print Recipe
Banana Bread Biscotti
Banana bread in biscotti form.
Ingredients
1 3/4

cups

all purpose flour

1/2

cup

sugar

1

teaspoon

baking powder

1/4

teaspoon

salt

1/2

cup

mashed banana

1 banana

1

tablespoon

canola oil

1

large egg

1

teaspoon

vanilla

1/2

cup

chopped

toasted pecans (or walnuts)

1/4-1/3

cup

chocolate chips

optional
Instructions
Preheat oven to 350 degrees F.

In a medium bowl, stir together flour, sugar, baking powder and salt; set aside.

In a large bowl, combine banana, oil, egg and vanilla and mix until well blended. Add the flour mixture, toasted pecans and optional chocolate chips to the banana mixture and stir just until combined. If the mixture seems dry, use your hands to mix until the dough comes together.

Divide the mixture in half and shape each half into an 8 inch log. Place the logs about 4 inches apart on a cookie sheet that has been greased or lined with parchment or Release foil. Press the logs into two rectangles about 3 inches across.

Bake for 30-35 minutes, until firm and cracked on top. Transfer the logs to a wire rack to cool for 15 minutes. Reduce oven temperature to 275 degrees F.

Place logs on a cutting board, trim the ends and using a sharp, serrated knife, cut each diagonally into 1/2 to 3/4 inch thick slices. Place biscotti cut side down on the cookie sheet. Return them to the 275 degree oven and cook for 20 minutes. Flip them over and cook for another 20 minutes . Transfer to a wire rack to cool.

Makes 2 dozen
Cookie Madness! Notes: I like to lay a sheet of foil over the biscotti during the second bake. It keeps them from becoming too brown. As for the pecans, I "micro-toast" them. To do this, lay the pecans on a paper towel and heat on high for 2 minutes, stopping to shuffle them around halfway through. Let them cool then chop them up.