A few months ago I bought a bottle of agave nectar to use in these Black Bean Brownies from 101 Cookbooks. The idea of black beans in brownies didn't bother me as much as the idea of using agave, which I thought I would not like. Luckily, I was wrong (very wrong). The agave tasted quite pleasant in the black bean brownies.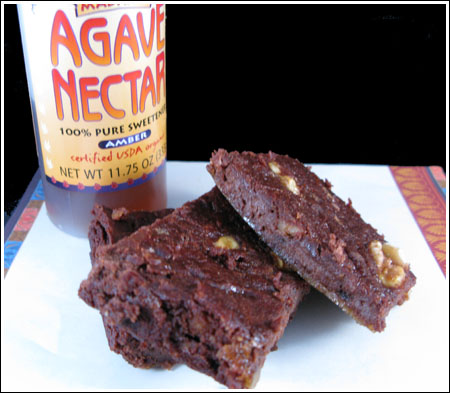 Thanks Heidi and Ania, who developed the recipe for Baking with Agave
, for the recipe. Also, thanks to Katrina for convincing me to buy a bottle agave nectar.  It was worth the $7.00.
Black Bean Brownies Notes!
Below is how I made Heidi's brownies. It's a half batch, and I baked it in a 9 inch square straight edge pan. I think am positive an 8 inch pan would have been a better choice because my brownies were a bit thin, but they were still very good. I wish they didn't have half cup of butter, but if agave nectar is as healthful as the say it is (update: apparently it's not), then the brownies have that going for them…..and of course there are the black beans, which you can taste if you try, but which go oddly well with the coffee and chocolate.
To Halve or Not to Halve?
If you like brownies and are interested in whole foods recipes or just want to try Black Bean Brownies, I recommend the recipe below. If you are willing to make an 11x18 inch pan, I'd say follow the recipe on Heidi's page. If you halve it, you can use this one. If you use an 8 inch pan, shoot for the longer cook-time (40 minutes). Deeper brownies (as opposed to wider and thinner) usually take more time.
This is a half batch version based on Heidi's recipe. I did a few things differently in terms of technique,
Black Bean Brownies
½ cup unsalted butter (4 oz)
2 ounces unsweetened chocolate, chopped up
1 ½ to 2 tablespoons instant coffee crystals
1 cup drained black beans, from a can - -rinsed
½ cup walnuts, chopped
1 ½ teaspoons vanilla extract
Pinch of salt
2 large eggs
¾ cup agave nectar
Preheat oven to 325 degrees F. Line an 8 or 9 inch square metal pan with parchment paper or nonstick foil.
Melt the butter and chocolate in a microwave-safe mixing bowl. Add the coffee crystals to the melted chocolate and stir well; set aside.
Process beans, ¼ cup of the walnuts, the vanilla extract, and a few spoonfuls of the melted chocolate mixture in food processor; Process for about 2 minutes or until smooth and thick. Add the bean mixture to the mixing bowl with the melted chocolate mixture. Stir until blended well.
Beat the eggs in a separate bowl, using an electric mixer, until very light (about 2 minutes). Beat in the agave nectar. Add ******all but ¼ cup***** of the egg mixture to the brownie batter.
Pour batter into the pan. Using the mixer, beat the reserved ¼ cup egg mixture for another 30 seconds. Drizzle over the brownie batter. Using a toothpick or a knife, pull the egg mixture through the batter, creating a marbled effect. Bake for 33-40 minutes or until the brownies are set. Let cool in the pan completely before cutting into squares. (They will be soft until refrigerated.)
Makes 24 (2-inch) brownies.
More Notes
Notes: The flavor was delicious! The texture was odd – not incredibly sturdy, but just sturdy enough to pick up and eat. The brownies were also kind of slimy at first, but the taste made up for it. I used a 9 inch square pan and took the brownies out at 35 minutes (about 5 minutes after they started to smell brownie"ish" and pulled away from the sides of the pan. Some of the marbled egg mixture still appeared on top of the baked brownies, so I tapped with a spoon and it disappeared. I let the brownies cool, then chilled them before cutting. I think they will be even better after a full night in the refrigerator.