In honor of Martin Luther King Day, today's recipe is Dream Bars – bar cookies traditionally made with a shortbread crust and a topping of brown sugar, coconut, eggs and nuts. This version is a bit different. It lacks coconut and has a filling made with cream cheese and lemon. The end result is a cross between lemon bars, cheesecake and pecan pie.  What's not to love?
The original version makes a 13×9 inch pan, but I scaled it down to fit an 8 inch square pan.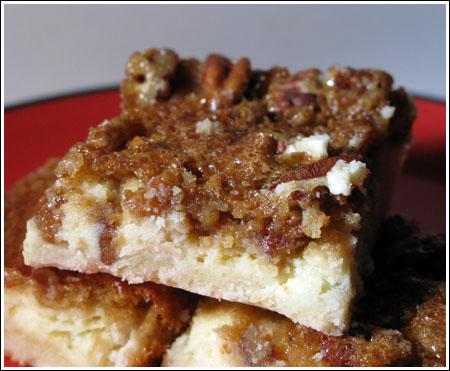 Sunshine Dream Bars (Based on a Pillsbury recipe from l963)
Crust:
2 tablespoon butter, softened
1 ounce cream cheese, softened
2 1/2 tablespoons granulated sugar
1 teaspoon grated lemon peel
1/2 cup all purpose flour
Filling:
3 ounces cream cheese, softened
2 ½ tablespoons granulated sugar
1 egg
1/2 teaspoon grated lemon peel
1 tablespoon lemon juice
Nut Topping:
1 tablespoon flour
1/2 teaspoon baking powder
1/4 teaspoon salt
1/2 cup firmly packed brown sugar
1 egg
1/2 teaspoon vanilla extract
1/2 cup chopped walnuts or pecans (toasted if possible)
Preheat oven to 350 degrees F. Line an 8 inch square metal pan with non-stick foil or parchment paper.
In a medium size mixing bowl, beat the butter, cream cheese and sugar until creamy. Stir in the lemon peel, then add the flour and stir just until mixed. Press the mixture into bottom of lined pan. It will seem impossible, but if you use wet hands, you can do it. The crust is supposed to be thin. Bake for 10 minutes.
In a medium bowl, beat the cream cheese and sugar until soft. Add the egg and beat just until it is blended in. Stir in the lemon peel and lemon juice. Pour this mixture over the baked crust.
Prepare topping. Combine flour, baking powder and salt and stir thoroughly. Stir in sugar, egg and vanilla. When well mixed stir in 1/3 cup of the nuts. Spoon topping over filling and sprinkle the remaining nuts on top. Bake for 20 minutes or until set (top will be golden brown).
Let cool completely, then lift from pan and cut into 16 bars
Related posts: