Here's a recipe that transforms a box of cake mix into a light and peanut buttery bar cookie. It's called Cake Mix Peanut Butter Bars, and it's perfect for when you need a low effort, high-satisfaction batch of bars.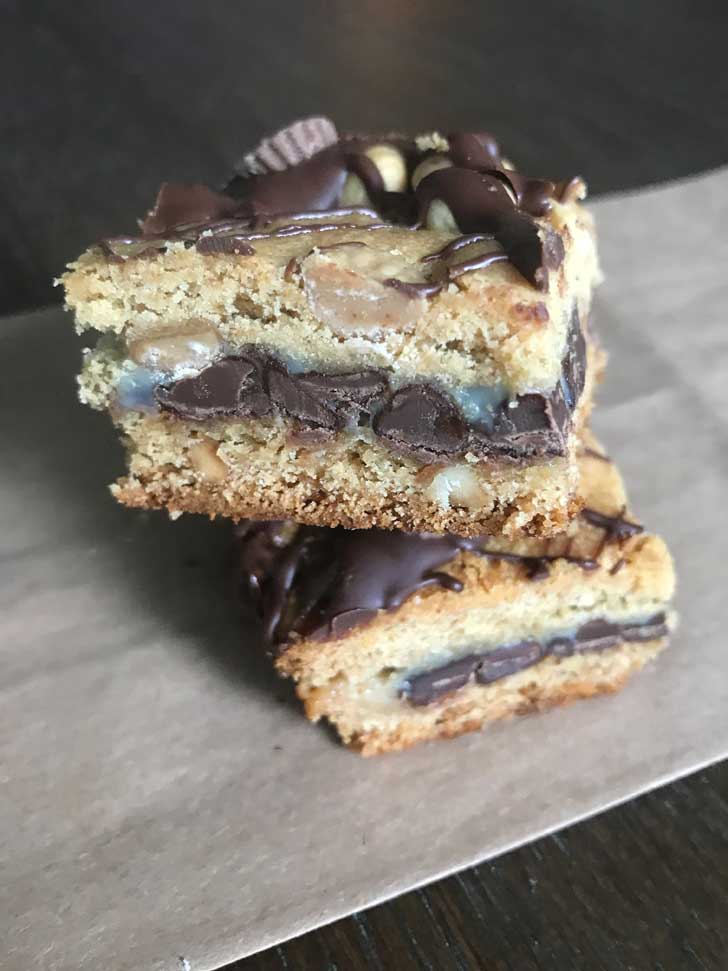 The recipe is from the 1993 Southern Living annual, though it probably predates 1993. At any rate, I am not sure why I never tried it until this weekend. Maybe because I wasn't sure about the condensed milk? I love using it in different recipes, but in this recipe it's just poured on straight, so maybe I was worried the bars wouldn't have a good flavor? Turns out that wasn't a problem.
How to Make Cake Mix Peanut Butter Bars
To make Cake Mix Peanut Butter Bars, you make a crust with four ingredients -- cake mix, butter, peanut butter and eggs. You bake half of the crust for 10 minutes, then sprinkle with chocolate chips, drizzle with condensed milk, add a top crust and bake. Here's what mine looked like right out of the oven before I let them cool and added the optional drizzle.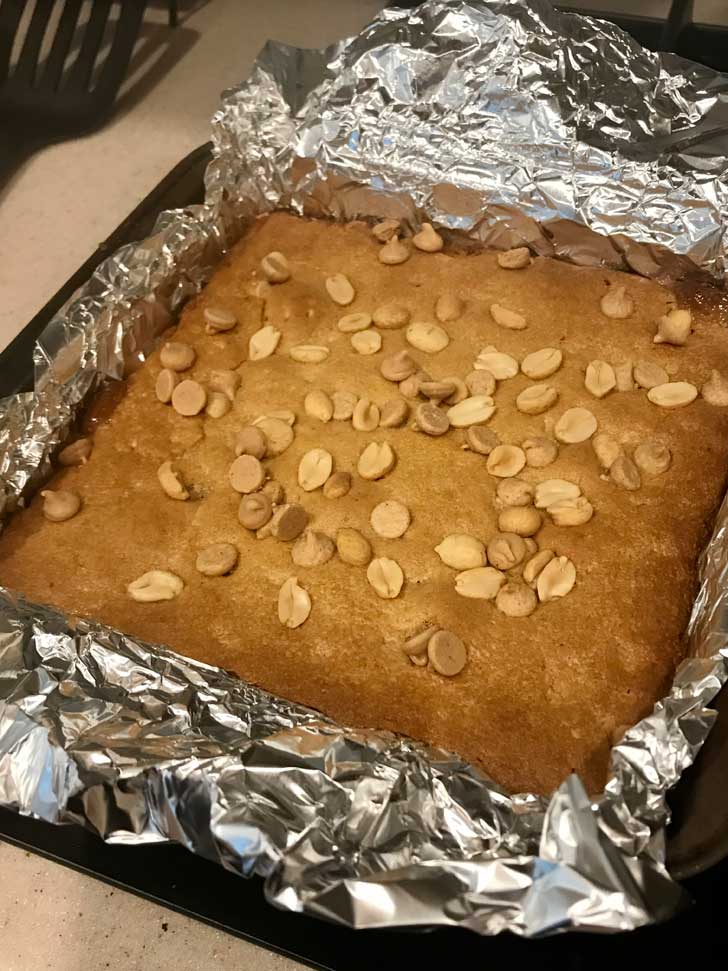 Dealing With 15.25 oz Box Cake Mix
This is an old recipe from back when cake mix came in 18.25 oz packages. Now cake mix comes in 15.25 oz packages, so without the extra dry mix the crust is softer and doesn't crumble. Rather than try to reduce the egg or butter or fiddle with the ratios to make it crumbly, I just used the softer dough. Instead of crumbling it, I pressed the top layer into a rectangle, froze it and plopped it in the pan over the filling.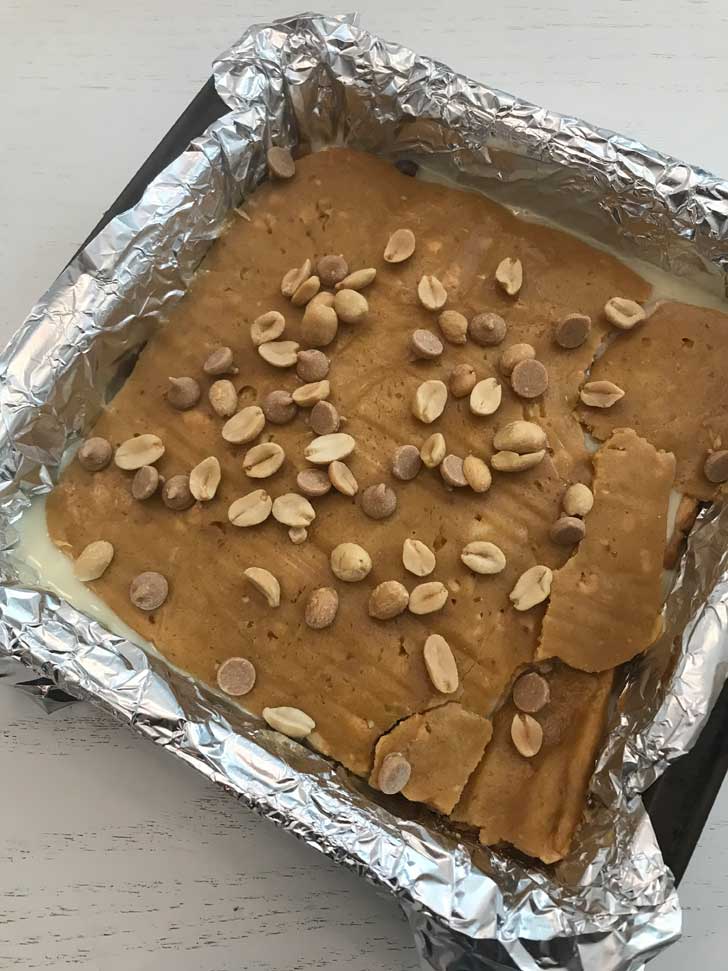 Half Batch Version
Cake Mix Peanut Butter Bars are usually made in a 9x13 inch pan so that's how I've written the recipe. If you don't need a full batch, you can make half. Just weigh out half of the ingredients and use an 8 inch square pan. Bake times should stay the same. I like to overbake them a tad so the condensed milk around the edges will caramelize and become extra chewy.
Recipe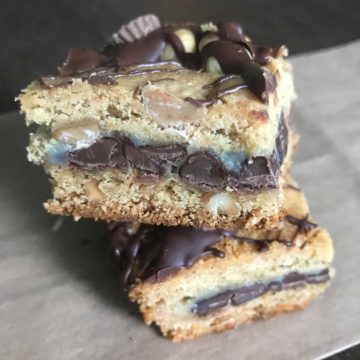 Cake Mix Peanut Butter Bars
These are super easy peanut butter bars made with cake mix. If you need a last minute baked good, give them a try.
Ingredients 
1

box

(15.25 oz) yellow cake mix

2

large

eggs

1

cup

chunky peanut butter

½

cup

butter, melted (1 stick)

1

cup

semisweet or dark chocolate chips

1

14 oz can

sweetened condensed milk
Chocolate Drizzle (optional)
½

cup

semisweet or dark chocolate chips

1

teaspoon

coconut oil or shortening
Instructions 
Preheat oven to 350 degrees. Line a 9x13 inch pan with foil and spray with bottom and sides with cooking spray.

Combine the first 4 ingredients in a large mixing bowl and beat until well blended.

Press half (about 1 pound) into the bottom of the pan. Bake for 10 minutes.

While the crust layer is baking, turn the remaining peanut butter mixture onto a foil or parchment lined cooking sheet and press into a rectangle a little less than 9x13 inches. Put the cookie sheet with the dough in the freezer and freeze for 10 minutes or until it is solid enough to peel off.

Remove from the crust layer from the oven and sprinkle with chocolate chips. Drizzle with condensed milk.

Remove the frozen peanut butter dough rectangle from the foil and plop it on top of the chocolate chip/condensed milk mixture. It's okay if it breaks, just re-position the pieces. If you happen to have some peanut butter chips or peanuts around, you can spinkle them on top.

Bake for another 30 minutes. Let cool completely (or cool slightly and chill).

In a small microwave-safe bowl, melt ½ cup of chocolate chips with about 1 teaspoon of coconut oil or shortening. Drizzle chocolate over cooled bar. Chill to set the chocolate. Lift from pan and cut into bars.