This is one of my all-time favorite bar cookie recipes, and maybe my number one top favorite non-chocolate, non-peanut butter bar. Apricot-Orange Bars, also known as Apricot-Orange Shortbread Bars, are buttery, apricot-orange-almond flavored bar cookies made with Grand Marnier, almond paste, apricot preserves and lots of butter. I don't make them as often as I'd like because they're a little expensive, but it's the holidays and everything is expensive so I made a batch this morning. It helped that I already had the Grand Marnier.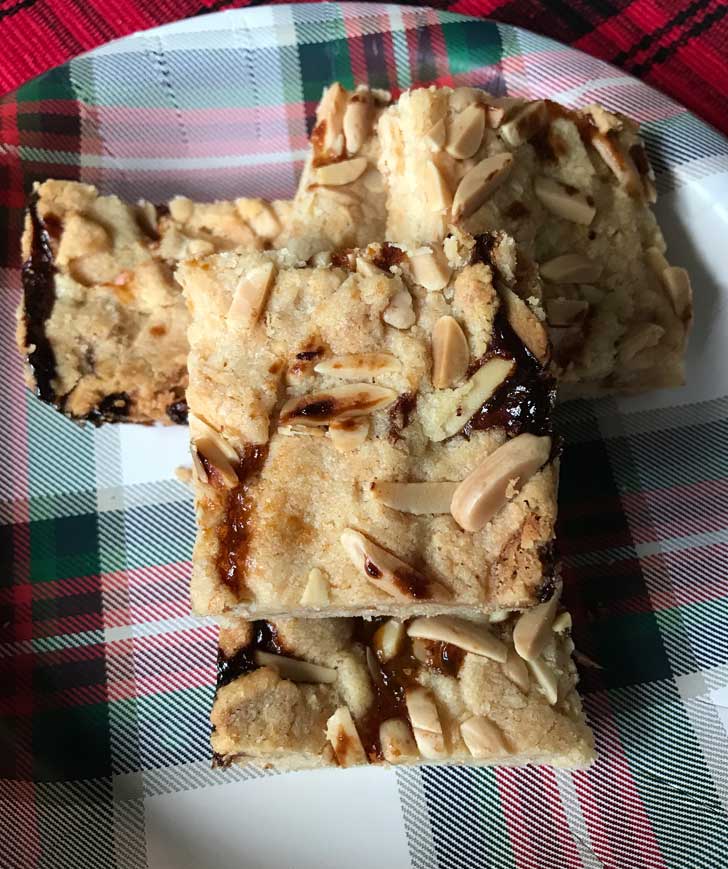 Baking Notes
These are pretty easy to make. You make one dough then add almond paste to part of it to make a crumbly topping. The filling is just apricot preserves mixed with orange liqueur, though in the past I've used orange juice with excellent results. Interestingly, you don't bake the crust first. With this recipe, you assemble the crust, filling and topping then bake it all together at 325F for an hour. The drawback for some might be the pan size, which is 9 inch square. Not everyone has that pan size. I have only 1 9-inch square pan and about 7 8-inch pans! So you could try to use an 8-inch pan, but you'll have very thick bars. I recommend the 9 inch pan or if you have an oddball size that's just slightly larger, that should work too.
Quick Homemade Almond Paste
Almond paste is an important ingredient in these bars, but it's expensive. Plus in this recipe you only use 2 oz, so if you don't have another use for it you might not like the idea of buying a log of it and only using a fraction. What I've been doing is making my own quick almond paste. Here's how.
In a mini food processor or a coffee/spice grinder, combine ¼ slightly heaping cup (about 1.2 oz/35 grams) of slivered or sliced almonds with ¼ cup confectioners' sugar (30 grams). Grind into a powdery mixture. Pour it into a mixing bowl and add a little egg white -- no need to measure, just eyeball about a teaspoon. Add about ⅛ teaspoon of almond extract as well. Stir until it comes together, adding a little more egg white as needed. This should give you just enough for this recipe (a little over 2.5 oz).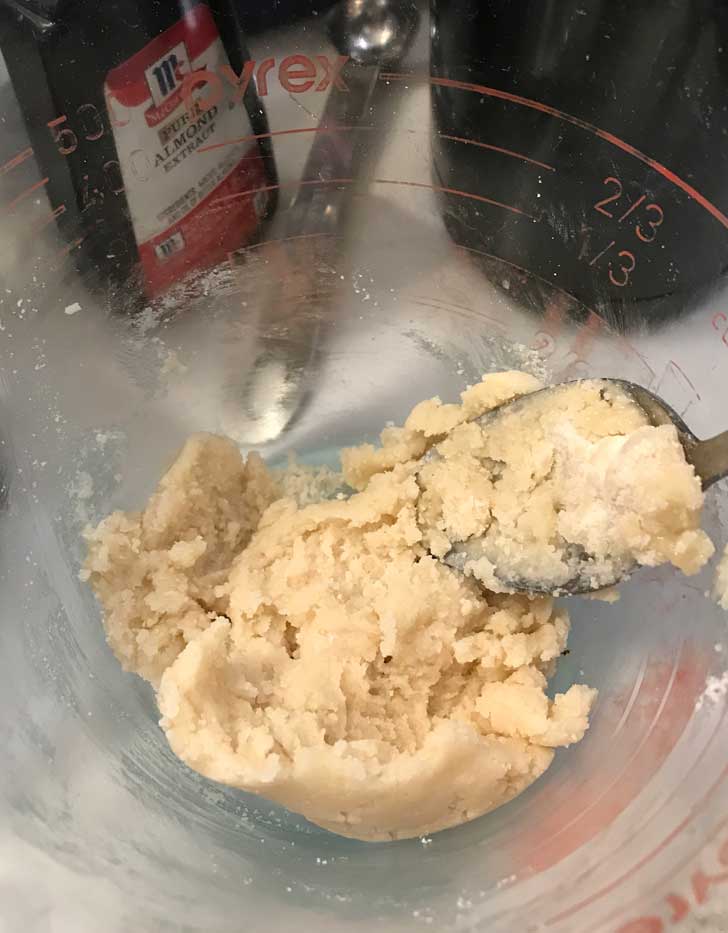 For a full batch of homemade almond paste, use 1 ½ cups almonds, 1 ½ cups confectioners' sugar, 1 egg white and ½ teaspoon of almond extract and make it in a regular size food processor.
Recipe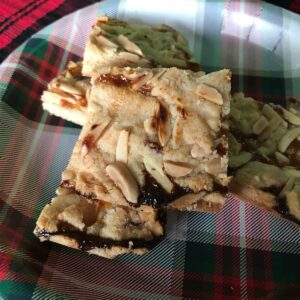 Apricot-Orange Bars
Apricot-Orange Shortbread Bars (Adapted from Julie Hasson's recipe in Bon Appetit)
Ingredients 
1

cup

apricot preserves

3

tablespoons

orange liqueur (Grand Marnier) or orange juice.

¼

cup

almond paste (from 7-ounce roll), crumbled

(50 grams)

1

cup

unsalted butter, room temperature

(230 grams)

¾

cup

sugar

(150 grams)

1

teaspoon

almond extract

¼

teaspoon

salt

2

cups

all-purpose flour (weigh or measure with a light hand)

(260 grams)

½

cup

sliced or slivered almonds
Instructions 
Preheat oven to 325 degrees. F. Line a 9x9 inch pan with parchment paper. For thinner bars you can use a slightly larger pan if you have one.

Combine preserves and Grand Marnier (or orange juice). Set aside.

In a small to medium size mixing bowl, crumble up almond paste and set that aside as well.

In a large mixing bowl, beat together softened butter, sugar and almond extract. Stir in the salt, followed by the flour.

Scoop out 1 cup of the flour mixture and add to the bowl with almond paste. Mix this together to form topping. Add the almonds.

Press remaining flour mixture into bottom of lined pan. Spread apricot/orange mixture over top. Crumble flour/almond paste/almond mixture over filling. At this point you may want to sprinkle more almonds on top as well (optional).

Bake for about 1 hour at 325 degrees F. Let cool completely, then carefully lift from pan and place on a cutting board.

Cut into bars. You can make them as big or small as you like.