I don't usually serve this kind of thing as an after school snack, but it's Friday and Fuzz has had a rough week so I decided to bake her a little cake using a recipe I found in my mom's messy old binder o' clippings. This one was written on a loose index card in handwriting that looks very like my aunt Dianne's. Then again, I am not exactly sure why she would put my mom's name on top of it so it might have been written by someone else….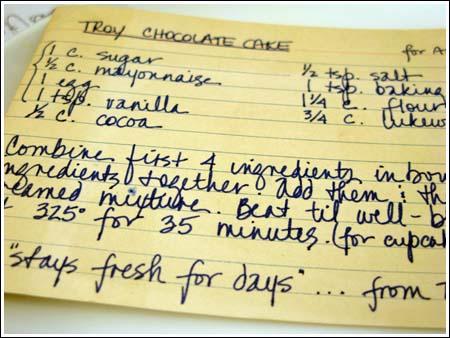 But many thanks to the person who wrote this down! This is an excellent cake and Fuzz and her friend AK loved it. I decided to type it exactly as it appears on the card, but here are a few extra notes.
Extra Notes:
1. I baked it in an 8 inch square metal pan. Only one bowl is required for mixing and I didn't need an electric mixer for the cake batter.
2. If you make the frosting, you will need the electric mixer.  Even with the mixer, mine had a few lumps, but it was great frosting.  That part of the recipe was from the Cake Mix Doctor.
3. Since the recipe calls for baking soda and no baking powder, I used natural cocoa, which is more acidic than Dutch process. Dutch process might work, but the natural was excellent.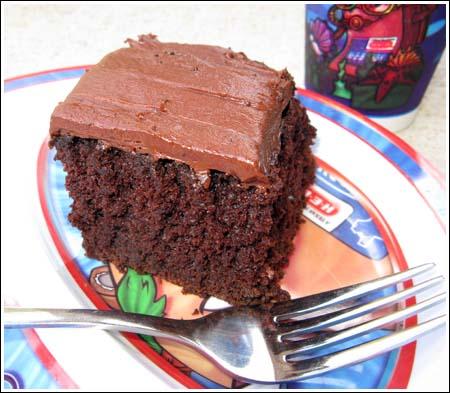 Here's the recipe as written on the card.
Troy Chocolate Cake
1 cup granulated sugar
1/2 cup mayonnaise
1 large egg
1 teaspoon vanilla
1/2 cup cocoa powder
1/2 teaspoon salt
1 teaspoon baking soda
1 1/4 cups flour
3/4 cups lukewarm water
Combine first 4 ingredients in bowl. Sift dry ingredients together. Add them & the water to creamed mixture. Beat till well-blended. Bake at 325 degrees for 35 minutes. For cupcakes, bake at 350 degrees for 15 minutes.
"Stays fresh for days"…..from Troy, New York
Sour Cream Chocolate Icing (Chocolate Cake Mix Doctor)
4 tablespoons butter
1/3 cup cocoa powder (unsweetened natural)
1 ½ cups sifted confectioners sugar
1/3 cup sour cream
1 teaspoon vanilla
Melt the butter and place in a microwave safe bowl. Add the cocoa powder and stir until smooth. Add the confectioner's sugar and sour cream alternately to the chocolate mixture and beat until fluffy. Beat in the vanilla.
Related posts: