Today's recipe is from Stephanie, who sent it to me after reading my review of the icing for Quick Chocolate Cupcakes with Flour Type Icing:  a mixture of flour and milk that is cooked and then whipped into a mixture of butter and granulated sugar.  The texture, after you beat it enough so that the sugar dissolves, is supposed to  be similar to a rich buttercream and less sweet than typical powdered sugar icing.  I liked it, but it was a definitely a change from the type of icing I'm used to.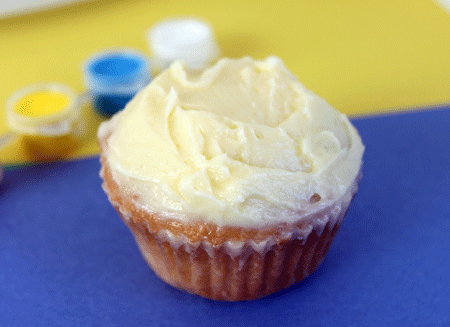 So this recipe,  which was passed down verbally by her father, is one Stephanie has been using on cupcakes for years, and while it's similar to the other recipe it calls for a mixture of milk and cornstarch rather than milk and flour.  It  seemed a little smoother and fresher tasting than the icing made with flour — slick,  buttery, and deeply vanilla.  I still think I like powdered sugar frosting best, but if you're looking for a less sweet icing or you just happen to be out of powdered sugar, this  is another good alternative.
Cornstarch Frosting
3/4 cup milk (whole, reduced fat and skim all work)
2 T cornstarch
3/4 cup sugar
3/4 cup (1 1/2 sticks) butter — salted
1/2 t vanilla
Cook milk & cornstarch until thick. Cool. Cream together sugar & butter until light & fluffy. Add cooled milk mixture & vanilla. Whip until mixture resembles whipped cream. Makes enough frosting for 24 cupcakes.