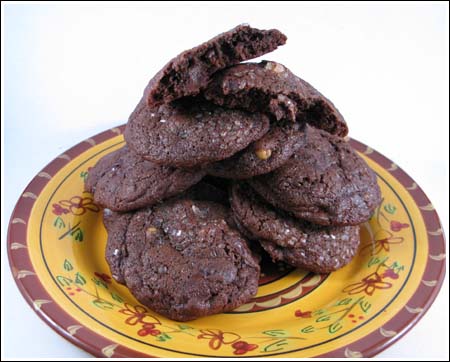 Chocolate Hazelnut Brownie Cookies
1 cup all-purpose unbleached flour (4 ½ oz)
1/4 cup good quality natural unsweetened cocoa powder (Not Dutch! Cookies won't rise)
1/2 teaspoon baking soda
1/4 teaspoon salt
8 tablespoons slightly cold unsalted butter, cut up
6 tablespoons granulated sugar
1/4 cup packed light brown sugar
2 tablespoons honey
1 teaspoon vanilla extract
1 large egg
6 oz premium dark chocolate with hazelnuts, chopped into small chunks
1 tablespoons white sparkling sugar for garnishing
Mix flour, natural unsweetened cocoa, baking soda and salt in a medium bowl.
In a large mixing bowl, using high speed of an electric mixer, beat butter for 30 seconds or until slightly softened. Add both sugars and beat until creamy; beat in honey and vanilla extract. Add egg and beat just until mixed. Using a mixing spoon, stir in the flour mixture, being careful not to over-beat flour. Stir in chopped chocolate. Cover dough and chill for an hour.
Preheat oven to 375 degrees F. Have ready two shiny, ungreased cookie sheets – insulated is best.
Form chilled dough into balls about 1 1/4 inch. Dip tops in a tiny bit of sparkly sugar (for flair and crunch). Place dough balls approximately 2 ½ inches apart on cookie sheets and bake one sheet at a time on center rack of oven for 10 minutes or until cookies appear puffed and set – do not over bake. Let cookies cool for 3 minutes on cookie sheet then transfer cookies to a wire rack to cool completely
Makes 16 cookies
Related posts: