Chocolate Hazelnut Biscotti Thins were inspired by the chocolate & hazelnuts candies, Ferrero Rocher.  My first idea was to put Ferrero Rocher in the biscotti, but it made more sense to just use hazelnuts and chocolate, so that's what I did! These are extra crunchy biscotti thins made without oil or butter, so they stay fresh for a long time. This batch has been in the tin for about 10 days and the flavor just keeps getting better (though they are a little harder).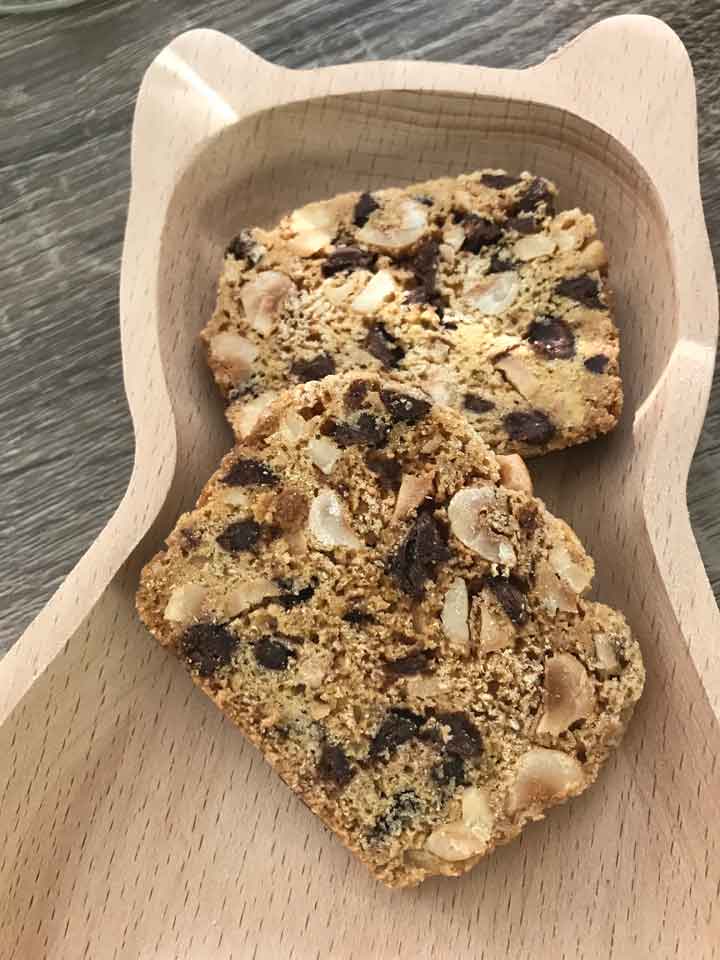 To get square shaped Hazelnut Biscotti Thins, I use two 3×6 inch loaf pans. If you need to, you can use one 8 1/2 by 4 1/2 inch pan instead.
Cutting the biscotti into thin slices is easy so long as you remember to let the loaves cool completely after the first bake. I go one step further and chill it so that they are very cold, which makes slicing easier. Here's the recipe. If you try it, please let me know what you think!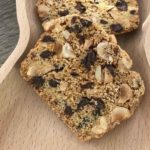 Print Recipe
Chocolate Hazelnut Biscotti Thins
Very thin and crunchy biscotti slices. Change up the nuts and extract if you'd like a different flavor. Whole almonds are also very good..
Ingredients
1 1/3

cups

all-purpose flour

170 grams

2/3

cup

granulated cane sugar

130 grams

1/2

teaspoon

baking soda

plus a pinch

1/2

teaspoon

salt

(you can use slightly less if you prefer)

2

large eggs

1

teaspoon

vanilla extract or use almond

1

cup

coarsely chopped roasted hazelnuts

2/3

cup

miniature chocolate chips
Instructions
Preheat the oven to 350 degrees F. Line two 3×6 inch loaf pans with foil and spray foil with cooking spray. Parchment okay too.

Stir together the flour, sugar, baking soda and salt.

In a mixing bowl, beat the eggs with an electric mixer until fluffy, then beat in the vanilla.

Pour the flour mixture into the egg mixture and stir to make a thick and dry-ish dough. Add nuts and chocolate chips (if using) and stir or gently knead them in so they are evenly dispersed.

Press the dough into the prepared loaf pans and bake at 350 for 30 minutes. Let cool for about 15 minutes, then remove the loaf from the pan. Transfer to the refrigerator or freezer and chill until loaves are very cold and firm.

Using a serrated knife, saw thin slices. Lay on a baking sheet and bake at 250 degrees F for about 30 minutes or until dry and crisp.