You'd think mid-July in the midst of a pandemic would be the worst time to buy hazelnuts, but I bought some anyway at Trader Joe's and was surprised they actually tasted really fresh. So I guess I was lucky, and that this Hazelnut Bread was meant to be. Also, shout out to the clerk who innocently asked "What's your project today?" and had to endure listening to me describe this recipe in excruciating detail while he was trying to work. They're always so nice there.
Jump to Recipe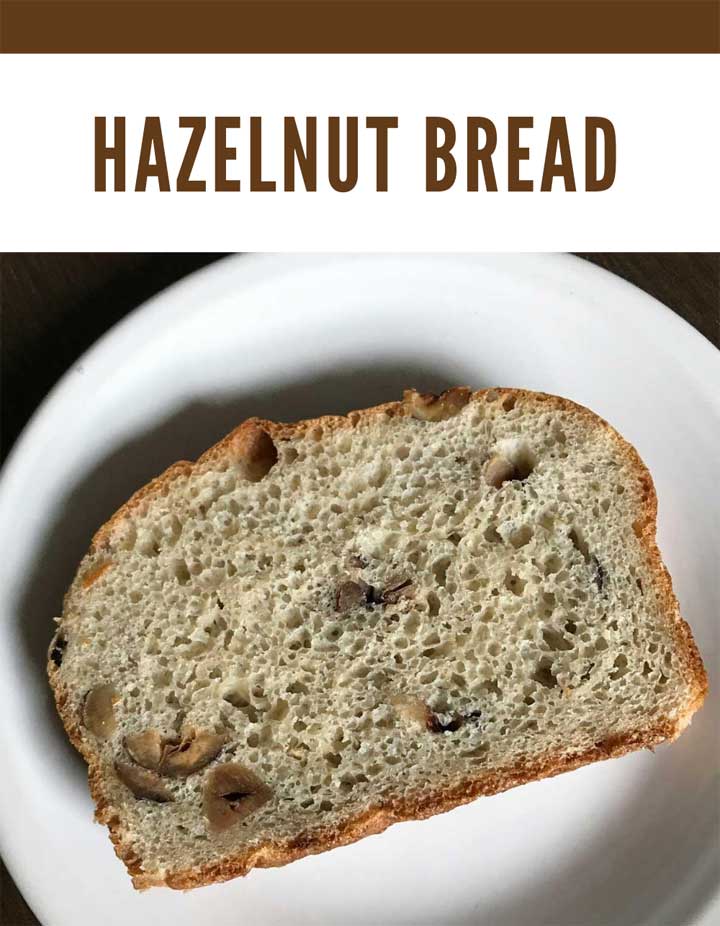 As I explained to my new Trader Joe's friend, the original version of this recipe is from Cooking Light. What's interesting about it is you toast the hazelnuts then soak them in hot water and then use the hazelnut infused water in the bread. The result is maximum hazelnut flavor.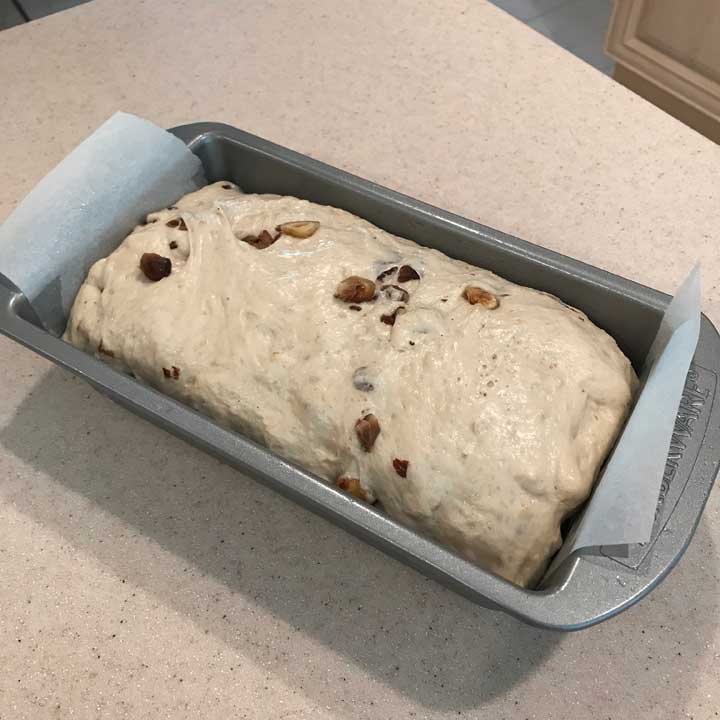 Loaf Pan Hazelnut Bread
The original version of the hazelnut bread is baked as a round, so feel free to skip the pan altogether. I'm into loaf pan shaped breads lately because I keep thinking I'll make sandwiches, so here it is in a 9x5 inch loaf pan. It's not a super tall loaf if baked in a 9x5 inch pan (as pictured), but that size still works well. For the next round I'm going to squish it into an 8 ½ by 4 ½ inch pan and see if it comes out taller without falling.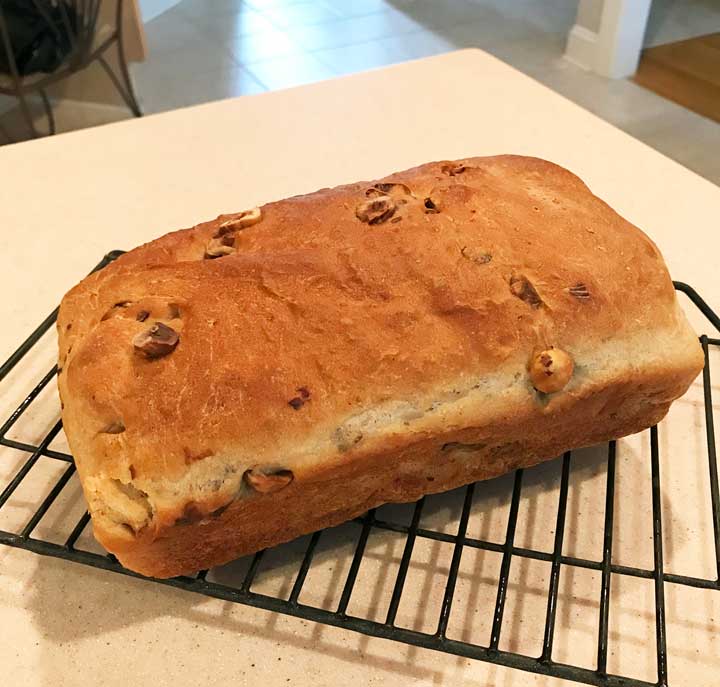 We've been using the hazelnut bread for toast and eating it before dinner with butter.  It could be used as some sort of sandwich bread, but with such a robust hazelnut flavor you'll need to be pretty discriminating regarding the filling.  I'm sure I'd like a Hazelnut BLT but a Hazelnut Turkey might work...maybe with some blue cheese? We haven't advanced to that stage yet and are still just using peanut butter. I haven't even put Nutella on it which seems like the obvious choice.
Recipe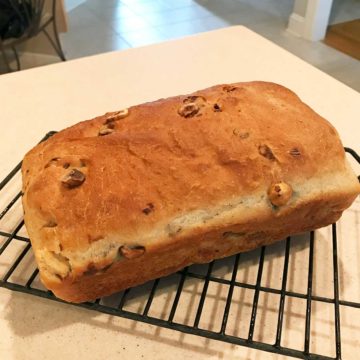 Hazelnut Bread
An easy hazelnut yeast bread baked in a loaf pan
Ingredients 
¾

cup

chopped hazelnuts

1 ½

cups

boiling water

2 ¼

teaspoons

active dry yeast

2

tablespoons

brown sugar

1 ¼

teaspoons

salt

2 ¾ to 3

cups

of bread flour
Instructions 
Preheat the oven to 350. Lay the nuts on a rimmed cookie sheet and toast them for 10 minutes. Rub off the skins the best you can, then put the nuts in the boiling water for about 30 minutes. Strain the water, leaving behind hazelnut debris and skins. Put the nuts aside to dry.

Check the temperature of the hazelnut water and make sure it's somewhere around 110 degrees. If it cooled down, heat it a little. If it's still too hot. let it cool. Put it in the bowl of the stand mixer. Add the yeast and sugar and let stand for 5 minutes to proof the yeast. Add the salt and 2 cups of flour. Stir. Continue adding flour and until you have a not-too-sticky dough.

Attach the dough hook to the mixer and knead for 8 minutes. Dough should clear the sides of the bowl as it kneads. Let stand stand 10 minutes, then stir in the hazelnuts. Put the dough in a greased bowl (or just leave it in the stand mixer bowl), cover and let rise for one hour or until doubled in bulk. Punch down the dough.

Grease a 9x5 inch loaf pan and line with a strip of parchment (if you have some). Put the dough into the loaf pan, cover with an oily piece of plastic wrap and let it rise for another 40 minutes or so. It should come up near the top of the pan. It doesn't rise much in the oven, so do let it rise long enough.

Bake at 375 degrees for about 35 minutes or until bread sounds hollow when tapped. Let cool in the pan for 30 minutes, then turn from pan and let cool.