Hummingbird Cake is a real crowd pleaser. In fact, it's the most requested recipe in the history of Southern Living Magazine, which helped make it famous. It was submitted to SL in 1978 by Mrs. L.H. Wiggins of Greensborough North Carolina, but it had been around before then and had appeared under other names such as Grannie's Cake and Nothing Left Cake. Nobody really knows where the name Hummingbird Cake came from. But there's speculation.
— Some say the cake is so good it makes people hum. (Creepy!)
— Hummingbirds drink sweet nectar and this cake is packed with sweet fruit.
— Hummingbirds eat fast and when people eat this cake, they eat it quickly – hummingbird style
— Someone was making it and saw a hummingbird out her window (Yawn)
— And my theory. People were eating it and got attacked by hummingbirds
Here's the recipe.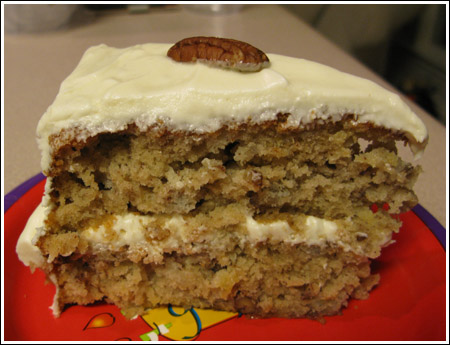 Hummingbird Cake
Hummingbird Cake is a three layer cake made with bananas, pineapple, and nuts.
Ingredients
3 cups all-purpose flour
1 teaspoon baking soda
1 teaspoon salt
2 cups sugar
1 teaspoon ground cinnamon
3 large eggs, beaten
1 cup vegetable oil
1 1/2 teaspoons vanilla extract
1 (8-ounce) can crushed pineapple, undrained
1 cup chopped pecans
2 cups chopped bananas
1/2 cup chopped pecans
Cream Cheese Frosting
1 (8-ounce) package cream cheese, softened
8 tablespoons butter (unsalted, softened)
2-3 cups powdered sugar, sifted
1 teaspoon vanilla extract
Pinch or two of salt – omit if using regular salted butter
Instructions
Preheat oven to 350 degrees F. Spray 3 9-inch round cake pans with flour-added cooking spray or rub with shortening and dust with flour.
Stir flour, soda, salt, sugar and cinnamon together in a large mixing bowl; add eggs, oil and vanilla, stirring until dry ingredients are moistened. (Do not beat.) Stir in pineapple, pecans, and bananas.
Pour batter into cake pans and bake for 25 to 30 minutes or until a wooden pick inserted in center comes out clean. Cool in pans on wire racks 10 minutes; remove from pans, and cool completely on wire racks.
Prepare cream cheese frosting. Beat cream cheese and butter at medium speed with an electric mixer until smooth. Gradually add powdered sugar, beating at low speed until light and fluffy - taste after adding 2 cups. Add more sugar if you prefer it to be sweeter. Beat in vanilla. Add a pinch of salt if using unsalted butter.
Spread Cream Cheese Frosting between layers and on top and sides of cake; sprinkle 1/2 cup chopped pecans on top. Store in refrigerator.
servings
Related posts: