Last night I needed an impressive yet easy brownie recipe to take to a block party. This recipe for Deep Dark Chocolate Brownies had 5-fork reviews on Epicurious and proved to be a winner.
I made the recipe all in one sauce pan, quick cooled the brownies in a roasting pan with ice water, chilled, then cut. Chilling was important, as the brownies were a bit sticky straight from the oven, but they firmed up nicely and I was able to cut them into small squares.
One last thing, it's important to pay attention to the % cacao on the chocolate package because some brands might be too intense. I used Ghirardelli 52% semi-sweet and that worked well. I think 72% or above might be too chocolaty…if there is such a thing.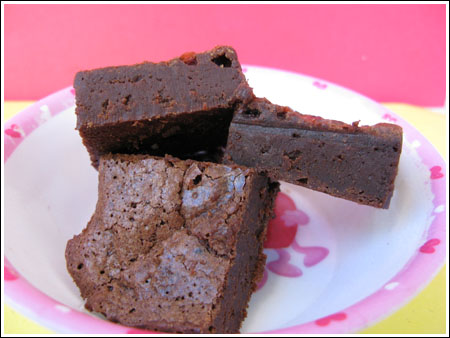 Deep Dark Chocolate Brownies (adapted from Gourmet)
2 sticks (8 oz) unsalted butter
8 oz fine-quality bittersweet chocolate (no more than 60% cacao if marked)
2 cups sugar
1 tsp pure vanilla extract
5 large eggs
1/3 cup unsweetened Dutch-process cocoa powder
1/2 tsp salt
2/3 cup all-purpose flour
Preheat oven to 350 degrees F. Line a 13×9 inch metal pan with foil and spray foil with cooking spray. Alternatively, you may use parchment. These are pretty sticky at first!
Melt butter and chocolate in a 3-qt heavy saucepan over low heat, stirring, until smooth. Add 1 cup of the sugar to the hot chocolate mixture. Remove from heat and let cool to lukewarm.
Whisk in remaining 1 cup sugar and vanilla. Whisk in eggs 1 at a time until mixture is glossy and smooth. Whisk in salt and cocoa powder, then add flour and stir until it disappears (do not overbeat).
Spread in pan and bake until a pick inserted in center comes out with crumbs, 25 to 35 minutes. Cool too room temperature then chill for an hour or more. Lift from pan, place on a cutting board, cut into squares.
Makes 1 13×9 inch pan (yield depends on how big you cut your brownies, but they are rich, so small is fine.
Related posts: