This recipe was recommended by a friend who swore it was the only brownie recipe she ever used. It's called Deep Dish Brownies and is originally from Hershey's. It is still honestly one of my favorite brownie recipes. The brownies are thick and somewhere in between cakey and fudgy. They tend to bake up with chewy edges and soft centers, which is how brownies are supposed to be.
A Few More Notes
Prep time for this recipe is only about 7 minutes, but because they are deep dish brownies the bake time is a little longer than for other recipes. When I bake these, I always use metal, but I'm sure a glass pan would be fine. If using a glass pan, you'll probably want to reduce the heat to 325 degrees F. This will help the edges not to bake quite so fast.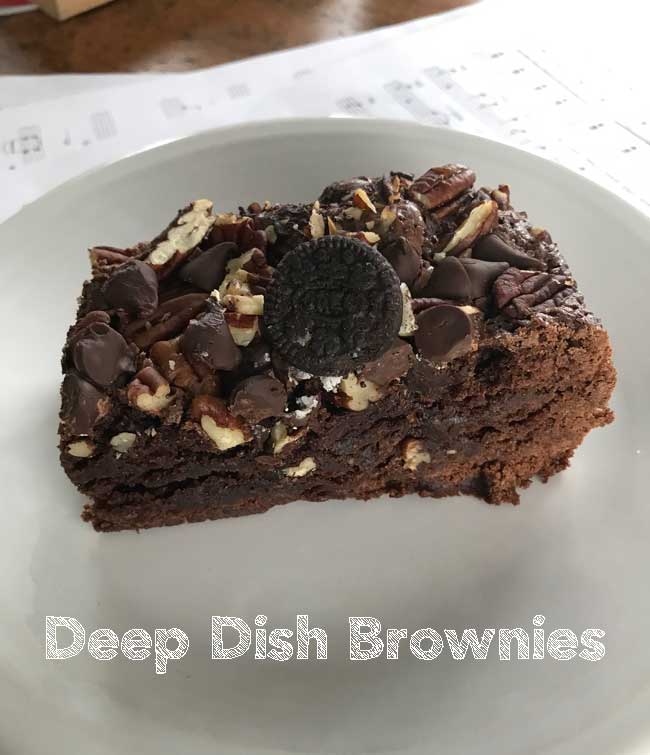 Brand of Cocoa Powder for Deep Dish Brownies
I use Hershey's natural cocoa powder since Hershey's is the original source of the recipe. Any brand will work, but I recommend using natural over Dutch process since the original version was tested with natural.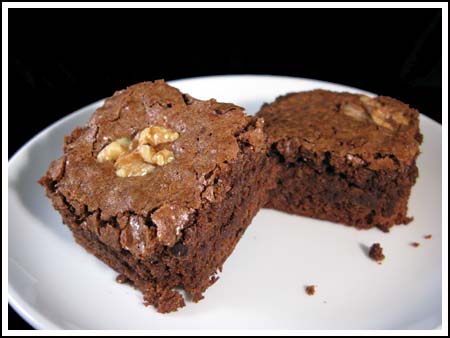 Recipe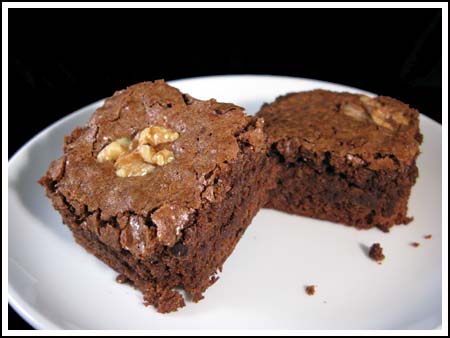 Deep Dish Brownies
Hershey's Deep Dish Brownies
Ingredients 
1 ½

sticks

6 oz /170 grams melted butter

1-½

cups

10.5 oz/294 grams granulated sugar

1-½

teaspoons

vanilla extract

7 ml

3

large eggs

¾

cup

all-purpose flour

3.4 oz/95 grams

½

cup

HERSHEY'S cocoa

40 grams – natural style

½

teaspoon

baking powder

2 ml

½

teaspoon

salt

use a scant teaspoon if using unsalted butter or butter sticks**
Instructions 
Preheat the oven to 350°F (176 C). Line an 8 inch square metal pan with foil and grease only the bottom. I like the method of greasing only the bottom of brownie pans because the brownies seem to stick to the sides and bake up more evenly rather than pull away.

Combine melted butter, sugar and vanilla in bowl. Add eggs; beat well with spoon.

Combine flour, cocoa, baking powder and salt; gradually add to egg mixture, beating gently until well mixed – don't overbeat or the brownies won't be as tender. Spread batter evenly into prepared pan.

Bake 40 to 45 minutes or until brownies appear set. Cool completely in pan on wire rack. Cut into bars. About 16 brownies.
Notes
**This recipe was developed with salted butter or margarine. I used unsalted butter and a scant 1 teaspoon of Morton Kosher salt. The brownies had a salty edge but tasted great.
Note: My friend used to live in Mexico and when she baked the brownies there, they always sank in the middle. When she moved back to Texas the recipe worked just fine, so if you are at a high altitude, make sure to adjust accordingly