We don't have enough chocolate chip cookie recipes, so here's another one. This one's featured on the bag of Gold Medal flour and the full recipe is here.
The cookies were very good. Mine were a little flatter than the ones in Gold Medal's photo, but they were still excellent. The edges were crispy, the cookies were dense and kind of chewy and they had a lot of flavor.
One big recommendation. If you make the full batch and you use unsalted butter, it's a good idea to increase the salt to at least 1 teaspoon. I used the equivalent of 1 1/2 teaspoons of salt. The cookies had a salty finish, but I kind of like that in a chocolate chip cookie. If you are indifferent towards levels of salt or just don't like tasting it at all, I'd increase the salt to 1 teaspoon. Again, that's only if you use unsalted butter. I used European style butter and I think that made them extra good. Unfortunately, I want to go eat 10 more cookies and am having a hard time staying away. Last night I dreamed I gained 81 pounds.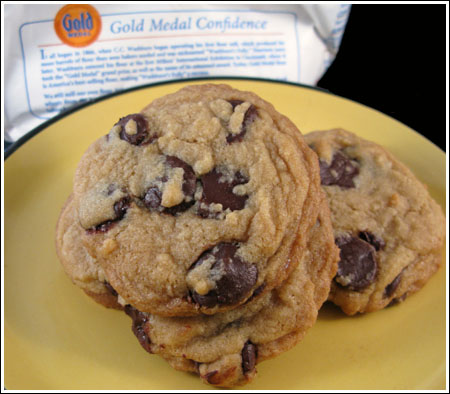 Related posts: