I've been on a mission to find the best cookies in Austin, and this week Todd brought home one of my old favorites -- a Black Gold Cookie from Upper Crust bakery. It's big, fat, and stuffed with walnuts, but I couldn't eat the whole cookie in one sitting so I put it away. The next thing you know it was stale. To make up for it, I made the Black Gold Cookies clone recipe off Recipe Goldmine.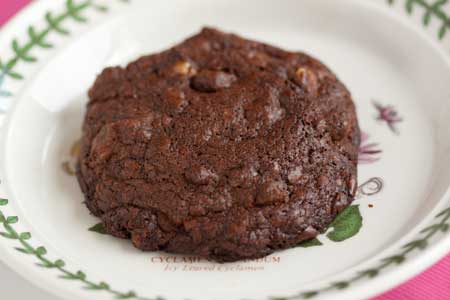 I'd made this one in the past, but couldn't remember anything about it other than it had a ton of nuts, much like the original. What I forgot was just how important it is to use great chocolate. I used "okay" chocolate (not the worst quality, not the best) and I got "okay" cookies.  The cookies were good, but would have been so much better with something like  Scharffen Berger or Green & Black's. So if you make these cookies, use high quality chocolate. Update:  Here's a new photo with unsweetened Callebaut and Trader Joe's semisweet chocolate pieces.  With the new chocolate, the cookies went from good to great!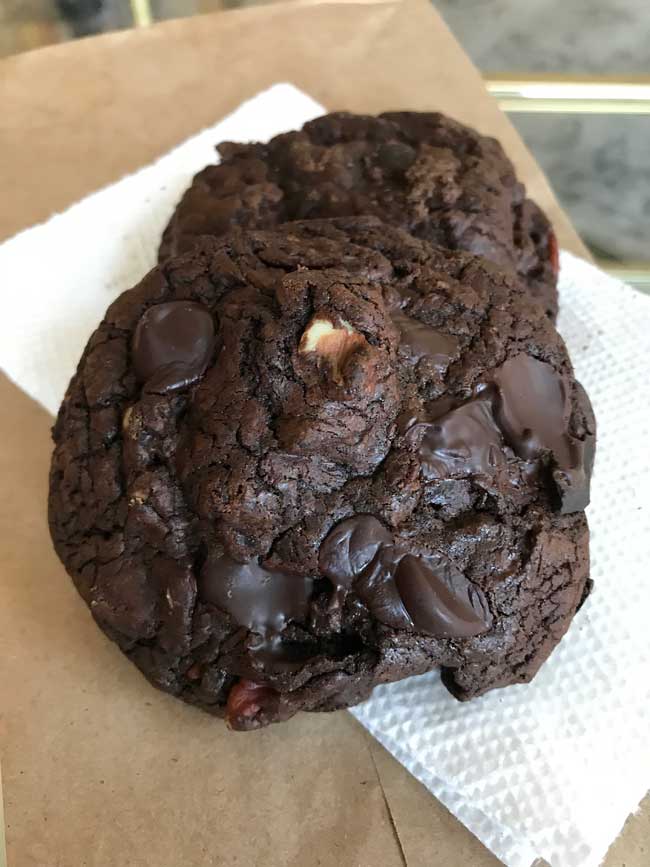 If you want to try the recipe but aren't necessarily excited about spending all that money on chocolate and nuts, this recipe can be scaled down to ⅔ or ⅓ pretty easily.   That way you can make a small batch and if you like it, make the full.  Also, the Recipe Goldmine version doesn't say anything about chilling the dough, and if you let your chocolate cool completely before adding it to the batter then you might not have to.  I tend to get impatient waiting for chocolate to cool, so I sometimes have to chill the batter until it is thick enough to scoop.
Source: The Upper Crust Bakery - Austin, Texas and Recipe Goldmine
Recipe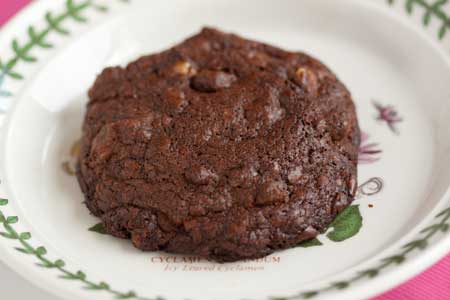 Black Gold Cookies
Giant double chocolate cookies with loads of nuts.
Ingredients 
1

stick

½ cup plus ½ tablespoon unsalted butter

3

ounces

unsweetened chocolate

chopped

9

ounces

semisweet or bittersweet chocolate

chopped

3

large eggs

1

cup

plus 2 tablespoons granulated sugar

1

tablespoon

instant espresso powder

1

tablespoon

vanilla extract

6

tablespoons

sifted all-purpose flour

½

teaspoon

baking powder

¾

teaspoon

salt

1 ½

cups

9 oz chocolate chunks or semisweet chips

1 ½

cups

walnuts

toasted and chopped (you can use more or less)

1 ½

cups

pecans

toasted and chopped (you can use more or less)
Instructions 
In a medium size microwave-safe bowl or a 2 cup Pyrex measure, melt the butter on high for about 30 seconds. Add the chopped unsweetened chocolate and semisweet chocolate. Stir well and microwave at 50% power, stirring every 30 seconds, until melted. Set aside to cool slightly

In a mixing bowl using an electric mixer, beat the eggs with the sugar for about 4 minutes or until light and fluffy and slightly thick. Add espresso powder, vanilla extract and chocolate mixture, beating until smooth.

In a small bowl mix together flour, baking powder, and salt and add to chocolate mixture, beating until just combined. Stir in the nuts. Chill for about 20 minute or just long enough to cool down the mixture (only if it is warm). When mixture is no longer warm, stir in the chocolate chips or chunks. If mixture is still soft, return to the refrigerator until it is scoopable.

Preheat oven to 325 degrees F. Scoop dough into 12 equal size mounds and arrange the mounds on a foil lined plate. Keep chilled until ready to use (or put them in a zipper bag, freeze them and bake as needed), or arrange 3 ½ inches apart on ungreased baking sheets. Bake one sheet at a time for 20-25 minutes on center rack (check sooner if you made the cookies smaller).

Bake cookies in batches in middle of oven 25 minutes, or until tops begin to crack (do not overbake). Cool cookies on a rack.