We went to visit my mother this weekend and she gave us a huge box of German cereal. It's called "Multi-Fit" and it looks and tastes like Special K. I'm not sure why Austin grocery stores are selling German cereal, but I guess there's demand because my mom said a friend told her about it and that it was cheap. This seems odd since it's imported from Europe, but whatever. I was excited about having German cereal in the house.
After eating dry German cereal all weekend, I decided to bake some of it into cookies. Since it's almost identical to Special K, I looked for recipes using that. This is the one I settled on and the cookies are pretty good. They're the thick, chewy, hearty cookies you can really sink your teeth into. The coconut makes them special. If you try them, let me know.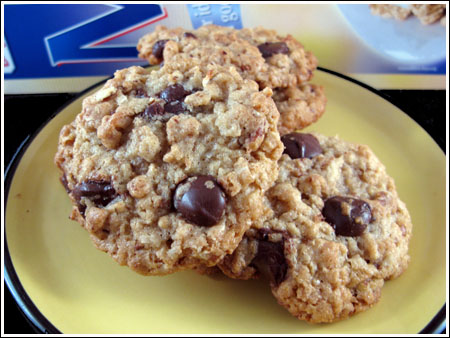 Special K Coconut Chocolate Chip Cookies Adapted from this one
1 cup plus 1 T. (135 grams) all purpose flour**
1/2 teaspoon (2 ml) baking powder
1/4 teaspoon (1 ml) baking soda
1/2 teaspoon (2 ml) salt
1 stick (114 grams) unsalted butter, room temperature
1/2 cup (100 grams) lightly packed brown sugar
1/2 cup (96 grams) granulated sugar
1 large egg
1 teaspoon (5 ml) vanilla
1/2 cup shredded, sweetened coconut, toasted** (40 grams)
3/4 cup toasted and chopped pecans (60 gram)
1/2 cup semi-sweet chocolate chips or chunks – more if desired
2 cups Special K cereal, lightly crushed after measuring
Thoroughly stir together the flour, baking powder, baking soda, and salt; set aside.
Cream butter and both sugars for 2 minutes using high speed of an electric mixer. Add egg and vanilla and beat on low speed just until egg is mixed in.
Add flour mixture and stir until almost fully blended, then add coconut, nuts, chocolate and cereal – continue stirring until all ingredients are mixed. Chill dough for 1 hour.
Preheat oven to 350 degrees F. Line 2 cookies sheets with parchment paper.
Scoop up dough with a tablespoon and shape into 1 inch ball. Bake on parchment lined cookie sheets for 12-15 minutes or until fully cooked.
Remove from sheet and let cool on a wire rack. Cool completely before eating. These taste much better after they've cooled.
Makes about 30 cookies
Note: I usually use 4.5 oz/130 grams flour per cup, but the cookies were a little thinner than I liked so I added some flour to the dough and got slightly thicker cookies. If you don't use a scale and usually scoop your flour and pack it in a little or shake the cup, leave out the extra T flour. I think the original recipe was developed by someone who scooped flour with a pretty heavy hand.
To toast coconut and pecans, line a cookie sheet with parchment or foil. Spread pecans and coconut on lined cookie sheet and bake together for 8-10 minutes. Cool completely before chopping pecans.
Related posts: