We usually buy Cheerios, but last week I couldn't resist the low price of the store brand knock-off "Original Tasteeos" and threw some in the cart. When I got home I was pleased to find there was a recipe on the side called Delightful Coconut Cookies -- chewy coconut cookies made with Cheerios (or Tasteeos) crushed oat cereal and coconut.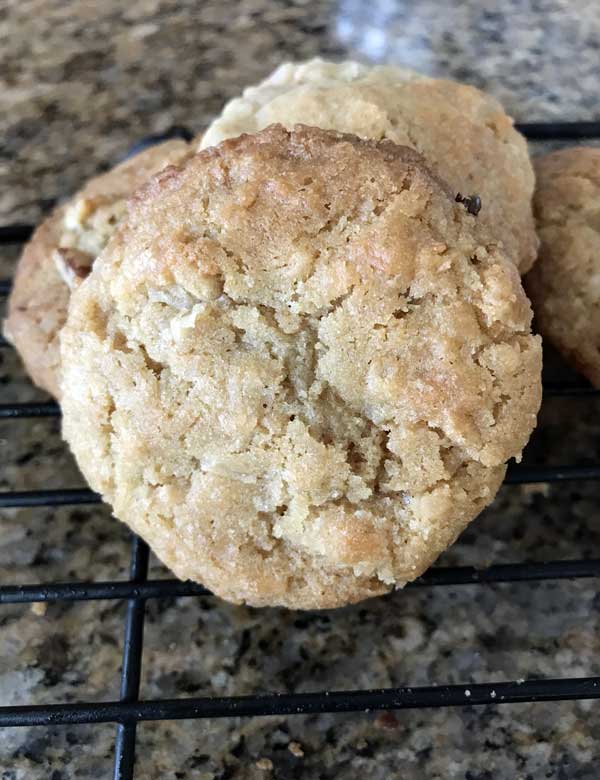 Delightfull Coconut Cookies Texture and Flavor
Chocolate Chip Cookies with Cheerios are surprisingly good, and I'm happy to say the Delightful Coconut Cookies are too. They are chewy and have a nice mélange of flavors. Interestingly, the butter flavor is particularly prominent, which is surprising since most of the fat is shortening. You could probably use all butter, but it would change the texture.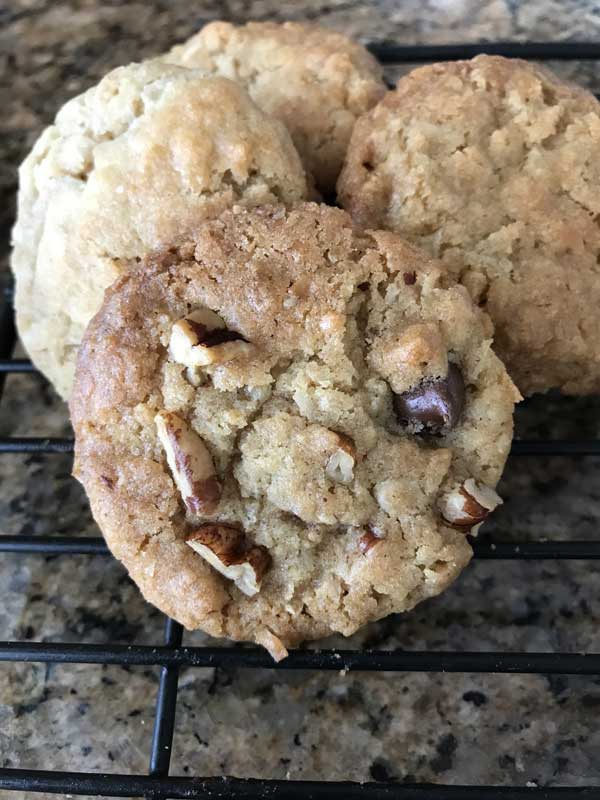 Delightful Coconut Cookies are supposed to be baked at 350 in a regular oven, but I've been on a toaster oven kick and baked them in my Breville using the convection setting. The recipe doesn't call for chocolate chips and pecans, but they sure don't hurt! That said, the version without the add-ins have a more elegant appearance.
Recipe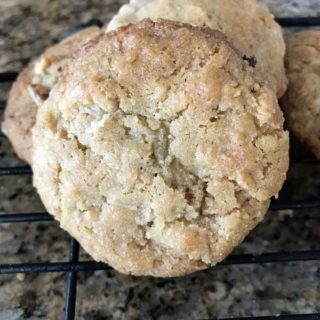 Delightful Coconut Cookies
Chewy coconut cookies made with crust Cheerios type cereal.
Ingredients 
½

cup

98 grams shortening

¼

cup

softened unsalted butter

¼

teaspoon

salt

omit if using salted butter

1

cup

200 grams packed light brown sugar

1

large egg

1

teaspoon

vanilla extract

1

cup

135 grams all-purpose flour

1

teaspoon

baking soda

2 ½

cups

Tasteeos or Cheerios crushed to make 1 ½ cups

¾

cup

flaked coconut

I used sweetened flaked

½

cup

pecans and/or coconut

optional
Instructions 
Preheat the oven to 350 degrees F. Line a baking sheet with parchment paper.

With an electric mixer, beat the shortening, butter and sugar until creamy. Add the egg and vanilla, then beat until well mixed.

In a separate bowl stir together the flour and baking soda, then add the flour mixture to the butter mixture and stir until blended. Stir in the cereal and coconut (and chocolate and nuts, if using).

Drop the cookies by level tablespoon onto the baking sheet and bake for 8 to 10 minutes.

Let cool on a rack.