The name of these cookies always makes me laugh. I don't know who coined it or when, but the"why" is pretty obvious. Buffalo Chip Cookies are large, brown, slightly crispy cookies similar to Rangers but with less cereal and similar to Oatmeal Cookies but without as many oats.  I guess they really do fall into the category of "Everything Cookies" with the distinction of being large and brown.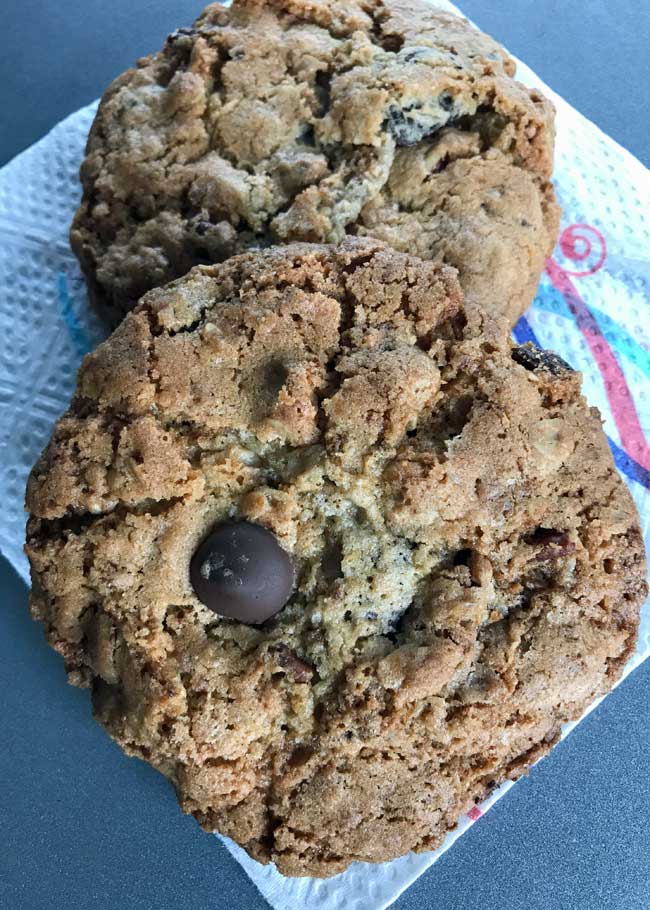 The fun thing about making Buffalo Chip Cookies is that you can change up the cereal and chips. The recipe usually calls for Corn Flakes, but for this batch I used Bran Flakes and will probably stick with them from now on. For the chips I used the Allrecipes.com combo of chocolate chips, peanut butter chips and raisins.  It seems like an odd mix, but the small amount of peanut butter chips and raisins actually make the cookies a little more interesting without clashing with the other flavors.  If you are a serious raisin hater you can leave them out.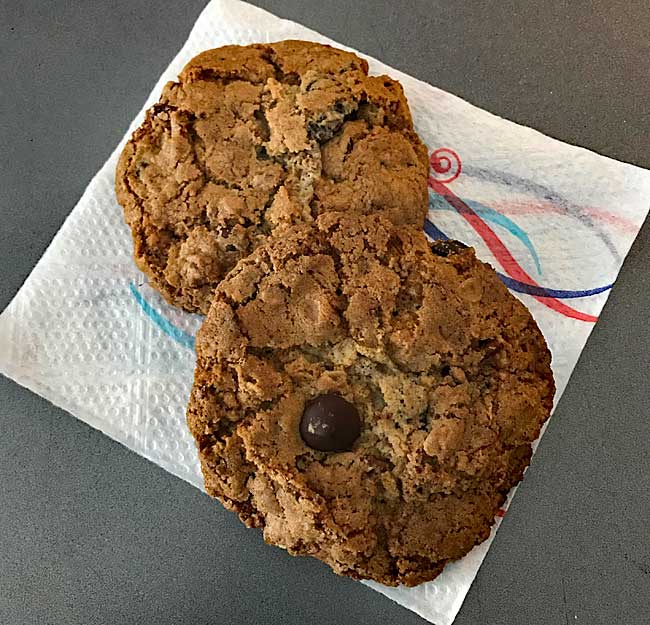 As for the coconut, you can leave it out and increase the nuts, but I recommend leaving the coconut in because the unsweetened type adds just a touch of flavor and structure.  Sweetened flaked coconut makes Buffalo Chip Cookies too sweet.   Here's the recipe for now, which is similar to the original version.  For the fat you can use all butter or half butter and half shortening.  The all butter version is great.  The version with half shortening is a tad bit more crunchy.
Great Grains Cookies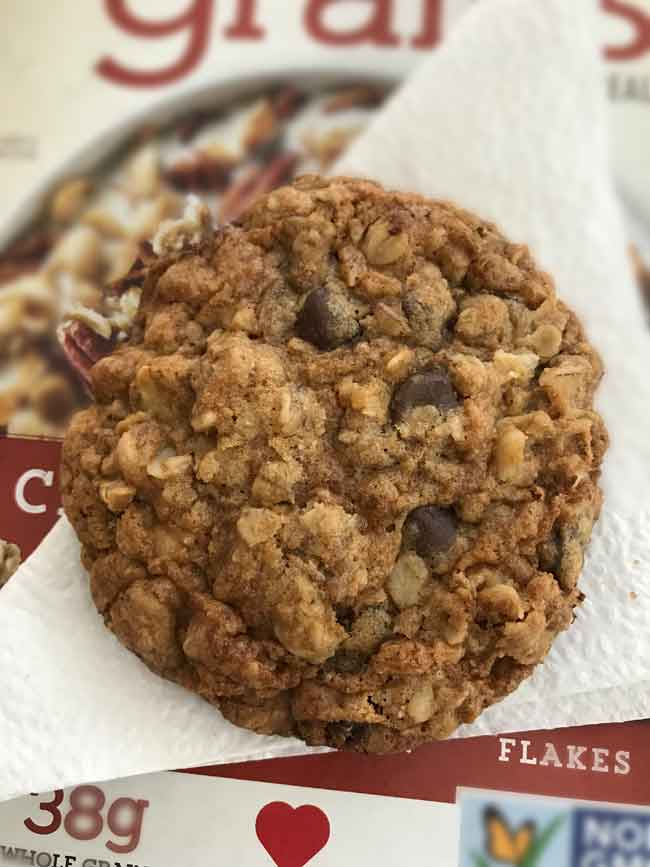 The recipe below is for Buffalo Chip Cookies with Bran Flakes, but you can also make Great Grains Cookies. The cookie in the photo above uses the same recipe, but different cereal (Great Grains Pecan). I also played around with the baking time, lowering the heat to 325F and baking for about 20 minutes. Baking the cookies at a lower temperature for a longer time made them cook more evenly for a more uniformly crispy texture. The one in the photo was also made with butter, no shortening.
Recipe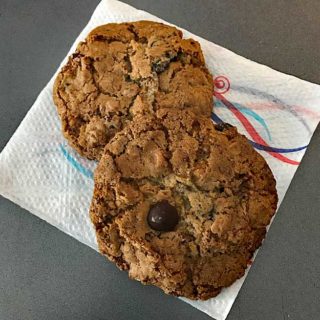 Buffalo Chip Cookies
Buffalo Chip Cookies
Ingredients 
2

cups

all-purpose flour

260 grams, use bread flour or AP

1

teaspoon

baking powder

1

teaspoon

baking soda

1

teaspoon

salt

1

stick unsalted butter

at room temperature (114 grams)

½

cup

vegetable shortening

96 grams or use 114 grams more butter

1

cup

200 grams light brown sugar, tightly packed

1

cup

granulated sugar

200 grams

2

large eggs

2

teaspoons

vanilla extract

1

cup

old fashioned oats

85 grams

1

cup

lightly crushed Bran Flakes

80 grams

1

cup

chocolate chips

⅓

cup

peanut butter chips

⅓

cup

raisins

⅔

cup

finely chopped and toasted pecans

½

cup

unsweetened shredded coconut

optional
Instructions 
Thoroughly mix together the flour, baking powder, baking soda and salt. Set aside.

In the bowl of a stand mixer fitted with the paddle attached, beat butter (and shortening, if using) until creamy. Add sugars and continue beating for 4 minutes, stopping to scrape bowl often.

Add eggs, one at a time, beating on medium until blended, then beat in vanilla extract.

Add flour mixture and beat on low until incorporated, then stir in crushed Bran Flakes, oats, chocolate chips, peanut butter chips, raisins, pecans and coconut (if using).

Using a large cookie scoop, scoop out 22 portions of dough and shape into compact balls. press down slightly (especially if you used shortening). Put them in the refrigerator, covered, for several hours or until ready to bake. Alternatively, you can them right away -- especially if you used shortening.

Preheat oven to 375 degrees F.

On a parchment lined baking sheet, arrange dough balls about 4 inches apart.

Bake one sheet at a time for 18 minutes or until cookies are brown and appear done. Let cool on baking sheet for about 4 minutes, then transfer to a wire rack to cool completely. These aren't great warm because the cereal is still soft. Make sure to let them cool before serving.