Joanne's Welcome Home party is tonight and I'm really looking forward to it. Hopefully, I'll have some pictures for you tomorrow. For now, this is all I've got…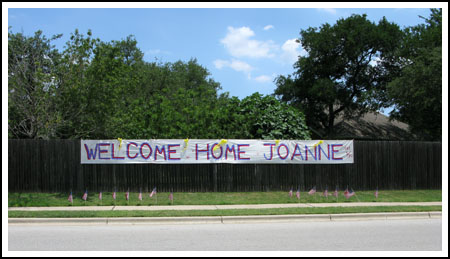 Normally when we have these street parties people bring potluck dishes, but tonight it's catered and all I'm taking is wine. So today's recipe was something I made for myself and "myself" wanted (as usual) chocolate chip cookies. I'd been meaning to try these for a few weeks and am glad I finally did because they look a lot like the original and taste great. I still want to try them with European style butter, though. And while these are crispy, they don't have quite the same crispness as the original. Maybe the European style butter will solve that problem too. I'll get back to you on that.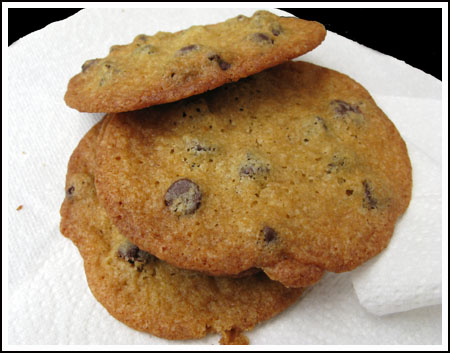 The Tate's Bake Shop Clone Chocolate Chip Cookie
2 cups all-purpose flour (270 grams)
1 teaspoon baking soda (5ml)
1 teaspoon salt (5ml)
2 sticks butter, recipe called for salted but I used unsalted
3/4 cup sugar (140 grams)
3/4 cup firmly packed brown sugar (dark) – (170 grams)
1 teaspoon water (5 ml)
1 teaspoon vanilla (5 ml)
2 large eggs
2 cups semi-sweet chocolate chips (330 grams)
Preheat oven to 350 degrees F (176 C). Line some cookie sheets with parchment.
Mix together the flour, soda and salt; set aside.
Cream the butter and both sugars with an electric mixer. When creamy, beat in the water, vanilla and eggs. Beat eggs just until mixed – don't over-beat. Add the flour mixture gradually and stir until almost combined, then add the chocolate chips and stir until all flour is incorporated.
Scoop up tablespoons of dough (only slightly rounded rather than heaped) and arrange 2 inches apart on cookie sheets. Bake or 12-14 minutes or until cookies have brown edges and look done.
Let rest on cookie sheets for about 2 minutes, then transfer to a wire rack to cool.
Related posts: