With Easter on the way, I thought I'd let Louise share a recipe she told me about months ago. It's an old Pennsylvania Dutch recipe for chocolate covered coconut eggs, and the secret ingredient in the filling is potato.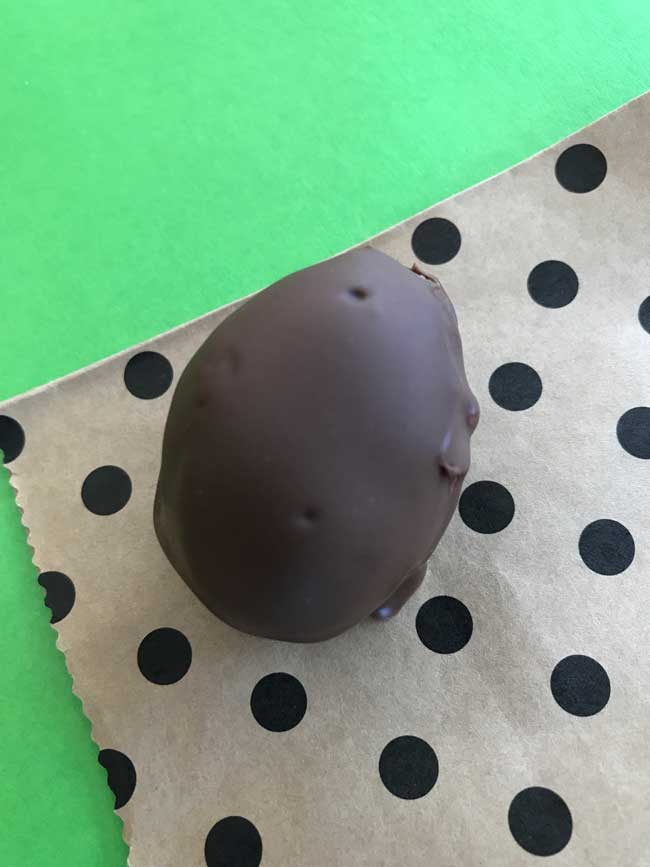 From Louise
In Eastern Pennsylvania, local church ladies sometimes sell coconut eggs by the dozen as fund raisers at Easter. They're a popular treat in that part of the country, and I have fond memories of making them (along with the peanut butter variety) with my mom.
Last year I decided it was time to try making the coconut eggs myself. I didn't have the actual recipe on paper, but a Google search brought up this one (link doesn't work anymore) from About.com Even though the sole reviewer had decreed them as "ABSOLUTELY INEDIBLE!", I knew that the basic idea was right and jumped in.
Below is the adapted recipe which changes the volumes of the key ingredients and clarifies the instructions. I added my own review to the About recipe (update: which we'll never get to see), along with my changes and hope some of you will try these and let me know what you think. I can take the criticism.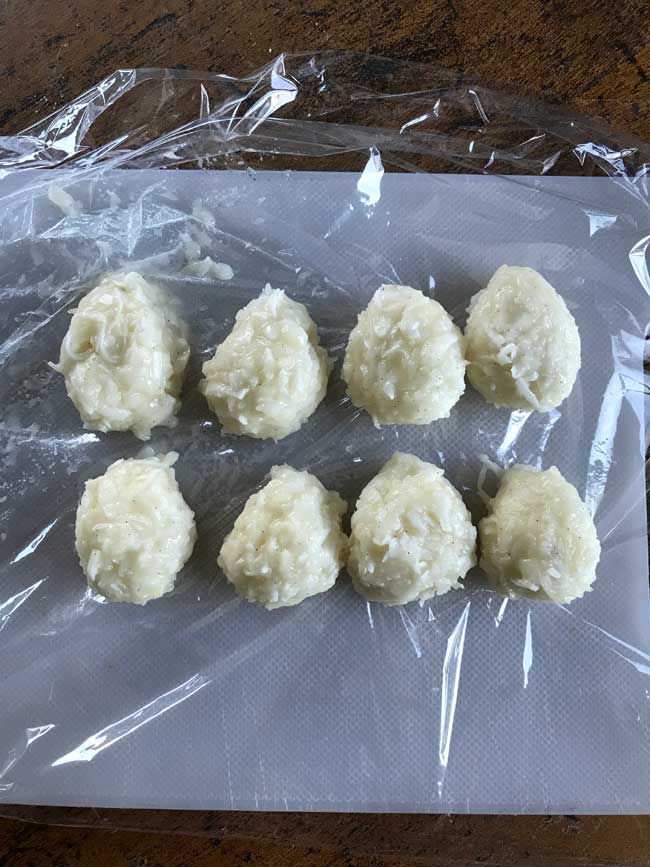 If you search for other recipes, you will also find ones that include cream cheese, but that totally changes the taste and takes away from the coconut flavor.
Coconut Easter Eggs Made with a Potato aka Needhams or Potato Candy
1 medium potato (approx. 6 to 8 oz before cooking, cooked to make ¾ cup unseasoned mashed potatoes)
2 cups unsweetened dried coconut
¼ teaspoon salt
1 teaspoon vanilla
1 ½ pounds confectioners sugar (about 6 cups)
12 ounces dark chocolate plus 1 teaspoon vegetable oil
Let the potato thoroughly cool before using. Otherwise it melts the sugar and you will use far more sugar to make a stiff mixture and end up with a much sweeter candy.
In a medium bowl, combine the cool mashed potatoes, coconut, salt, and vanilla. A hand mixer is fine.
Add the sugar a cup at a time and mix well. The first cup of sugar will draw the water from the potato. Continue adding sugar a cup at a time to taste and the mixture becomes slightly stiff. It does not have to be too dry as the coconut will absorb some of the liquid. Refrigerate overnight.
Allow to come to room temperature, then shape into eggs. A cookie scoop works well to create uniform sized pieces. Place on waxed or parchment paper.
Melt chocolate. The vegetable oil is optional but will give the chocolate a slight shine. Dip formed eggs in melted chocolate and set back on paper to harden. -- To avoid pools of chocolate, my technique is to balance an egg on a fork to dip it and let it drain before placing it on the paper.
Using Sweetened Coconut
Anna's Note: This recipe from Louise is a good one, but you can also make these with sweetened flaked coconut. To use sweetened coconut, use ¾ cup unseasoned mashed potatoes, 4 cups sweetened coconut, 4 cups confectioners' sugar, ½ teaspoon of salt and about 1 ½ teaspoons of vanilla.