A few weeks ago I got an email from Katy G. saying she'd found the best chocolate frosting EVER in the new Martha Stewart cupcake book. She'd reduced the butter slightly since the original recipe used 4 ½ sticks, but even with the reduced amount of butter, the frosting was fabulous.
The next day I went to Costco and bought the book. It's my third or fourth cupcake book and definitely my new favorite because while it does have some cute decorating ideas, it's more about good recipes and good flavor combos than just cutenes.
These cupcakes were made with Martha's chocolate chip cupcake "cake" recipe and a reduced fat butter version of her dark chocolate frosting.  They were incredible.  Recipes follow…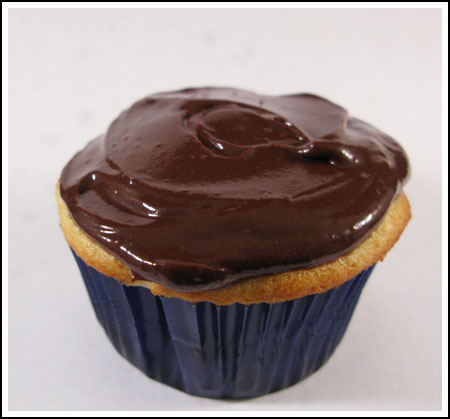 Chocolate Chip Cupcakes –the excellent "cake" component of the cupcake.
Dark Chocolate Icing (too much butter version…try if you dare)

Martha Stewart's Chocolate Chip Cupcakes with Dark Chocolate Icing
Reduced Butter version of Martha's Dark Chocolate Frosting
Ingredients
1/2 cup plus 1 tablespoon unsweetened Dutch-process cocoa powder
1/2 cup plus 1 tablespoon boiling water
2 sticks (8 oz) butter
2 cups confectioners' sugar, sifted
1/4 teaspoon salt
12 ounces best-quality semisweet chocolate, melted and cooled
Instructions
Combine cocoa and the boiling water, stirring until cocoa has dissolved. With an electric mixer on medium-high speed, beat butter, confectioners' sugar, and salt until pale and fluffy. Reduce speed to low. Add melted and cooled chocolate, beating until combined and scraping down sides of bowl as needed. Beat in the cocoa mixture. If not using immediately, frosting can be refrigerated up to 5 days, or frozen up to 1 month, in an airtight container. Before using, bring to room temperature, and beat on low speed until smooth again.
Related posts: