German Chocolate Cupcakes are so good, but they are a project. I don't make them often. In fact, the last batch before this one was for a National Junior Honor Society ceremony, which would have been Fuzz's eight grade year. She's in college now, so it's been a while.
Jump to Recipe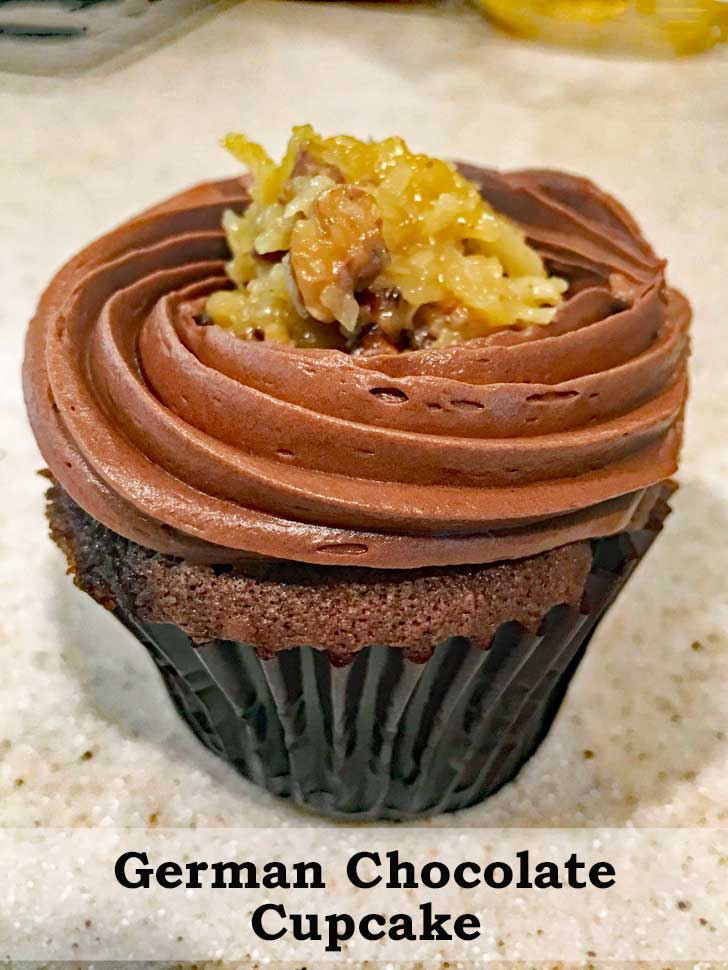 So as it happened, I had some time on my hands yesterday morning plus all the ingredients for a small batch of German Chocolate Cupcakes. It took a few hours, but they were worth it! Here are some notes along with the recipe.
Coconut-Pecan Filling
The Coconut-Pecan Filling is the most important part of German Chocolate Cupcakes, so I like to make it first. It's the same filling that frosts my Small German Chocolate Cake. For the best flavor, make sure to toast the pecans.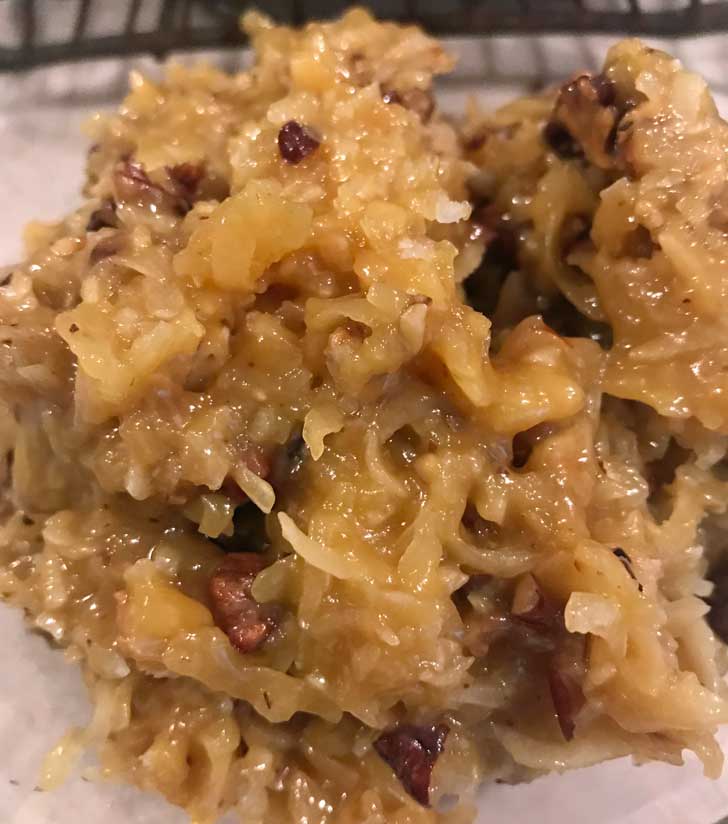 German Chocolate Cupcakes
The little cakes are pretty easy, and don't call for German's chocolate, but rather semisweet or dark. I use Trader Joe's Dark since it's so reasonably priced. As far as cupcake sizes go, normal size grocery store cupcake cups will give you about 24 cupcakes, but I prefer using slightly larger cupcake cups -- specifically the 2 x1 ¾ inch glassine cups from Webstaurant. But you can use any standard size cupcake cups. Whatever size cupcake cups you use, leave room for the cakes to rise.
Chocolate Frosting
You can use any chocolate frosting for German Chocolate Cupcakes, but if you've already purchased a giant block of Trader Joe's dark chocolate or just want to go with something simple, Whipped Chocolate Ganache works well. You can make it with dark or milk chocolate. If you want a lighter textured (and more time consuming) frosting, you might consider the chocolate frosting that goes with the Cook's Illustrated Ultimate Chocolate Cupcakes.
Piping on the Frosting
The chocolate frosting goes around the coconut mixture, so the best way to frost German Chocolate Cupcakes is to pipe it on. If you have a pastry bag and some tips, it's pretty simple. If you don't own these things, there are lots of good deals on Webstaurant and Amazon for disposable pastry bags and large size piping tips.
Recipe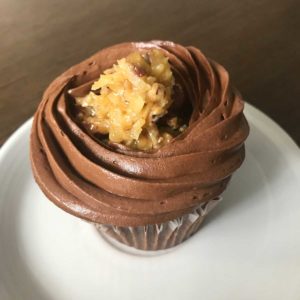 German Chocolate Cupcakes
German Chocolate Cupcakes
Ingredients 
2

cups

cake flour

(230 grams)

1

tablespoon

natural unsweetened cocoa powder

1

teaspoon

baking soda

¾

teaspoon

salt

1 ½

sticks

unsalted butter, room temperature

(170 grams)

1 ⅓

cups

sugar

(300 grams)

3

large

eggs

room temperature

1 ½

teaspoons

pure vanilla extract

1

cup

buttermilk

5

ounces

semisweet chocolate, melted and cooled

(140 grams
Coconut Pecan Frosting
2

large

egg yolks

6

ounces

evaporated milk

(½ can)

¼

cup

packed light brown sugar

(50 grams)

½

cup

granulated sugar

(100 grams)

6

tablespoons

unsalted butter, cut into chunks

(85 grams)

1 ½

teaspoons

vanilla extract

⅛

teaspoon

salt

1 ⅓

cups

sweetened flaked coconut

(100 grams)

¾

cup

toasted and chopped pecans

(85 grams)
Whipped Chocolate Ganache
¾

cup

heavy cream

6

oz

chopped milk or dark chocolate

(170 grams)
Instructions 
Make Coconut-Pecan Filling First
In a 3 quart saucepan off heat, whisk together egg yolks, evaporated milk and both sugars. Cut the butter into thin slices and add to the mixture. Set over medium heat and cook the mixture at a low boil/rapid simmer, stirring constantly, until the mixture thickens slightly, starts to smell good and darkens to a butterscotch color. This should take from 5 to 10 minutes. If any lumps form, pour it through a strainer. Let it cool, then stir in the vanilla, salt, coconut and pecans.
Cakes
Preheat oven to 350 degrees. Line 20 to 24 cupcake cups with paper liners.

Thoroughly whisk or stir together the flour, cocoa powder, baking soda, and salt, whisking out any lumps.

With an electric mixer on medium-high speed, cream butter and sugar until pale and fluffy. Add eggs, one at a time, beating until each is incorporated, scraping down sides of bowl as needed. Beat in vanilla. Reduce speed to low. Add flour mixture and buttermilk alternately, stirring until blended. Lastly, stir in the cooled melted chocolate.

Divide batter evenly among prepared cups, filling each about ¾ full. Do not overfill, as they will rise quite a bit. Bake for 20 to 22 minutes, then transfer to wire racks to cool. After about 10 minutes, remove from cupcake tins.

To assemble cupcakes, scoop out a little cake from the center to make a small (about 1 inch wide and ½ deep) well. Add a spoonful of coconut-pecan mixture heaping it so it comes up in the middle.

Once all of the cupcakes are filled, make your chocolate icing and pipe it around the edge.
Whipped Chocolate Ganache
Put the chopped chocolate in a microwave-safe bowl.

Heat the cream in microwave-safe measuring cup or in a saucepan just until it starts to boil, then pour over the chocolate. Let stand for one minute, then stir until smooth. If it doesn't melt all the way, you can microwave the ganache for 30 seconds. Let it cool at room temperature for about 30 minutes. It will thicken slightly, but will still be runny. Put it in the refrigerator for about 30 minutes or until it is very cold.

Scrape into a mixing bowl and beat with a hand-held mixer until it is stiff enough to pipe. Transfer to a pastry bag and pipe it in a circle around the filled cupcakes.