Thanks to the reader who recommended Gale Gand's brown sugar chocolate cake! After reading the recommendation I felt sure I had tried it at some point, but since I couldn't remember I made it again. It's a chocolate cake made with brown sugar and sour cream frosted with a chocolate cream cheese frosting.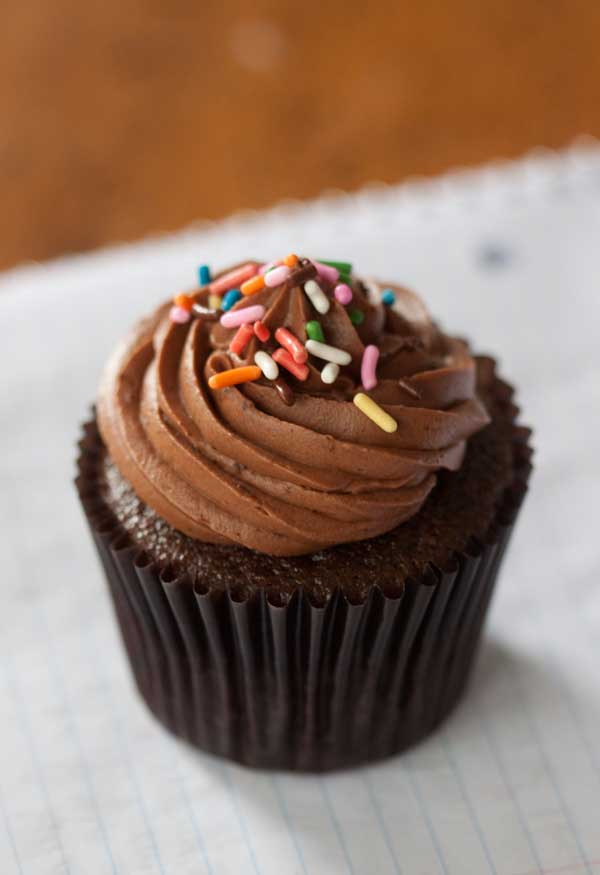 For practical purposes, I halved the recipe and made it the cake cupcakes.  Here's what the inside looks like. The cakes are moist, but sturdy.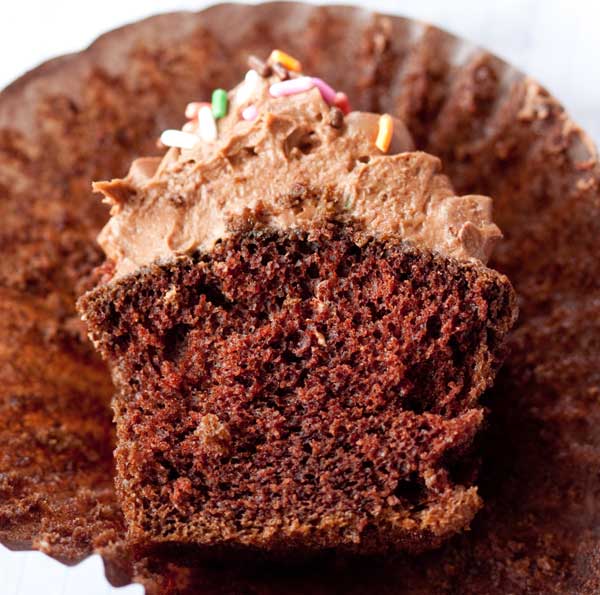 Dark Brown Sugar in Chocolate Cake
Chocolate is the predominate flavor, but with the brown sugar and sour cream, you get other flavors so the cake has "that little something" that makes it different. Another interesting thing about this recipe is the chocolate frosting, which employs cream cheese for a little zing and gives the icing a smooth texture. It also curbs the sweetness somewhat, as this chocolate icing was definitely not too sweet.
By the way, if you're in the market for some new cupcake cups/wrappers, I recommend hunting down the kind with a 2 inch base and 1 3/4 inch high sides. The 2 x 1 3/4 inch size cupcake cups are great because the base fits snugly into a standard size cupcake tin, but the sides are a little higher so your cupcakes come out tall and stately like a bakery cupcake. I found this size Webstaurant.  If you want to buy your cupcake wrappers somewhere else, just be careful when searching because a lot of the glassine cupcake cups have 2 inch bases, but their sides are only 1 1/4 inch high.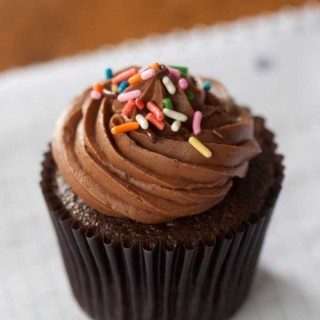 Brown Sugar Chocolate Cake Cupcakes
Brown sugar and sour cream help make these cupcakes moist and delicious. For a brown sugar chocolate cake, double the recipe and bake in 3 9 inch round pans.
Ingredients 
1/2

cup

1 stick unsalted butter, softened (120 grams)

1 1/2

cups

light brown sugar

packed (300 grams)

2

large eggs

100 grams

1

teaspoon

pure vanilla extract

1/4

cup

plus 2 tablespoons unsweetened cocoa powder

I used natural**

1 1/2

teaspoons

baking soda

1/4

teaspoon

salt

1 1/2

cups

sifted cake flour

150 grams, measure after sifting or weigh

2/3

cup

sour cream

3/4

cup

hot coffee
Frosting
4

tablespoons

1/2 stick unsalted butter, softened at room temperature

8

ounces

cream cheese

softened at room temperature

4

ounces

unsweetened chocolate

melted and just slightly warm (not hot)

1/4

cup

cooled coffee

2

teaspoons

pure vanilla extract

3

cups

confectioners' sugar
Instructions 
Preheat the oven to 350 degrees. Line about 18 cupcake cups with paper liners. You may need more or fewer liners depending on how deep your cupcake cups are.

With an electric mixer, beat the butter until smooth. Add the sugar and beat well, then add the eggs and mix until fluffy, scraping bowl often, about 3 minutes. Beat in the vanilla, cocoa, baking soda and salt.

Add 1/2 of the sifted flour, then 1/2 of the sour cream and mix. Repeat with the remaining flour and sour cream. Drizzle in the hot coffee and mix until smooth. The batter will be thin.

Pour batter into cupcake cups coming a little over halfway full (almost 2/3, but not quite). Bake on center rack for 22-25 minutes or until cupcakes spring back when touched. Let the cupcakes cool in the pan for just 3 minutes, then carefully remove them from the pan and let cool on a wire rack.

Frosting: With an electric mixer, beat the butter and cream cheese together until smooth. Drizzle in the melted chocolate and mix. Add half of the sugar and mix well, then add the coffee and vanilla. Beat well, scraper bowl and add remaining sugar. Beat until creamy, and adjust sugar and liquid if needed.
Notes
The yield will vary depending on what size cupcake liners you use. I like to use 2 x 1 3/4 inch cupcake cups which are slightly taller. For this size cupcake, you'll get 16.
Also, I used natural cocoa powder for the cupcakes in this photo, but the original version calls for Dutch. In cupcakes the two were interchangeable, but if you are making these as a cake you might want to stick with Dutch.