So far the only downside to living in Chicago is that I've been spending way too much money on cupcakes!  I'll get back to baking them, but lately all I want to do is sample bakery cupcakes  and call it "research".  So based on my intensive "research", here are a few recommendations for cupcakes in Chicago.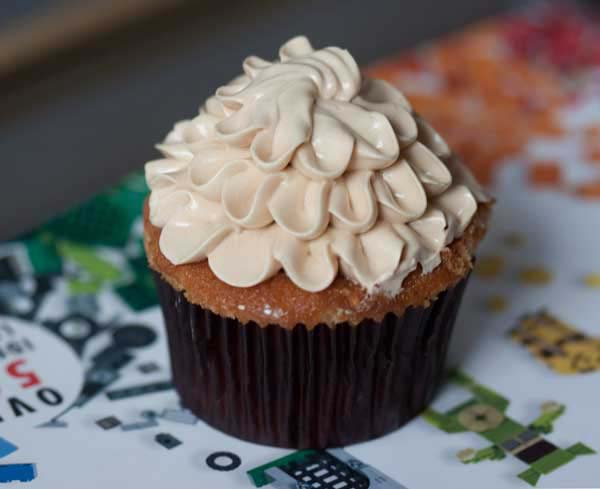 Let me preface this with the only neighborhoods I've covered are Gold Coast, Lincoln Park and Lakeview, and I haven't really "covered" them at all.  This is long term research.  For now, here are my picks.  And for those of you in the Chicago area, you'll recognize these as obvious picks.  If you know of other good ones or cupcakes that fly under the radar, clue me in!
In the Gold Coast area, we like More Cupcakes at 1 East Delaware, near The Magnificent Mile. More Cupcakes has a variety of flavors all arranged in a striking art gallery type presentation, and the orderliness of it all somehow makes it easier to choose flavors.   In my opinion, their chocolate ones are the best -- especially the Chocolate Hazelnut Cupcake.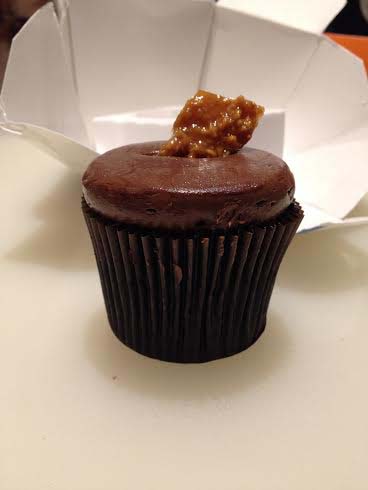 I don't know what kind of cocoa they use, but out of all the cupcakes I've tried they rank #1 in chocolate.  As for their white and yellow cupcakes, the White Velvet is very good and recommended for anyone who likes a less-sweet frosting.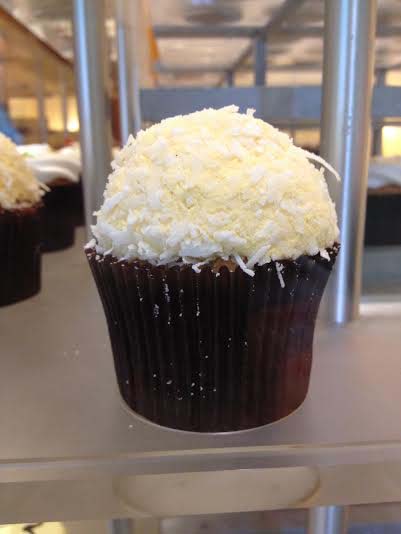 The only downside to More Cupcakes is that it's a small shop with no tables so you have to know where you're going to eat your cupcake in advance.
Figuring out where to eat your cupcake won't be a problem if you head to Lincoln Park.  It's a cupcake lover's paradise, and my two favorite shops both have seating.  They are Molly's and Sweet Mandy B's.
Molly's Cupcakes at 2536 N. Clark Street is good for people who like choices. They have several different flavors on display all at once and it may be difficult to pick a flavor. For testing purposes, the first cupcake I tried at Molly's was plain vanilla.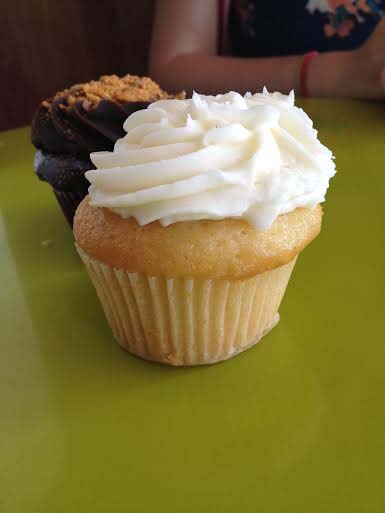 My daughter took a more adventurous approach, and on our first visit she ordered The Ron Bennington, a chocolate cupcake with peanut butter filling, ganache and frosting.  Yikes.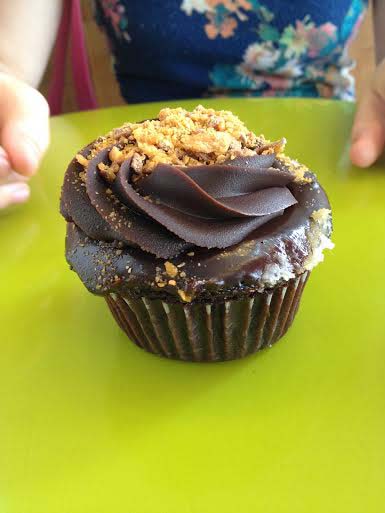 She let me take a picture of the cross-section.  Looks good, but I'd still rather have vanilla.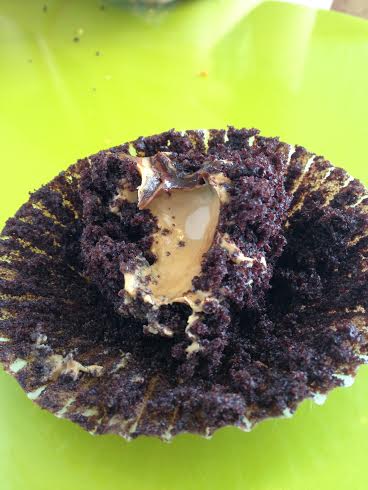 So Molly's has a lot of cupcake flavor and filling choices and lots of seating so you can relax and enjoy the goods before your head west for more cupcakes!
The place that makes a really good plain yellow cupcake is  Sweet Mandy B's at 1208 W. Webster in Lincoln Park near DePaul.  Sweet Mandy B's is popular with kids, and one look at their lineup explains why.  Along with cupcakes Mandy B's sells American classics like Special K bars, Magic Cookie Bars, Rangers and Chocolate Chip Cookies. Me, I'm just there for the cupcakes.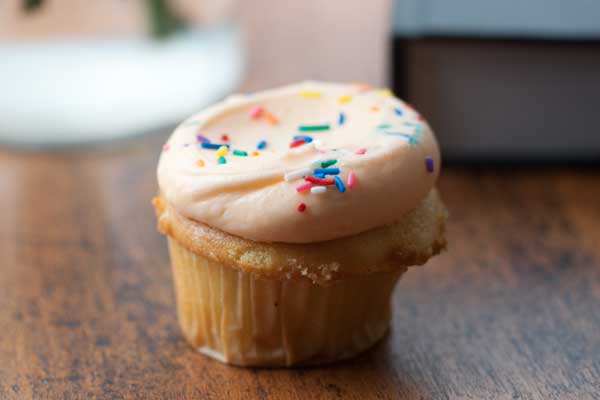 Mandy B's yellow cupcake has a light, crumb that almost reminds me of a very, very, fresh Twinkie.  The frosting is a rich, dense, American style buttercream with a hint of some flavor I can't pinpoint.  They're top heavy, too. The cupcakes get squashed under all the frosting because the cake is so soft and the frosting is so heavy.  I kind of wish I could cross the cake part of a Sweet Mandy B's cupcake with the icing from another favorite, Swirlz. The Swirlz cupcake I tasted was pretty good, but their frosting was unbelievable.  I believe it is an Italian buttercream, but it's sweeter than More's and has a slick but not too greasy texture that makes you want another bite.  I need to make a second visit to Swirlz to re-evalutate, but I can't stop thinking about their frosting.  As a side note, Swirlz also has gluten-free and vegan cupcakes.
Speaking of good frosting, Bittersweet is a pastry shop specializing in European style pastries, but they also make fantastic cupcakes.  The shop is in Lakeview and easily accessible via the train -- just get off at Belmont and walk west 'til you hit it.  Bittersweet has plenty of seating and is a nice place to relax after a long cupcake-seeking trek.  They only bake a few flavors at a time, so try to go on a day when they're making Salted Caramel. The crumb is light and slightly crumbly (but not dry) and the icing has the silky texture of a European style buttercream, but sweeter than More's.  It also has a filling, but wasn't as rich as the Ron Bennington (thank goodness).  The first photo I posed is from Bittersweet, and below is its cross-section.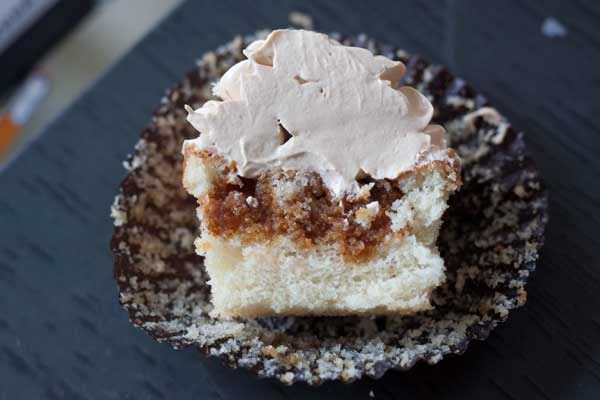 So there's a sampling of North and Near North cupcakes for you, but I still have so many to try and recommend! My friend Maris at In Good Taste swears by a delivery cupcake called "Foiled". Other people say Alliance Bakery makes good cupcakes, and the cupcakes I see at Goddess and Grocer also look pretty good. If you have one I need to put high on the list, let me know.