Last month in San Francisco, I had a great slice of zucchini bread at a restaurant called Tartine. It was dense, thick, moist, and packed with nuts and as I ate it, I made a note to try to find a good zucchini bread recipe when I got home. Making a rich, traditional style bread like Tartine's was the plan, but then I was gifted with a big bottle of agave and decided to try something new.
You can make this bread with any brand of agave, but since Xagave mailed me a free sample of their product, I used Xagave. I liked the flavor and would definitely buy this brand again because it has the added benefit of fiber. They make it with white and blue agave and the fiber comes in the form of inulin, which is in the blue. I also like that it comes in 25 oz bottle so you don't use it up in a day! You can also buy it in larger sizes.
But back to the bread.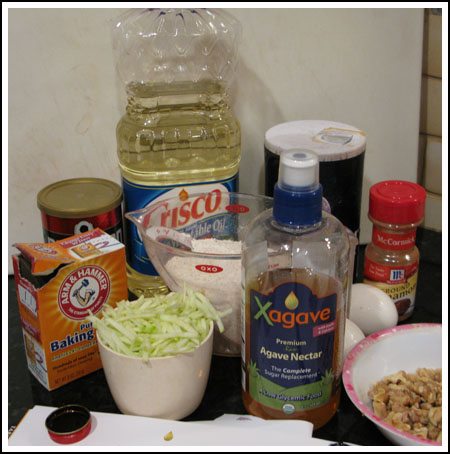 My loaf pan is slightly larger than the usual 9×5, so my loaf the loaf was shorter and a bit wider. I decided to cut in like a cake square rather than the usual loaf slice. The bread was cinnamony, moist, packed with walnuts and overall, very good!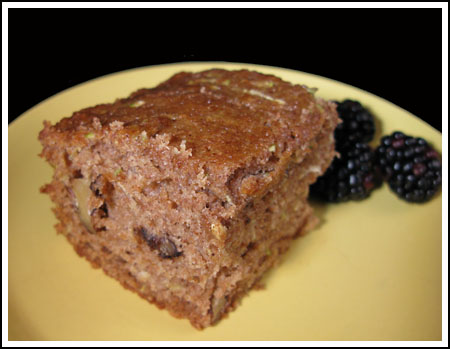 Zucchini Bread with Agave
3 large eggs, well beaten
1/2 cup vegetable oil
1 1/3 cups agave (I used Xagave)
2 cups raw zucchini, peeled and grated
3 teaspoons vanilla extract
3 cups whole wheat pastry flour
1 tablespoons cinnamon
1 teaspoon salt
1/4 teaspoon baking powder
1 teaspoon baking soda
1/2 cup chopped walnuts
Preheat oven to 325 degrees F. Spray a 9x5x4 inch loaf pan with cooking spray.
Combine eggs, oil, agave, zucchini, and vanilla; mix well. Mix the flour, cinnamon, salt, baking powder and baking soda together in a second bowl. Add dry flour mixture to zucchini mixture and stir until blended. Stir in the nuts.
Pour batter into pan and bake for 45 to 50 minutes or until toothpick inserted comes out clean.
Related posts: