Today's recipe came from Cathy, whowas with an overabundance of zucchini this week. The original version is from Sunset Magazine, but I made a few minor changes to the zucchini cookies including 1) cutting the recipe in half 2) using white whole wheat flour 3) changing raisins to cranberries and chocolate chips to white chips and 4) swapping out some of the baking powder for baking soda. Baking soda helps cookies brown better, so my version is little browner than the original and slightly flatter. If you like the idea of a fatter and paler cookie and baking powder doesn't bother you, you might want to stick with the original recipe from Sunset. Otherwise, try the one below.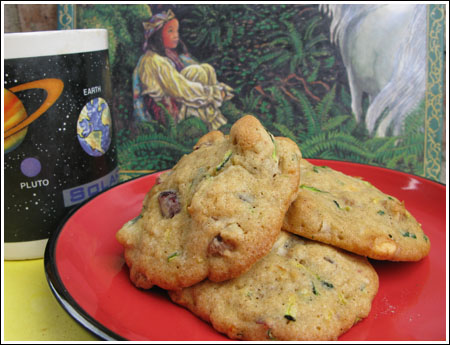 I'm very happy with these, but if anyone is in the mood to experiment, it would be great to see a version of these made with oil instead of butter. I think it can be done.
Cranberry, Walnut & White Chip Zucchini Cookies
4 oz unsalted butter, room temperature
¾ cups granulated sugar
1 large egg
½ teaspoon vanilla extract
1 cup grated zucchini
1 ¼ cups plus 2 tablespoons white whole wheat flour (6 ¼ oz)
½ teaspoon baking powder
½ teaspoon baking soda
½ teaspoon ground cinnamon
½ teaspoon salt plus an extra pinch**
½ cup walnuts, chopped
¼ cup dried cranberries
¼ cup sweetened flaked coconut
½ cup white chips (optional)
Preheat oven to 350 degrees F.
Cream butter and sugar until light; Beat in egg and vanilla. Stir in zucchini.
Stir flour, baking powder, baking soda, cinnamon, and salt together in a separate bowl. Add to zucchini mixture and stir until almost mixed in. Stir in nuts, cranberries, and coconut. Drop by rounded tablespoonfuls onto parchment lined cookie sheets. Bake until lightly browned, 15 to 18 minutes, and transfer to a rack to cool. Repeat with remaining dough.
**If you use salted butter or margarine, use only ½ teaspoon of salt. If you use unsalted butter, use ½ teaspoon salt plus a generous pinch (⅛ teaspoon).
Makes about 2 ½ dozen