This Zucchini Walnut Bread was inspired by the walnut-packed version I tried years ago at Tartine Bakery in San Francisco. As I recall, along with having a lot of walnuts the bakery bread had some sort of orange flavoring — maybe orange marmalade? I'm not sure, but this one doesn't have any orange. What it does have is a lot of moisture from oil and agave syrup.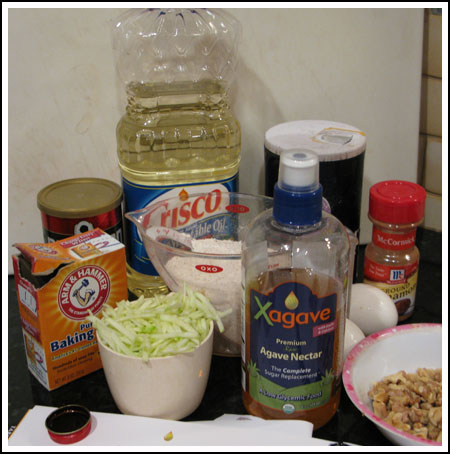 I really need to update the photos because the bread is prettier than you'd think by looking at these. I shouldn't have even posted this picture it's so bad, but at least it gives you an idea of the color and texture.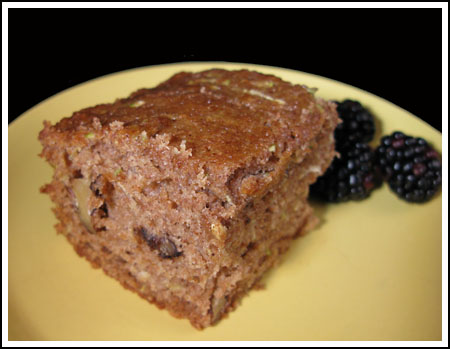 This recipe calls for two 8×4 inch loaf pans, but you can also make it as one large 9×5 inch loaf pan. If you make it as one loaf you may need to adjust the time.
Zucchini Walnut Bread With Agave
3 large eggs, well beaten
1/2 cup vegetable oil
1 1/3 cups agave
3 teaspoons vanilla extract
2 cups raw zucchini, peeled and grated
3 cups whole wheat pastry flour (13.5 oz)
1 tablespoon cinnamon
1 teaspoon salt
1/4 teaspoon baking powder
1 teaspoon baking soda
1/2 cup chopped walnuts, toasted
Preheat oven to 325 degrees F. Grease and flour two 8×4 inch loaf pans.
Beat together the eggs, oil, agave and vanilla.  Stir in the zucchini.
Mix the flour, cinnamon, salt, baking powder and baking soda together in a second bowl. Add flour mixture to zucchini mixture and stir until blended. Stir in the nuts.
Pour batter into pans and bake for 55 minutes or until toothpick inserted comes out clean.
Note: For even more flavor, toast the walnuts. To toast walnuts, stir them around in a dry skillet over medium heat until they begin to release their oils. Alternatively, bake them at 350 for about 5 to 8 minutes.
Also, the baking time will vary with the size loaf pan you use.  I like using two 8×4 inch pans or halving the recipe and using one 8×4 inch pan.  This makes a small but tall loaf.