The San Francisco restaurant Tartine, makes a great zucchini walnut bread.  It is dense, thick, moist, and packed with nuts.  While enjoying a slice on a recent trip to San Francisco,  I made mental note to find a good zucchini bread recipe when I got home.  And I did.  However, this zucchini walnut bread is a little different.  It's made with agave.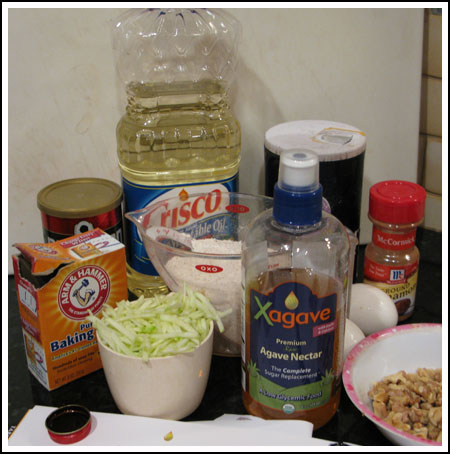 I halved the recipe and used a loaf pan slightly larger than the usual 9×5.  As a result of that the loaf you see in this picture is shorter and a bit wider. Because of the stubbier shape, I cut my loaf into squares rather than traditional loaf slices. The bread is cinnamon-y, moist, packed with walnuts and overall, very good! Next time I make the bread I will make it in an 8 1/2 by 4 1/2 inch loaf pans (or half it and make it in one) and post a new photo.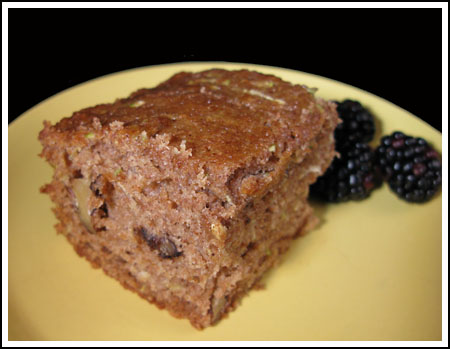 Zucchini Walnut Bread with Agave
3 large eggs, well beaten
1/2 cup vegetable oil
1 1/3 cups agave
3 teaspoons vanilla extract
2 cups raw zucchini, peeled and grated
3 cups whole wheat pastry flour (13.5 oz)
1 tablespoon cinnamon
1 teaspoon salt
1/4 teaspoon baking powder
1 teaspoon baking soda
1/2 cup chopped walnuts, toasted
Preheat oven to 325 degrees F. Grease and flour two 8×4 inch loaf pans.
Beat together the eggs, oil, agave and vanilla.  Stir in the zucchini.
Mix the flour, cinnamon, salt, baking powder and baking soda together in a second bowl. Add flour mixture to zucchini mixture and stir until blended. Stir in the nuts.
Pour batter into pans and bake for 55 minutes or until toothpick inserted comes out clean.
Note: For even more flavor, toast the walnuts. To toast walnuts, stir them around in a dry skillet over medium heat until they begin to release their oils. Alternatively, bake them at 350 for about 5 to 8 minutes.
Also, the baking time will vary with the size loaf pan you use.  I like using two 8×4 inch pans or halving the recipe and using one 8×4 inch pan.  This makes a small but tall loaf.