Yesterday's Zucchini Bread with Cream Cheese Filling was so good that I made a variation called Zucchini, Apple Carrot Bread.  Instead of 3 cups of shredded zucchini, this recipe has 1 cup each of apple, zucchini and carrots. Also, this bread does not have a cream cheese filling, but rather a small drizzle of white icing.
Unfortunately I didn't have any red apples, which would have been nice because I could have left on the peel and had flecks of red, green and orange. This loaf is made with Granny Smith, so it has green flecks, plus orange from the carrot.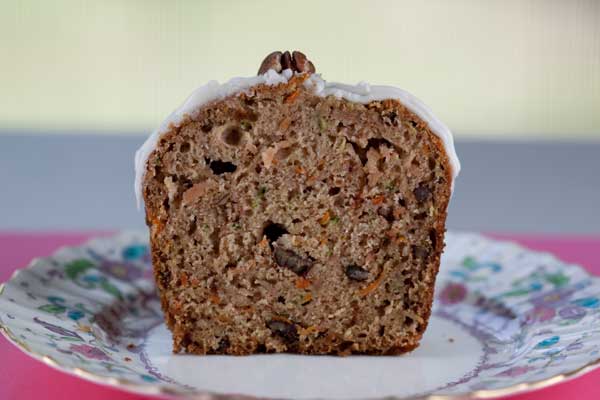 And finally, it's worth seeking out a pair of small 8×4 inch size pan. That size is harder to find these days, as most sizes are at least 8 1/2 by 4 1/2 inch. That doesn't sound like much of a difference, but it is. The 8×4 inch pans that I like usually come in pairs and aren't very expensive, but they make small yet nicely shaped loaves
Recipe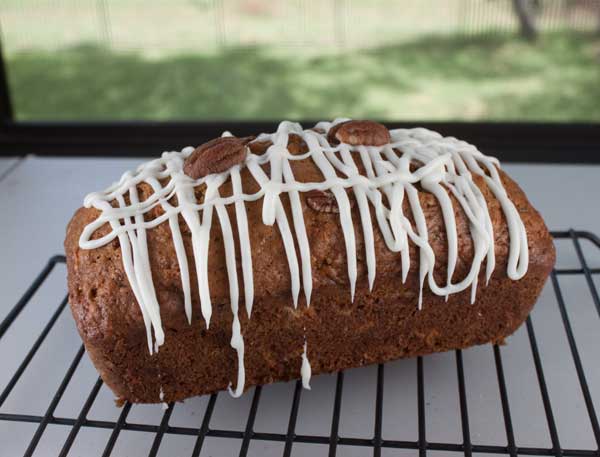 Zucchini, Apple Carrot Bread
Quick bread made with zucchini, apples and carrots topped with vanilla icing.
Ingredients 
3

cups

15 oz all-purpose flour

2

teaspoons

baking soda

1/2

teaspoon

baking powder

3/4

teaspoon

salt

1 1/2

teaspoons

ground cinnamon

3/4

teaspoon

ground nutmeg

1 2/3

cups

granulated sugar

4

large eggs

2/3

cup

vegetable oil

1

cup

shredded zucchini

1

cup

shredded apples

1

cup

shredded carrots

1 1/2

teaspoons

vanilla extract

1/2

cup

toasted and chopped pecans
Instructions 
Preheat oven to 350 degrees F. Grease the bottom only of two 8×4 inch loaf pans or line the bottom with a strip of parchment**.

Mix the flour, baking soda,baking powder, salt, cinnamon and nutmeg together in a bowl and set aside.

In a mixing bowl, stir together the sugar, eggs, oil, zucchini, apples, carrots and vanilla.

Add the flour mixture to the wet ingredients and stir until mixed. Stir in pecans.

Pour batter into two greased loaf pans.

Bake in the lower third of the oven for 55 -60 minutes or until a toothpick inserted near the center comes out clean.

Let cool for 15 minutes. Loosen sides of loaves with a knife, then carefully turn from pan (or lift your strips of parchment) and let cool completely before slicing.

If you choose to ice it, make the icing by mixing together 1 tablespoon of melted butter, 1 cup powdered sugar, 1/4 teaspoon vanilla extract and enough milk or water (I used water) to make the icing drizzling or piping consistency. Spoon or pipe the icing over the top of the loaf and leave at room temperature to set.
Notes
My preferred method is to line the pans with a narrow strip of parchment paper that goes the length of the bottom of the pans and up the short sides. Theoretically, the sides of the loaf pan should be left ungreased, as this is supposed to help the batter cling to the pan and rise upward instead of inward. The loaves will dome nicely.