A few days ago I made a butterscotch pie from one of my favorite cookbooks,  Classic Home Desserts
. The pie tasted great, but it was slightly runny when cut. I'm not sure if this was because I used 2% milk or if that's just how the recipe is supposed to be, but I decided to go ahead and try some new butterscotch pie recipes anyway.
This pie  is my second and it would have been great.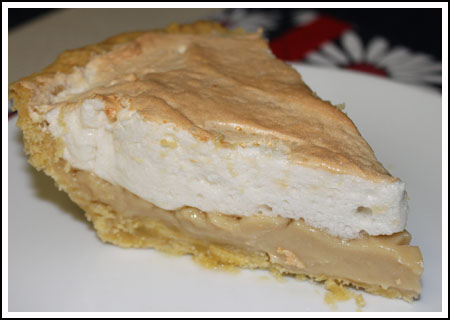 You know what they say about bad things happening in threes.  What happened this time was I left my cream of tartar open, it took on a stale odor, and it ruined the flavor of the meringue. Since I didn't bother to taste or smell the cream of tartar before adding it to the merginue, I didn't realize what happened until the pie was complete. So this was my third baking accident and it should be smooth sailing from here on out. 
The recipe below was adapted from a pie on Recipezaar and with fresh cream of tartar, it is a good one.   I think I know enough about Butterscotch Pie to go off on my own now, so I'm going to make it again with a few more changes.
Butterscotch Pie

3 large egg yolks, room temp
4 tablespoons flour
2 cups whole milk, warmed slightly in microwave
1 big pinch salt
4 tablespoons unsalted butter (salted European style was better!)
1 cup light brown sugar, packed (1/2 dark plus 1/2 light was better)
1 teaspoon vanilla extract
1 (9 inch) pie crust, prepared (baked) – I used this one

Meringue
3 large egg whites, room temp
1/2 teaspoon vanilla
1/4 teaspoon cream of tartar
6 tablespoons granulated sugar

Preheat oven to 350 degrees F.

Have all Meringue ingredients laid out and ready to go – -you'll need to make it quickly.

Whisk the 3 egg yolks together in a bowl. In a second bowl, whisk flour with half (1 cup) of the warm milk, until smooth. Whisk the beaten egg yolks and the salt into the milk/flour mixture, then whisk in the remaining cup of milk. Set aside.

Place the butter in a saucepan and soften it a little over medium heat. Add the brown sugar and whisk or stir for about 2 minutes or until butter is melted and sugar has dissolved. Whisk the milk mixture into the saucepan. Continue whisking constantly over medium heat until mixture thickens and bubbles — this should only take 2-3 minutes. After big bubbles start to form, continue whisking for another 2-3 minutes. Remove from heat and stir in the vanilla. Pour the hot filling into the crust. Make meringue quickly so that you can put it on the filling while it's hot (they say this helps prevent weeping).

Make meringue. Beat egg whites until stiff peaks just begin to form. Beat in the cream of tartar and vanilla, then slowly beat in the sugar. Scrape mixture over hot filling and bake at 350 for 10-15 minutes or until lightly browned.

Let pie cool at room temperature for an hour, then transfer to the refrigerator to chill for 4 hours or until set.
Related posts: