I'll take whatever compliments I can get, but yesterday I got the ultimate. Or at least the pie did. Todd said this one, adapted from Pies & Tarts (Maida Heatter Classic Library)
was the best he'd ever eaten. It was a nice surprise because I was a little worried this pie wouldn't work out.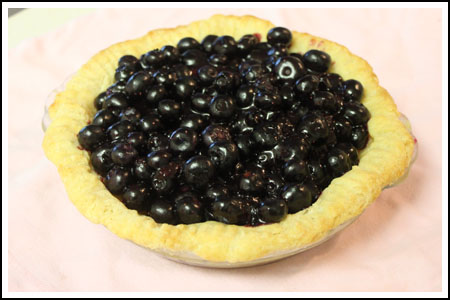 Unlike most blueberry pies which are filled and baked, the filling here is made in a saucepan, poured into a pre-baked pie shell, and chilled until firm. Because the filling is made with cornstarch, I was skeptical as to just how well it would set, but it set perfectly (which I suppose has something to do with the pectin in the mashed berries) with no runniness or seeping blueberry juice. The only problem with the pie was that I made it too small.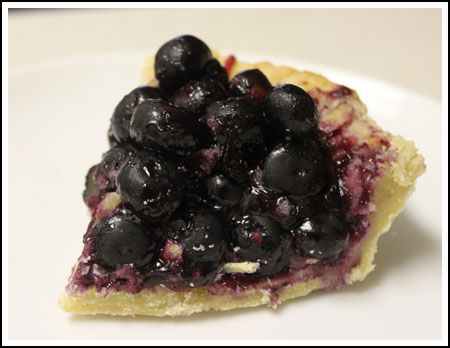 A few weeks ago I bought a 7 inch pie dish and have been cutting pie recipes in half and making small pies. That's working out relatively well, but I don't particularly like how the small pies slice. They're nubby and squat, which brings me back to my wish that someone would create an actual semi-circular pie dish for half-pies. Sure, making a half pie is just as much work as a whole, but when you're using expensive fruit in the filling and know the whole pie won't be eaten, making a half-pie is practical.
Okay, that's enough of my complaining about pie dishes for now. I should be happy that I've found the ultimate blueberry pie thanks to Maida and all the folks who've published or recommended the recipe on forums. You can find the actual recipe in the book or on-line using Google, but I've gone ahead and paraphrased it below. I think you can make this same pie with cherries.
Blueberry Pie
1 pre-baked 9 inch pie shell**
1/4 cup cold water
1/4 cup cornstarch
3/4 cup boiling hot water – microwave is handy for this
1/4 teaspoon salt
1 cup granulated sugar
2 pounds fresh blueberries, washed and carefully inspected for stems etc.
1 1/2 tablespoons fresh lemon juice
1 1/2 tablespoons butter
In a medium saucepan, mix together the cold water and the cornstarch to dissolve the cornstarch. Add the boiling water, sugar and salt. turn heat to medium, then throw in about 1/2 cup of the blueberries. Mix and stir, pressing blueberries against the side of the pan and smashing them, until the mixture thickens and goes from cloudy to translucent purple. Once this happens, continue cooking and stirring over a lower heat for about 2 minutes more. This whole process should take about 10 minutes total or 7 if you're halving. Remove from heat and stir in the lemon juice and butter. Let the mixture cool for a few minutes, then scrape the warm blueberry gel into a bowl with the fresh blueberries. Stir to coat the blueberries with the gel mixture, then transfer to the baked pie crust. Chill for about 4 hours.
Current Favorite Pie Crust
1 cup all purpose flour (4.5 oz)
1/3 cup cake flour (1.4 oz)
1/2 tablespoon sugar
1/4 teaspoon salt
1 sticks (4 oz) cold unsalted butter, cut-up
1/4 cup ice water
1 egg yolk
1/2 teaspoon cider vinegar
Combine flour, cake flour, sugar and salt in a bowl and stir very well. Scatter butter over flour. With a pastry cutter, two forks or your fingers, cut the butter into the flour until mixture is coarse and you have pea size lumps.
In a separate bowl, stir together ice water, egg yolk and vinegar.
Pour the egg yolk mixture into the flour mixture. Using a heavy duty scraper, gently push the dough together – push it up against the sides of the bowl. Empty onto a sheet of plastic wrap. Cover with a second sheet of plastic wrap and press into 6 inch round.
Chill for at least an hour or until ready to use.
Unwrap the dough and place it on a lightly floured surface or if you prefer, you can roll it out between the two sheets of plastic wrap. That's how I always do it, even though I'm not sure if it's the "correct" procedure.
Roll out dough into a 12 inch circle. Fit into a 9 inch deep dish glass pie plate. Chill the lined pie plate for another hour or put it in the freezer for 25 minutes.
To blind bake — Adjust oven rack to center position. Preheat to 400 degrees F.
Place a large square of foil (Release foil is great for this) over unbaked pie crust and press gently over the bottom and sides. Fill the shell with dried beans or set pie weights in center. Bake for 20 minutes, until the edges of the pastry just begin to brown. Remove from the oven and carefully lift out the foil and weights. Prick the bottom of the pastry evenly with a fork, return to the oven and continue baking until golden brown and cooked through – 10 to 15 minutes more. Cool completely before filling.
Related posts: