Update:  This is still a great pie!  I've made it multiple times since 2010 and we love it.  Here's a photo of a full sized slice.  If blueberries are expensive or you don't have a lot of people to feed, you can half the recipe and make it in a small 7 inch pie dish.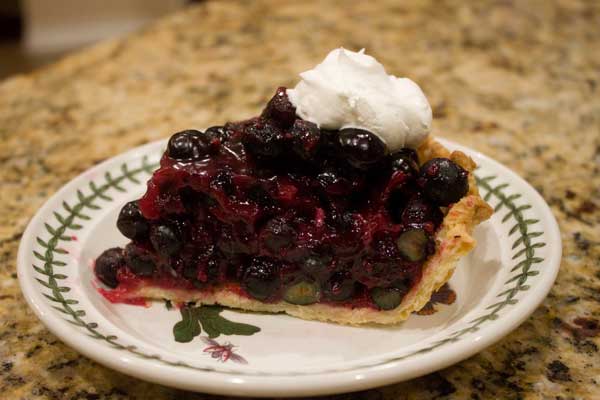 I'll take whatever compliments I can get, but yesterday I got the ultimate. Or at least the pie did. Todd said this one, adapted from Pies & Tarts (Maida Heatter Classic Library)
was the best he'd ever eaten. It was a nice surprise because I was a little worried this pie wouldn't work out.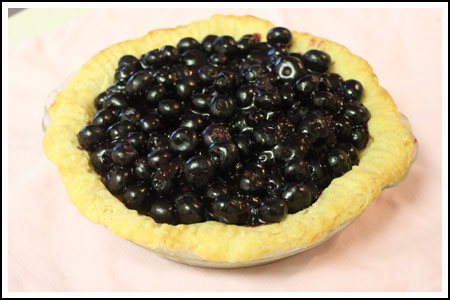 Unlike most blueberry pies which are filled and baked, the filling here is made in a saucepan, poured into a pre-baked pie shell, and chilled until firm. Because the filling is made with cornstarch, I was skeptical as to just how well it would set, but it set perfectly (which I suppose has something to do with the pectin in the mashed berries) with no runniness or seeping blueberry juice. The only problem with the pie was that I made it too small.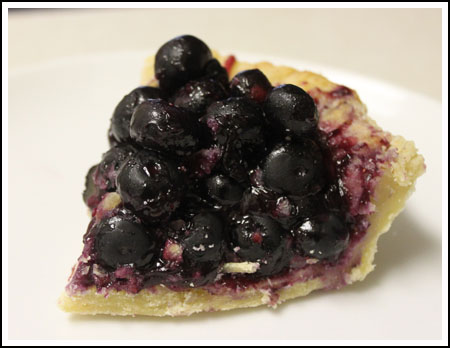 A few weeks ago I bought a 7 inch pie dish and have been cutting pie recipes in half and making small pies. That's working out relatively well, but I don't particularly like how the small pies slice. They're nubby and squat, which brings me back to my wish that someone would create an actual semi-circular pie dish for half-pies. Sure, making a half pie is just as much work as a whole, but when you're using expensive fruit in the filling and know the whole pie won't be eaten, making a half-pie is practical.
Okay, that's enough of my complaining about pie dishes for now. I should be happy that I've found the ultimate blueberry pie thanks to Maida and all the folks who've published or recommended the recipe on forums. You can find the actual recipe in the book or on-line using Google, but I've gone ahead and paraphrased it below. I think you can make this same pie with cherries.
Note:  Here's a link to the blind baked all butter pie crust I use.
Recipe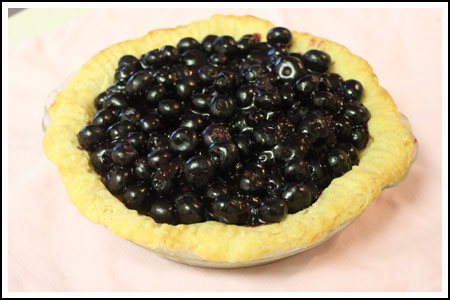 The Best Blueberry Pie Yet!
A chilled blueberry pie made with fresh blueberries
Ingredients 
1

baked 9 inch pie shell

¼

cup

cold water

¼

cup

cornstarch

¾

cup

boiling hot water – microwave is handy for this

¼

teaspoon

salt

1

cup

granulated sugar

2

pounds

fresh blueberries

washed and carefully inspected for stems etc.

1 ½

tablespoons

fresh lemon juice

1 ½

tablespoons

butter
Instructions 
In a medium saucepan, preferably a metal one without a nonstick coating, mix together the cold water and the cornstarch to dissolve the cornstarch.

Add the boiling water, sugar and salt. turn heat to medium. Add about ½ cup of the blueberries. Mix and stir with a whisk and a scraper, pressing blueberries against the side of the pan and smashing them (and any lumps of cornstarch), until the mixture thickens and goes from cloudy to translucent purple. Once this happens, continue cooking and stirring over a lower heat for about 2 minutes more.

Remove from heat and stir in the lemon juice and butter. Let the mixture cool for a few minutes, then scrape the warm blueberry gel into a bowl with the fresh blueberries. Stir to coat the blueberries with the gel mixture, then transfer to the baked pie crust. Chill for about 4 hours.
Notes
You can use a store bought crust or make your own. Here's a link to the recipe I use.
https://www.cookiemadness.net/2014/01/baked-all-butter-pie-crust/