Our family loves ice cream in just about every flavor, but when it comes to mint we're picky. The best mint ice cream is homemade, and this is the recipe I use when I take the time to make it.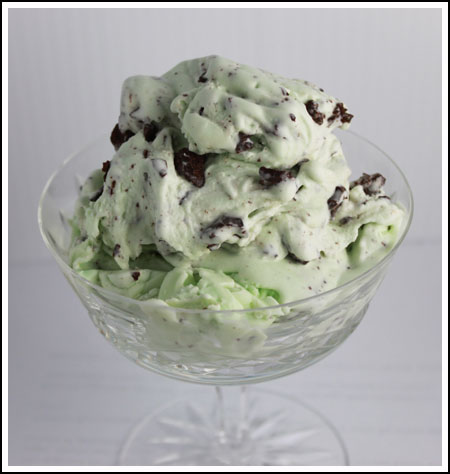 This recipe is adapted from the only ice cream book I own (and love), The Ultimate Ice Cream Book: Over 500 Ice Creams, Sorbets, Granitas, Drinks, And More
. I've made this many, many times in the past 5 years and everyone is crazy for it, which totally makes it worth the effort.
Tonight's batch was particularly good because instead of using plain chocolate, I used a combination of grated dark chocolate and finely chopped mint UFOs from Trader Joe's. UFO fans, you know what I'm talking about! They're the best chocolate mints ever, and I'm generally not a mint fan.
So anyway, this is a good mint ice cream recipe and I hope you try it. Just make sure to use a really good chocolate that will melt in your mouth with the ice cream and grate it or finally chop it.
Favorite Mint Chocolate Ice Cream
Mint Chocolate Ice Cream
Ingredients
3/4 cup granulated sugar
1 tablespoon cornstarch
2 large eggs
1 cup whole milk
2 cups heavy cream (divided use)
1 3/4 teaspoons peppermint extract (not mint -- make sure it says peppermint)
1/8 teaspoon vanilla
3 oz (or to taste) grated dark chocolate or melt-in-your-mouth chocolate chunks (see note)
Instructions
Mix the sugar, cornstarch and eggs together in a bowl and set it next to the stove.
In a heavy saucepan set over medium heat, bring the 1 cup of milk and 1 cup of the cream to a simmer. Pour the simmering cream mixture into the egg mixture whisking constantly, then return the mixture to the saucepan. Reduce heat to about medium low and whisk or stir constantly until the mixture thickens – it should not come to a complete boil, but rather thicken just to the consistency of thick gravy and coat the spoon. If you have a candy thermometer, it should read somewhere between 165 and 170. Remove from heat and pour into a large bowl or a large shallow dish (a trick to make it cool faster).
Pour the remaining 1 cup of cream into the mixture, then stir in the peppermint extract and vanilla. If desired, add a few drops of green food coloring.
Cover loosely with plastic wrap and chill for a few hours or overnight until very cold.
Following the ice cream maker's directions, mix the ice cream until thick. During last 5 minutes of ice cream mixing, add the grated chocolate. Spoon into a lidded container and let sit in the freezer to ripen until you are ready to serve it.
Makes about 4 cups
Notes
Cook time is really chill time. Make sure you use peppermint extract rather than mint extract since mint extract is usually spearmint. My husband prefers finely grated chocolate, but I like big chunks that melt in your mouth. To get that softer texture, you need to melt the chocolate and mix it with oil or coconut oil (not recommended with mint!) first, let it set, then chop it up and put it in at the end. This page will give you more information on how to do that. http://www.cookiemadness.net/2011/11/super-simple-mint-chocolate-chunk-ice-cream/
Related posts: