It's Girl Scout Cookie season here in Austin. Last year Fuzz offered our neighbors the full range of flavors, but this year she's selling a limited variety including Thin Mints, Caramel Delights and my favorite -- Peanut Butter Patties. What's funny is that in all her sales calls, only two people have asked for anything other than the three flavors she's selling. The requested flavor? Peanut Butter Sandwiches. Not one person has said "Do you have any Shortbread?" or "Where are those Lemon Cookies?"
So this year we have lots and lots of Thin Mints and in honor of our inventory, I'm posting a re-posting the recipe for Thin Mint Chocolate Pie. It's incredibly easy and over the years has become one of the most popular recipes here….or at least during cookie season.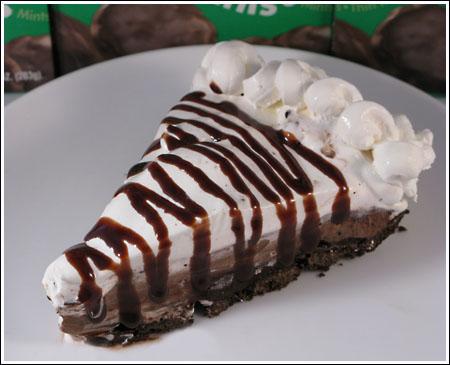 Recipe
Girl Scout Cookie Thin Mint Chocolate Pie
An easy pie made with Girl Scout cookies
Ingredients 
1

box

Thin Mint cookies

32 cookies

3

tablespoons

melted butter

2

cups

cold milk

2

packages

instant pudding mix, 4 serving sizes each

¼

teaspoon

peppermint extract

1

tub

whipped topping, divided use

12 oz size
Instructions 
Remove 10 cookies and set aside.

Crush or process remaining cookies, then mix them with the butter. Press firmly onto bottom and up side of 9-inch pie plate.

Pour milk into large bowl. Add both boxes of pudding mix and beat with wire whisk 2 minutes or until well blended. (Mixture will be thick.)

Spoon out 1 ¼ cup of pudding into another bowl and stir in peppermint extract. Pour peppermint pudding mixture over crust. To remaining pudding mix, add in 1 cup of whipped topping. Spread the pudding/whipped topping layer of the mint layer.

Chop remaining cookies and combine them with about 2 ½ cups (doesn't have to be precise) whipped topping. Spread this mixture over the top. The pie might look kind of messy at this point, so clean up the edges.

Chill for 4 hours or until set

To garnish, place remaining whipped topping in a plastic zipper bag. Snip off a corner of the bag (about ½ inch up from corner) and squeeze whipped topping around sides decoratively.

To make thin zig-zags, pour COLD chocolate syrup into a small zipper bag. Snip a very, very tiny cut off the bottom corner and drizzle away!
Notes
Cook time = approximate chill time