Thin Mints are delicious, but I'm getting tired of eating them straight and have been trying to incorporate them into richer and more satisfying desserts. Thin Mint Icebox Cake was a complete failure because the Thin Mints never softened, but Thin Mint Pie and these Thin Mint Brownies were both terrific. The brownies have what I think is the perfect level of mint and their texture works well with the cookies.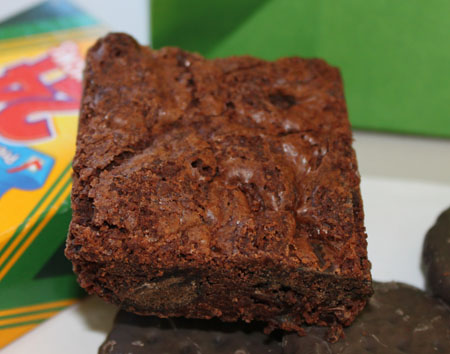 Outrageous Brownies
Maybe I should call them Outrageous Thin Mint Brownies because the recipe is adapted loosely from Ina Garten's much, much larger version. If you are having a Super Bowl Party you could use Ina Garten's Outrageous Brownie recipe and just substitute some of the chocolate chips and nuts for Thin Mints.  Just don't try tossing the chopped thin mints in flour before adding. The flour sticks to the cookies leaving little flecks of flour.
Thin Mint Brownies
4 oz (1 stick) unsalted butter
⅔ cup (4 oz) semisweet chocolate chips plus ¼ cup (1 ½ oz) semisweet chocolate chips (divided use)
1 ½ ounces unsweetened chocolate, chopped
A large egg plus 2 tablespoons lightly beaten egg
1 teaspoon pure vanilla extract
½ cup plus 1 tablespoon granulated sugar
¼ cup plus 1 tablespoon all-purpose flour (1.15 oz)
¾ teaspoon baking powder
½ teaspoon salt
8 Thin Mint Cookies (if you don't have Girl Scout Cookies, try another mint flavored cookie)
Preheat the oven to 350 degrees F and line an 8 inch square metal pan with foil. Spray bottom with cooking spray.
Melt the butter in a microwave-safe bowl. Add chocolate chips and unsweetened chocolate to hot melted butter and stir well. Microwave on high for 30 seconds. Stir. Repeat until chocolate is melted. Set aside to cool slightly.
In a mixing bowl, lightly whisk together the eggs, vanilla and sugar. Stir the cooled-yet-still-slightly-warm chocolate mixture into the egg mixture and cool to room temperature (this is important, otherwise when you add the chocolate chips they'll melt and change the texture).
Mix together flour, baking powder, and salt. Add to the cooled chocolate mixture.
Chop the Thin Mints roughly into quarters (you can make them smaller if you want). Add the Thin Mints and the remaining ¼ cup chocolate chips to the batter. It should be fairly thick. Spread it in the pan and bake on center rack for 18 minutes. Remove from oven and wrap pan on the counter to bring air bubbles to the top (makes a denser brownie). Return to oven and bake for another 8 or 9 minutes for a total bake-time 26-27 minutes.
Let cool to room temperature and then chill thoroughly. Lift from pan, set on a cutting board and cut into 16 squares.