If you like chocolate, don't forget to enter the Sarris Candy Giveaway. I've been reading comments and a lot of people say it's good stuff, so I'm going to put in an order myself.
Now moving on to today's recipe….
This week I've been cooking out of a book called A World of Cake, the source from which this recipe was adapted. Kolache (aka kolace, kolach, or kolack) are Czech pastries that come in the shape of soft squares or circles and have a fillings of fruit, cheese or meat. Here in Texas, they are very popular and my friends all seem to have their favorite Kolache hot spot. Mine is Weikel's in La Grange, where they make their kolache dough very soft. The ones I made yesterday weren't as soft as Weikel's, but this is only the second time I've made them and in looking at the varieties of recipes, I have a lot of experimenting to do. Some recipes use more egg, others call for mashed potatoes, and some recipes probably use soft flours such as White Lily. I also noticed that the recipe I made yesterday didn't call for any kneading, while the recipe I made 3 years ago did.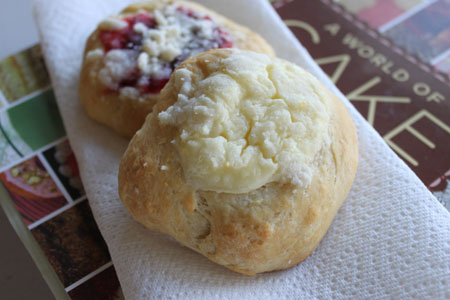 Either way, these were pretty good. While I'm not much of a yeast bread baker, I found this recipe very streamlined, easy to put together and loved the results.   As mentioned, this one is adapted from A World of Cake. I also went ahead and added the recipe I made last time as well. If you're an expert Kolache maker and have any tips to share, I would be very appreciative (as would Todd's co-workers who get to eat the experiments).
Kolache (dough and Posypka adapted from A World of Cake)

1 cup milk, warmed – whole is probably a better choice
1/3 cup granulated sugar
2 teaspoons active dry yeast
3 ½ cups (1 pound) all-purpose flour
1 teaspoon salt
1 large egg
1/3 cup unsalted butter, melted

Filling:
8 oz cream cheese
¼ cup granulated sugar
2 teaspoons lemon juice
1 large egg yolk
1 teaspoon vanilla

Posypka
1/2 cup (4 oz) unsalted butter, softened
1 cup granulated sugar
1 ½ cups all purpose flour

Combine 1/3 cup of the milk and 1 teaspoon of the sugar in a small bowl and stir to dissolve sugar. Stir in the yeast and let sit for 5 minutes.

Put the flour in a large mixing bowl and make a well in the center. Pour the remaining 2/3 cup of milk, remaining sugar, egg, butter, salt and the yeast mixture into the well and mix until smooth. Form the dough into a ball and place in a greased bowl. Cover and place in a warm spot to rise until doubled in size – about 2 hours.

Make the posypka. Combine the butter, sugar and flour in a bowl and mix until it resembles a coarse meal.

Make the filling. Beat together softened cream cheese and sugar. Beat in lemon juice. Reduce speed to low and beat in egg yolk and vanilla.

Bake. When the dough has risen, preheat the oven to 350 degrees F. Butter and flour two baking sheets (I just used parchment). Punch down the dough to get rid of air. Scoop out 2-inch balls of dough (mine were larger) and drop them onto a floured work surface. Roll each scoop of dough into a ball, then press them down into a disk or a square. Press a finger into the center of each disk and fill the indentation with 1 to 2 teaspoons of filling. Place the disks on the baking sheets 2 inches apart. Let rise for 10 minteus Brush tops lightly with melted butter. Sprinkle the posypka on top. Bake for 15-20 minutes. Remove from sheet and let cool. Makes about 15 to 20, depending on how big you make the rolls.
Here's the one I made a while back. It's adapted from Texas Monthly where it was featured in the "The Ranch," November 1998. It's from the Dorothy Bohac, Ph.D, who says "the quality of a kolache is in the texture of the dough. The kolache should be soft to the touch and the dough should be elastic."
Another Kolache Recipe

3 pkgs dry yeast
1/2 cup warm water
1 teaspoon sugar
2 sticks butter
3/4 cup sugar
3 egg yolks
2 3/4 cups milk (scald and cool to lukewarm)
7 1/4 cups flour (more or less)
3 teaspoons salt

Dissolve yeast in the 1/2 cup warm water in a tall glass, sprinkle with 1 teaspoon sugar and set aside to proof. In a large bowl, cream sugar and butter, add egg yolks and salt and mix well. Add the dissolved yeast, 1 cup of the flour and mix slowly with an electric mixer. Add the milk and continue adding as much of the remaining flour as you can mix in with a wooden spoon. Knead in enough of the remaining flour to make a moderately soft dough. Continue kneading until smooth and elastic, about 5 minutes. Place dough in a greased bowl, turn once to grease surface. Cover and let rise until doubled in bulk, about 1 to 1 1/2 hours.

Punch dough down and turn out onto lightly floured surface. Pinch off egg size portions and roll into a ball using the palm of your hands in circular motion. Place about 1 inch apart on greased pans. Brush kolaches with melted butter, cover with a cloth and let rise until light, about 1 hour.

Use your fingers to make an indentation in each ball and fill each opening with about 1 tablespoon of filling. Sprinkle with posypka topping (optional) and let rise again for 20 minutes. Bake in a preheated 425-degree oven for about 10-15 minutes. Brush kolaches with melted butter as they come out of the oven.

Posypka Topping

1 cup sugar
1/2 cup flour
1/2 teaspoon cinnamon
2 tablespoons melted butter

Mix together until mixture resembles coarse meal.

Poppyseed Filling

1 1/2 cup poppyseeds
1 cup sugar
2 cups milk
2 tablespoons butter
1 tablespoon flour

Combine poppyseeds, sugar and milk, and cook over medium heat until mixture begins to thicken. Add butter, then flour which has been dissolved in a little bit of water. Cook, stirring constantly until poppyseed is done, at least 30 minutes. Allow to cool before use. Leftover filling can be frozen.
Related posts: