Pumpkin Spice Kolaches with Cream Cheese Filling were inspired by the Potato Focaccia I've been making this week. I went through my files to look for other good potato bread recipes and found an old one for kolaches with potato in the dough. Rather than use the potatoes, I used pumpkin and made a few other changes.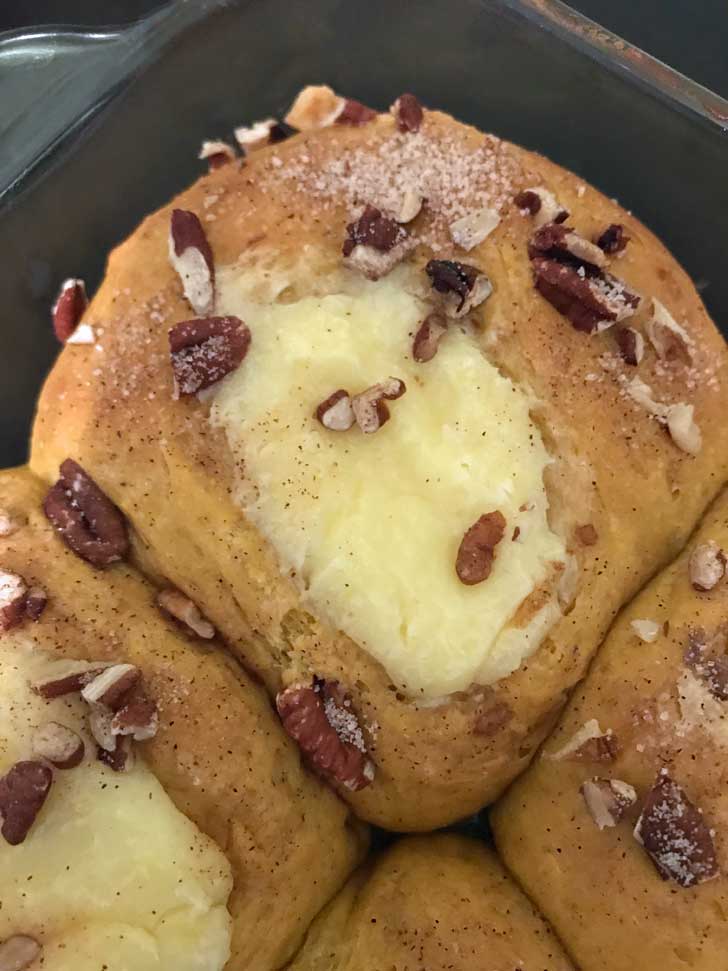 This recipe makes what I'd call a modest size batch of six very large kolaches or eight medium size. Here's a picture of the risen dough right before I added the filling. I placed the dough pieces about 1 inch apart and they were were already touching after an hour. They rose even more in the oven.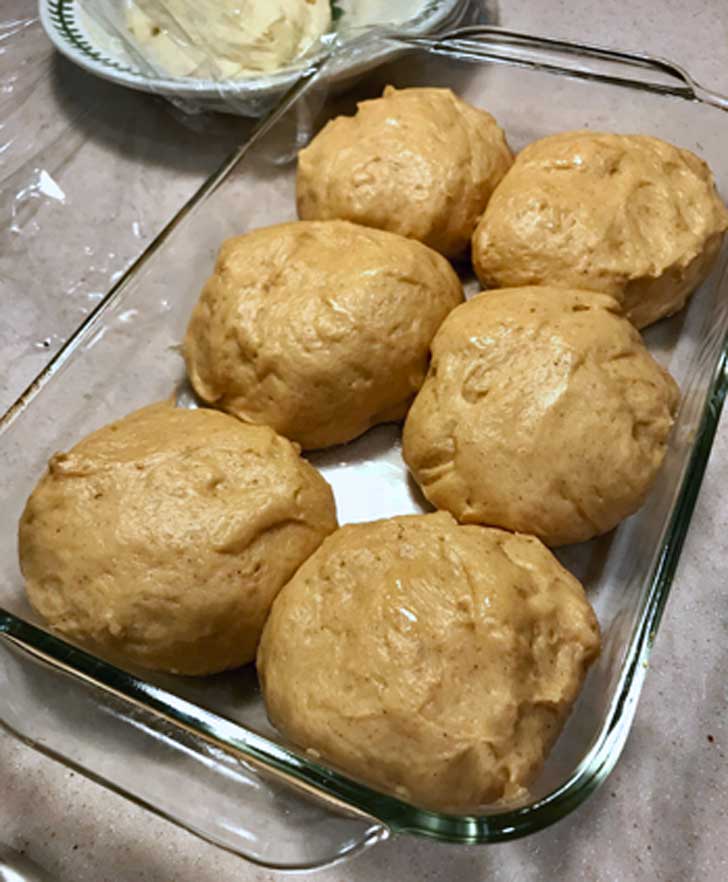 In the end it worked out because letting baked good touch each other helps keep the edges soft. Six is a good number, but I think making eight and using a slightly larger pan (or two smaller ones) might be even better because you'll get a more reasonable size roll and a higher ratio of cream cheese filling.
Very Soft Pumpkin Dough
The dough is a very soft and sticky one, but it's high in butter which makes it easy to handle. Unfortunately, it's too soft too knead by hand so you'll have to use a stand mixer with dough hook or a handheld mixer with a dough hook. I can't personally vouch for handheld mixers with dough hooks, but my daughter has the Black & Decker Helix (in red!) and likes it. There's also a slightly more powerful Cuisinart that gets great reviews. So if you want something to knead dough but aren't ready to buy a stand mixer, there are some good handhelds out there.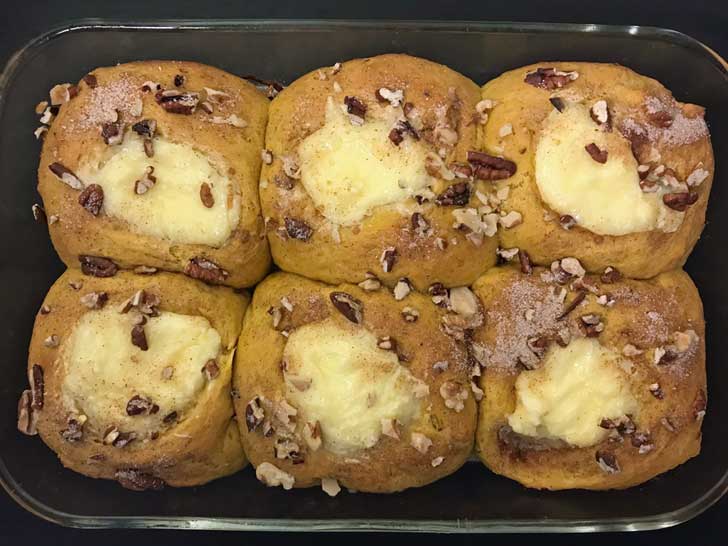 Cream Cheese Filling
The recipe for the cream cheese filling is my very favorite and one I use over and over for all flavors of kolaches. It calls for 8 oz of cream cheese, but makes enough to fill double the amount of kolaches. If you're willing to halve an egg yolk (I do it all the time), you can halve it and just use 4 oz of cream cheese. However, you might want to just make the full batch so you'll have plenty of filling for a second batch of dough.
More Kolache Madness!
Recipe
Pumpkin Spice Kolaches
Kolaches made with a canned pumpkin and pumpkin spice!
Ingredients 
Dough
¼

cup

warm water, warm (110-115 degrees)

(56 grams)

1 ⅛

teaspoons

instant yeast (SAF)

¼

cup

granulated sugar (slightly generous)

(60 grams)

¼

cup

dry milk powder

4

oz

canned pumpkin

(114 grams)

1

large

egg

1 ½

teaspoons

pumpkin pie spice

¾

teaspoon

salt

2

cups

bread or all purpose flour plus about 2 ½ tablespoons**

(260 grams) (25 grams)

4

tablespoons

unsalted butter, cut into chunks, softened

(56 grams)

Melted butter for brushing
Cinnamon Sugar
1

tablespoon

granulated sugar

⅛

teaspoon

cinnamon (or more
Cream Cheese Filling
8

oz

cream cheese, softened

(230 grams)

4

tablespoons

sugar

(50 grams)

1

large

egg yolk

⅛

teaspoon

lemon zest (I don't measure it, I just put in a few scrapes)

¼

teaspoon

vanilla

Nuts for topping (walnuts or pecans)
Instructions 
In the bowl of a stand mixer, combine warm water and yeast and stir well. Add sugar and milk powder, followed by pumpkin, egg, salt, pumpkin pie spice and 2 cups (260 grams) of the flour. Stir with the paddle attachment until mixed.

Switch to the dough hook and begin kneading the dough. As you knead, add the softened butter 1 chunk at a time, allowing the dough to absorb it. Continue kneading. The dough should start off sticking to the hook, but as you knead it will stick to the sides of the bowl. If for some reason it's sticking to the hook or seems dry, do not add the remaining flour. Otherwise, go ahead and add the remaining 2 ½ tablespoons of dough and let the machine knead for about 5 to 7 minutes, stopping every so often to scrape the bowl and check for elasticity. It should snap a little.

Put the sticky dough in a large bowl slicked with melted butter. Roll dough around so it is coated with butter. Let the dough rise for about 1 ½ hours. It won't quite double.

Punch down the dough. Break off six or 8 pieces and shape into balls. Arrange in a pan a little over and inch apart. Cover with greased plastic wrap and let rise for another hour.

Meanwhile, make your cream cheese filling. Just beat together cheese and sugar, beat in the egg yolk, lemon and vanilla. This will give you almost double the amount you need, so plan on having some left over.

When the dough has risen, make indentations in the center of each roll and fill with cream cheese filling. Sprinkle nuts and cinnamon sugar around the perimeter of the filling (or over it if you feel like it).

Preheat at 350 degrees for about 30 minutes. If you've made the rolls smaller (8 to 10 rather than 6), check at 25 minutes.
Notes
I've been testing with KA bread flour, but I think AP would work too and might even give you a softer roll.