Moravian Sugar Cake is something I'd heard of through the years, but didn't really think about until we moved to North Carolina. Every Christmas we've been here, someone mentions going to the Moravian church to purchase cakes made by Dewey's in Winston-Salem. It happened again yesterday. Our neighbor dropped by with shortbread and mentioned she'd hoped to bring a Moravian Sugar Cake but couldn't get one. We thanked her for the shortbread and told her we'd try to make the Moravian Sugar Cake ourselves. And we did, thanks to Classic Home Desserts.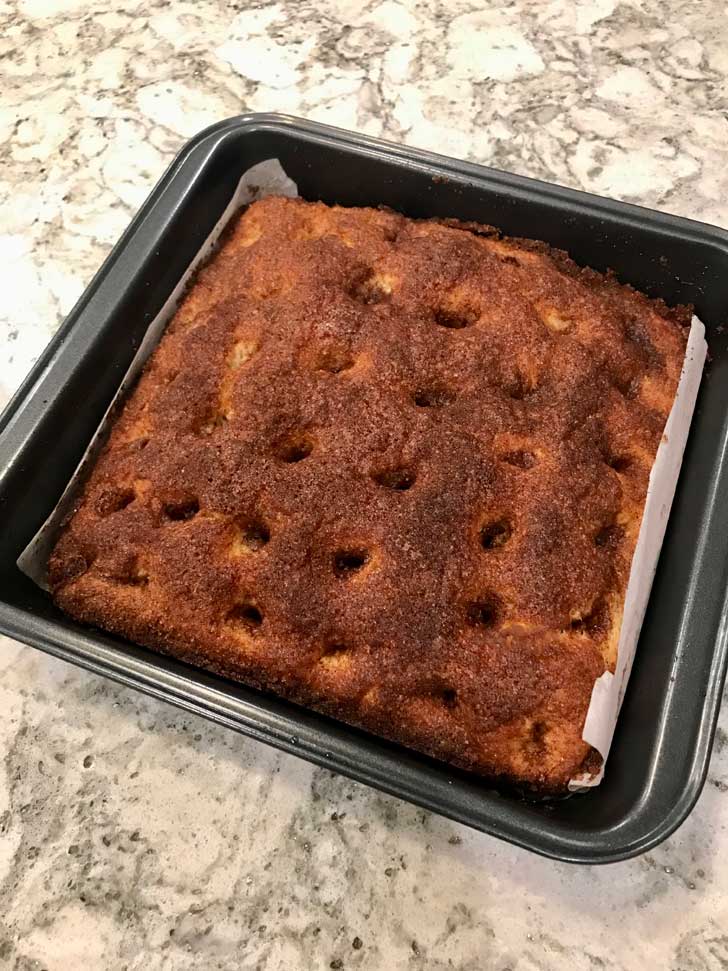 What Is Moravian Sugar Cake?
So what is Moravian Sugar Cake? I always associated it with stollen or a more time consuming pastry, but really it's just a very light textured yeasted coffee cake with crispy cinnamon sugar top. It's like soft and fluffy cinnamon rolls in cake form, but even easier because you don't have to roll and cut the dough. The only drawback to the recipe we chose it that it's so easy you'll want to make it over and over in a million different ways. Or maybe that's just me. This is a habit I need to break in 2023 — making one thing and then trying to do it again differently. This is a good, solid recipe that doesn't need changes.
Classic Home Desserts Moravian Sugar Cake
The recipe is from Classice Home Desserts by the late Richard Sax who says the recipe was "unearthed" by Karyl Bannister of the Cook & Tell newsletter, which I'm slightly fascinated by. Looks like there is a book version of Cook & Tell which I wish I'd put on my Christmas list. But back to the cake. Sax describes Moravian Sugar Cake as "a deliciously moist yeast dough cake baked in a sheet pan and cut into large squares or rectangles". In the book there's a side note about happy accidents. It involves a cat and that's all I'll say. Lots of fun side notes in the Sax book.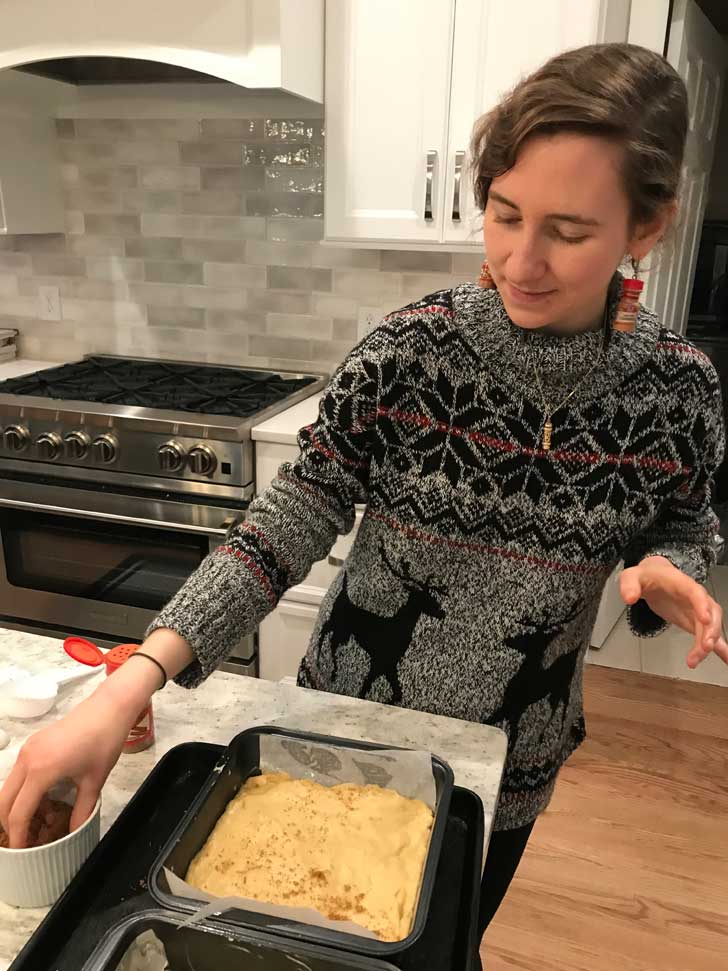 Moravian Sugar Cake Pan Size
In Classic Home Desserts, Richard Sax calls for a jellyroll or a 13×9 inch pan. Since we were keeping one cake and giving the other away, we divided the dough between two 8 inch square pans. We used two inexpensive metal pans and gave one of the cakes away right in the pan, so using 2 pans works well for holiday gifting. With 8 inch pans the cakes might be slightly thicker than some. We liked the thickness. Howver, if you only have one 8 inch pan and one 9 inch you could probably get away with using one of each.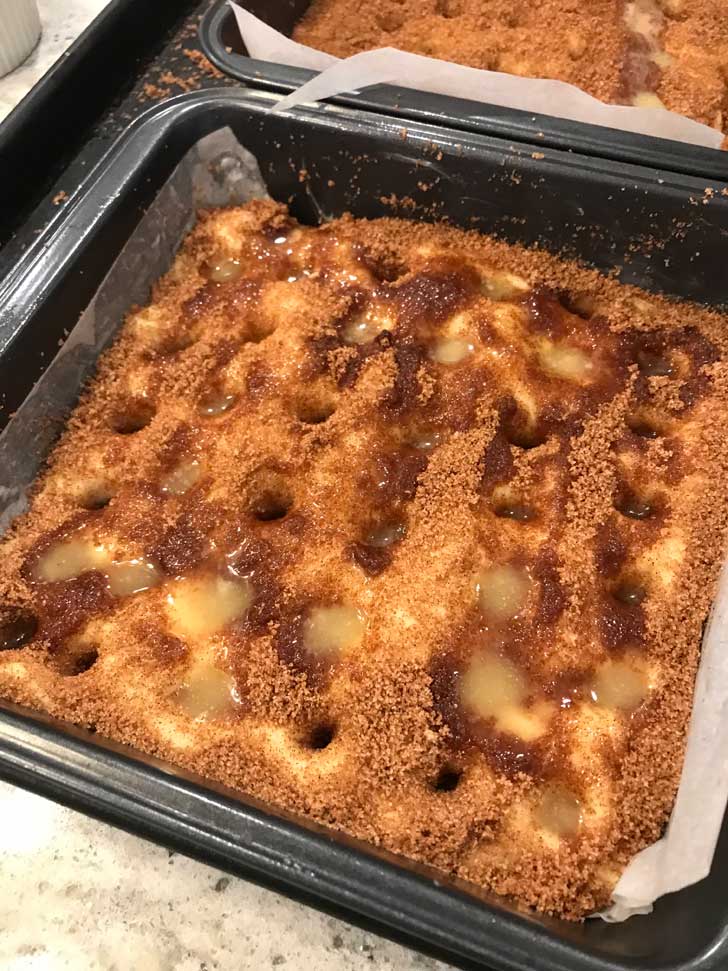 Moravian Sugar Cake Ingredients
Yeast – Richard Sax's recipe calls for a pretty hefty amount of yeast — 4 1/2 teaspoons (2 packs) to only 3 cups (380 grams) of all-purpose flour. Not a typo. That is the amount used.
Milk — Divided use. You use 1/4 cup to proof the yeast and add another 1/4 cup towards the end.
Sugar — Again, divided use. You'll put 1 tablespoon in with the yeast to power it up and the remaining sugar goes into the dough.
Mashed Potato — You can use any kind of mashed potatoes including leftovers or reconstituted potato flakes. We peeled, cut and boiled one large potato then mashed it.
All-Purpose Flour — We used all-purpose flour, and because our grocery store did not have any unbleached on the shelf, we used Gold Medal bleached.
Eggs — Bring them to room temperature before using so that the dough will stay warm and rise.
Butter — Lots of butter in this dough! We used unsalted.
Salt — Morton kosher
Topping Ingredients — Brown sugar, cinnamon and more butter for drizzing. For the brown sugar the recipe calls for light, but feel free to slip in some dark if you want more of a molasses flavor. For the butter drizzle, you can add a pinch of salt or use salted butter. We used unsalted butter in the dough, but salted butter for the drizzle for more flavor.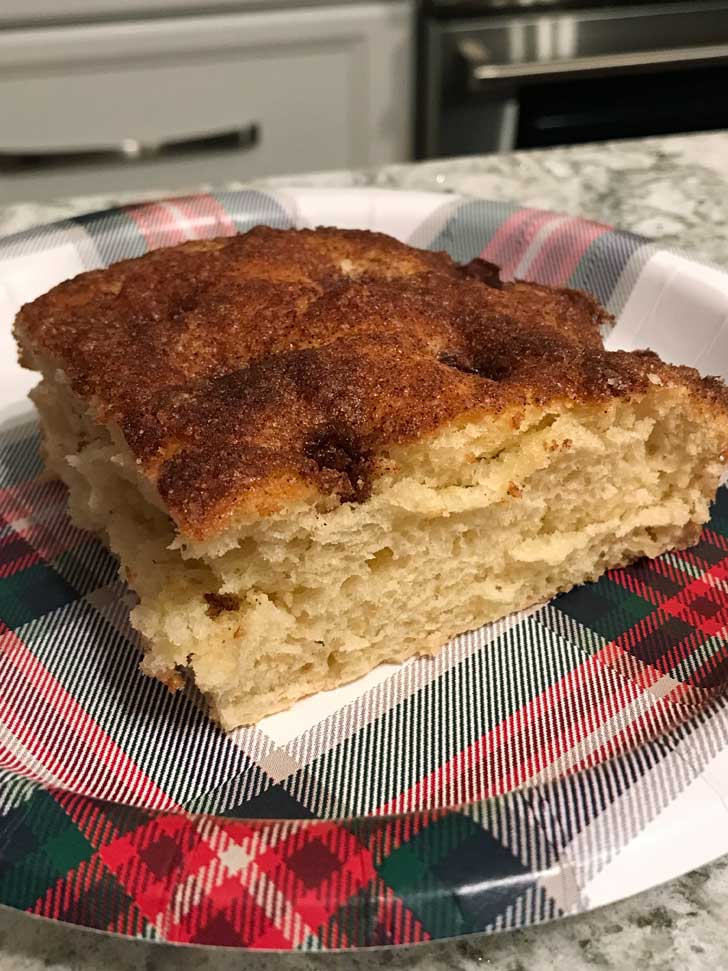 Recipe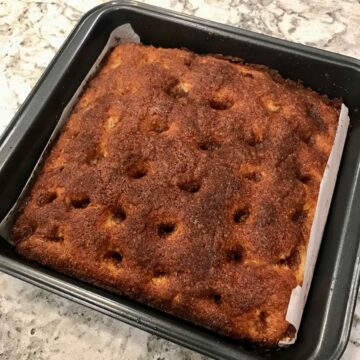 Moravian Sugar Cake
An easy recipe for Moravian Sugar Cake. Makes two 8-inch pans.
Ingredients 
1/2

cup

luke warm milk, divided use

(114 grams)

4 1/2

teaspoons

active dry yeast

5

tablespoons

granulated sugar, divided use

(60 grams)

3

cups

all-purpose flour

(380 grams)

1/2

cup

mashed potatoes

2

large

eggs at room temperature

(100 grams)

6

tablespoons

unsalted butter, melted and slightly cooled

(84 grams)

1/2

teaspoon

salt
Topping
1/2

cup

brown sugar

(60 grams)

1 1/2

teaspoons

cinnamon

4

tablespoons

butter, melted and cooled (salted or unsalted)

(56 grams)
Instructions 
Combine 1/4 cup of the warm milk, the yeast and 1 tablespoon of the sugar in the bowl of a stand mixer. Let stand for about 10 minutes or until yeast is foamy.

When yeast is foamy, add the remaining 4 tablespoons of sugar, 1 1/2 cups (half) of the flour, mashed potatoes, eggs, butter and salt and mix well by hand until you have a loose and sticky and loose mixture.

Add the remaining flour and continue mixing. Put the bowl on the stand mixer stand and mix with the dough hook for about 2 minutes until smooth and just slightly sticky. It should cling to the hook and the bottom of the bowl.

Put the dough in a bowl greased generously with butter, then cover and let rise for 1 hour or until doubled in bulk. Keep an eye on it, because with all that yeast it's possible it will double in less than an hour. Ours doubled in 40 minutes.

Grease two 8 inch square pans very well with butter. Since this is sticky, you might want to line with some parchment as well.

Punch down the risen dough and divide it between the two pans (about 14.5 oz dough in each pan. Cover with greased plastic wrap and let rise again for 30 minutes.

Pat the risen dough to the edges of the pans. Using the handle of a wooden spoon or your favorite poking implement, poke holes (dimples) all over the top of the dough being careful not to go all the way to the bottom.

Mix together the brown sugar and cinnamon and sprinkle evenly over the dough. Drizzle evenly with the 1/4 cup of melted butter. Let rise for another 20 minutes while you preheat the oven.

Preheat the oven to 375 degrees F.

Set the two square pans on a large rimmed pan and bake for about 20 minutes or until the internal temperature of the bread is around 195 degrees F.

Serve warm or let cool and serve later. You can also freeze it.
Notes
This recipe halves very easily. Half a yeast packet is about 1 ¼ teaspoons. If you only need 8 to 10 rolls, just measure out your yeast and save it for another time!