We Gotcha Kolache!  That's the slogan for Weikel's Bakery, a very well-loved bakery on Highway 71 between Austin and Houston in La Grange. Weikel's is known for their Kolaches,  soft and fluffy Czech pastries filled with cheese, fruit and/or sausage.  We spent a lot of time in La Grange, so I had my share of kolaches.  But to be honest, I appreciate them more now that I'm an adult.  And as a baker, I'm intrigued by how many different ways you can make one dough.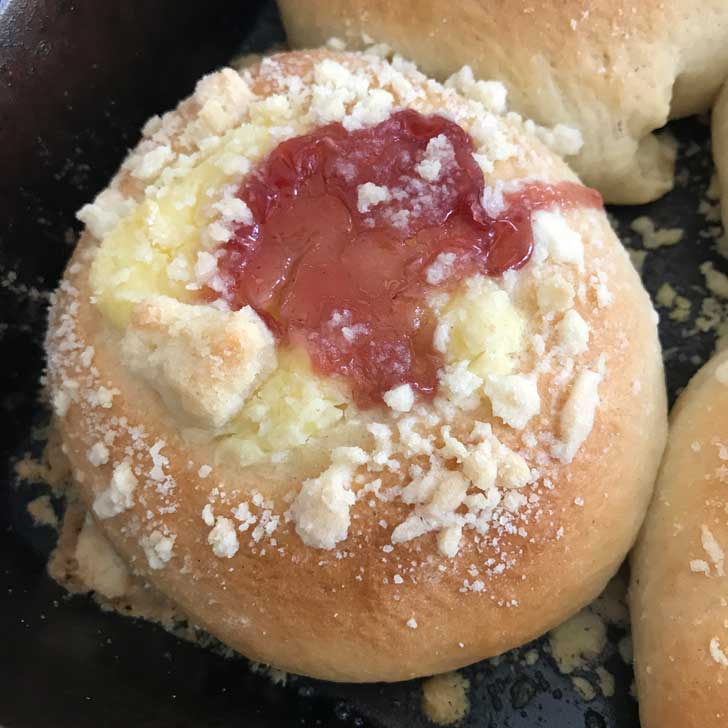 This recipe is adapted from Dorothy Bohak's, which is one of many I found in Texas Monthly. The original was about 3 times this, but I scaled it down and made one big change, which was to use a tangzhong.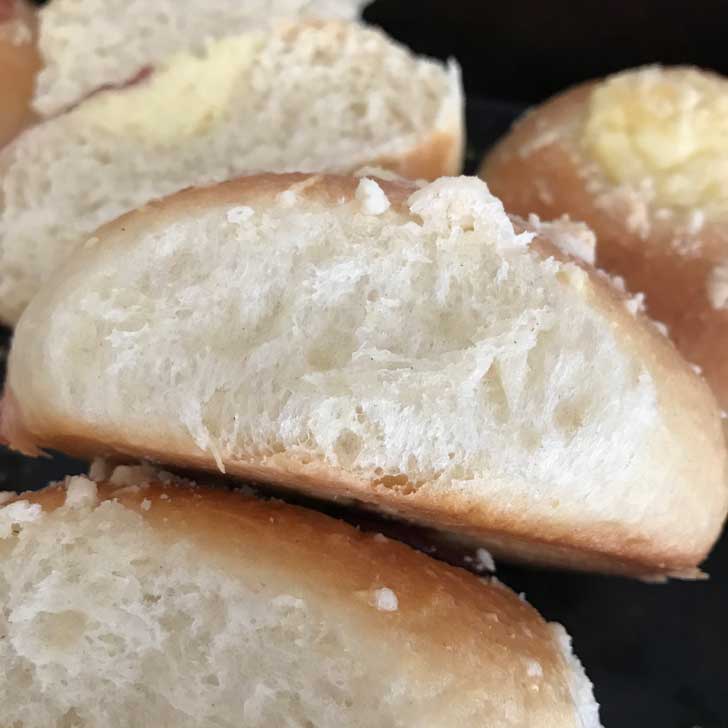 Tangzhong Kolaches
If you are not familiar with tangzhong, it's a Japanese baking method that makes breads light and fluffy and extends freshness. And it's very easy! All you do is whisk together a portion of the flour and liquid, put it over medium heat and stir to make a thick white paste. Once cooled, this paste goes into the dough where it does its magic. It's a method you don't need to use on every bread, but if you are looking for fluffy kolaches, doughnuts and such, tangzhong is worth a shot. I'd like to think Dorothy Bohak would approve.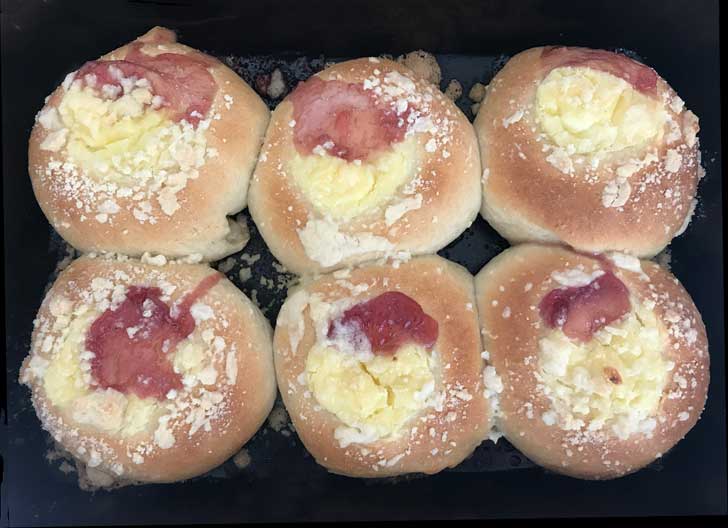 Recipe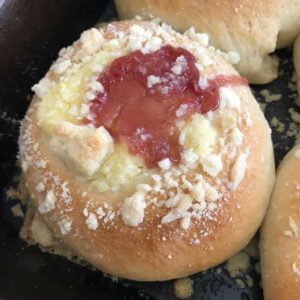 Tangzhong Kolaches
Super soft and fluffy kolaches made using the tangzhong method.
Ingredients 
Tangzhong
3

tablespoons

water

(43 grams)

3

tablespoons

whole milk

(43 grams)

2

tablespoons

bread flour

(14 grams)
Dough
2

cups

270 grams bread flour plus about ½ cup as needed (65 grams) more

1

teaspoon

salt

¼

cup

sugar

50 grams

1

tablespoon

instant yeast

4

tablespoons

unsalted butter

softened to almost melted

1

large egg at room temperature

1/2

cup

very warm whole milk

about 125 degrees

Extra butter for brushing dough
Posypka
1/4

cup

bread flour

(35 grams)

1

tablespoon

sugar

(12 grams)

Tiny pinch of salt

4

teaspoons

cold butter

(18 grams)
Filling
4

oz

cream cheese, softened

(114 grams)

2

tablespoons

sugar

(25 grams)

½

of an egg yolk

½

teaspoon

more or less of lemon zest

1/8

teaspoon

more or less vanilla

Raspberry preserves (optional)
Instructions 
To make the tangzhong: Combine 2 tablespoons flour, 3 tablespoons of milk and 3 tablespoon water in a small saucepan, and whisk until smooth. Put over medium heat and whisk for about 3 minutes or until mixture is thick and whisk leaves a trail on the bottom of the saucepan. Transfer to the bowl of our stand mixer (or another bowl if you wish) and let cool for about 20 minutes.

In the bowl of a stand mixer, combine the cooled tangzhong, 2 cups (270 grams) of the flour, salt, sugar, and instant yeast. Add the softened butter, warm milk and the egg and stir to make very soft dough.

Set the bowl on the mixer stand and begin kneading with the dough hook. Add the reserved flour 2 tablespoons at a time while the machine kneads. Stopping and scraping bowl after every flour addition. Add the flour until the dough no longer clings to the side of the bowl. You probably won't need all of the extra flour, so do it gradually. Keep kneading until smooth and elastic. The dough should be very smooth, easy to handle and neither too sticky nor too dry.

Rub an empty mixing bowl with butter or slick with oil, put the dough in it, cover and let rise until doubled in bulk, about 1 1/2 hours

Turn the dough onto a pastry mat. If it's oily, you shouldn't need any extra flour at this point, but if for some reason it is sticky you can flour the mat. Punch into kind of a rectangle and cut into 6 equal squarish things. Shape each into a ball by turning down and tucking the corners. Arrange about an inch apart in a well greased 9×13 inch pan.

Spray a piece of plastic wrap with cooking spray, cover loosely and let rise for an hour.

While rising, mix together ingredients for the Posypka Topping and the cream cheese filling.

Also, preheat oven to 400 degrees F. If you'd like to use a steamy oven (sometimes helps with rise and soft crust), put an empty cast iron skillet on the bottom rack.

Make an indentation in each risen ball and fill with filling. Brush with a little melted butter. Sprinkle with posypka topping. Let rise for about 10 minutes or so.

Once the oven is preheated, put on an oven mitt and carefully pour about 2 or 3 cups of cold water into the hot skillet to make a steamy oven. You can skip this step if you want.

Bake Kolaches at 400 degrees for 10 minutes, then reduce heat to 350 and continue baking for another 10-15 minutes or until nicely browned and baked through.

Posypka Directions: In a small bowl, mix together flour, sugar and salt. Add butter in small chunks and work it in with your fingers to make a powdery streusel.

Cream Cheese Filling – Mix together softened cream cheese and sugar, then drizzle in egg yolk. Mix well and add lemon zest and vanilla.