I was so excited when I came up with the idea for this recipe, but then I checked the Internet and found there are already quite a few recipes called Apple Pie Cinnamon Rolls. Hopefully this version is a little different! These are literally Apple Pie Cinnamon Rolls.
Jump to Recipe
You take some cold leftover apple pie, chop it up a bit, then spread it all over cinnamon roll dough in place of the usual butter and cinnamon mixture. The rolls bake up with a filling of fruit and little chunks of crust and crumb throughout.
Rolling Pie Up in the Dough
Here's a picture to give you an idea of the the process. For this batch I tried to use mostly apples and just some bits of crust and crumb. The pie stuck to the dough, and then I just rolled it all into one cylinder. Cutting it into 7 rolls was pretty easy too, and I didn't have any problems with the doughs falling apart. Or nothing that couldn't be pinched right back together, at least.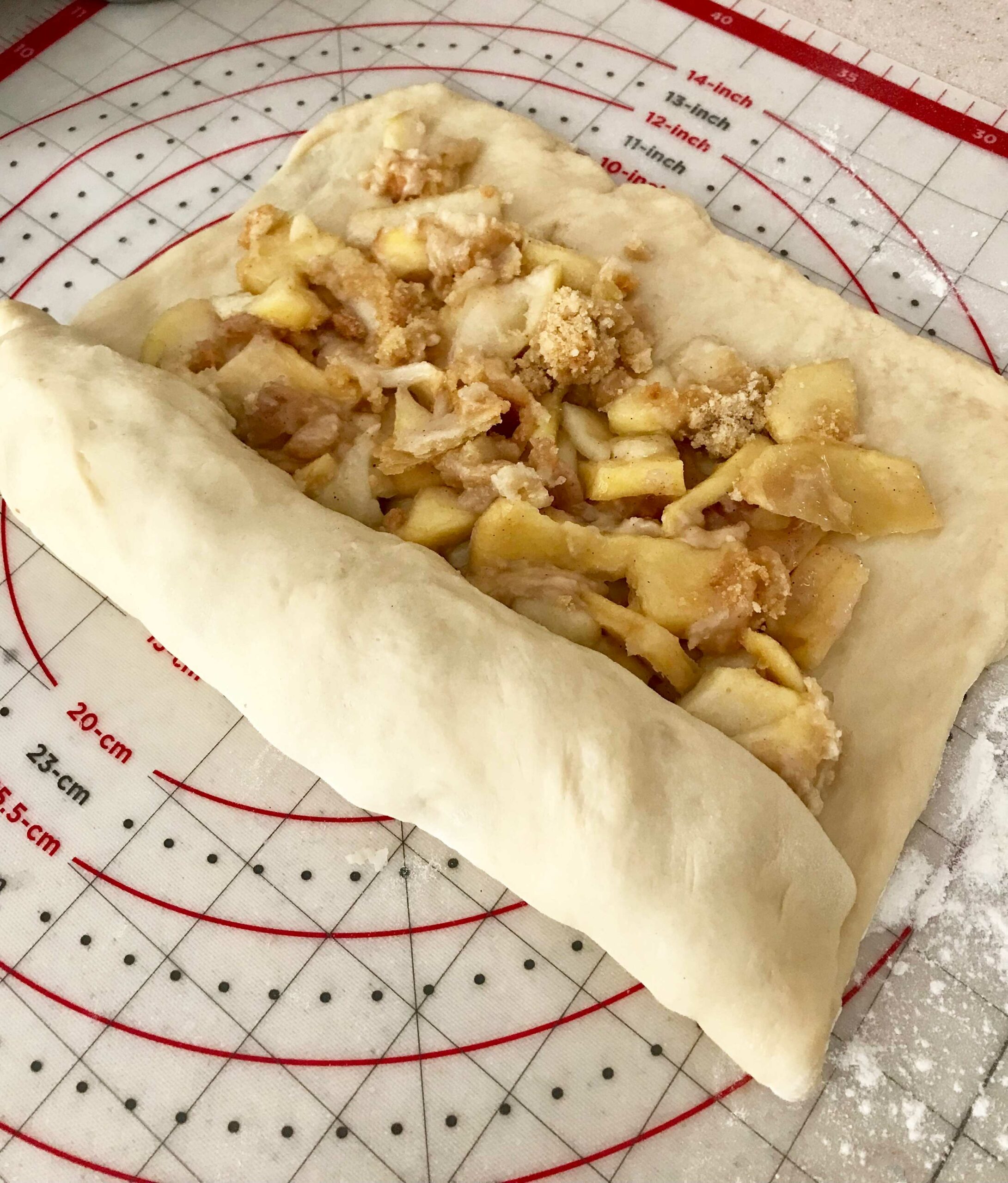 This dough worked really well, but any cinnamon roll dough should work. The texture of these Apple Pie Cinnamon Rolls was light with pie mixed through, and not very gooey. You could make them a little more gooey and rich by brushing a little butter, brown sugar and cinnamon in addition to the apple pie. I just went with straight apple pie for this round. And believe me, there will be a second round!
I put 4 in a cast iron skillet and the other 3 in another pan to rise and bake. Here they are before rising.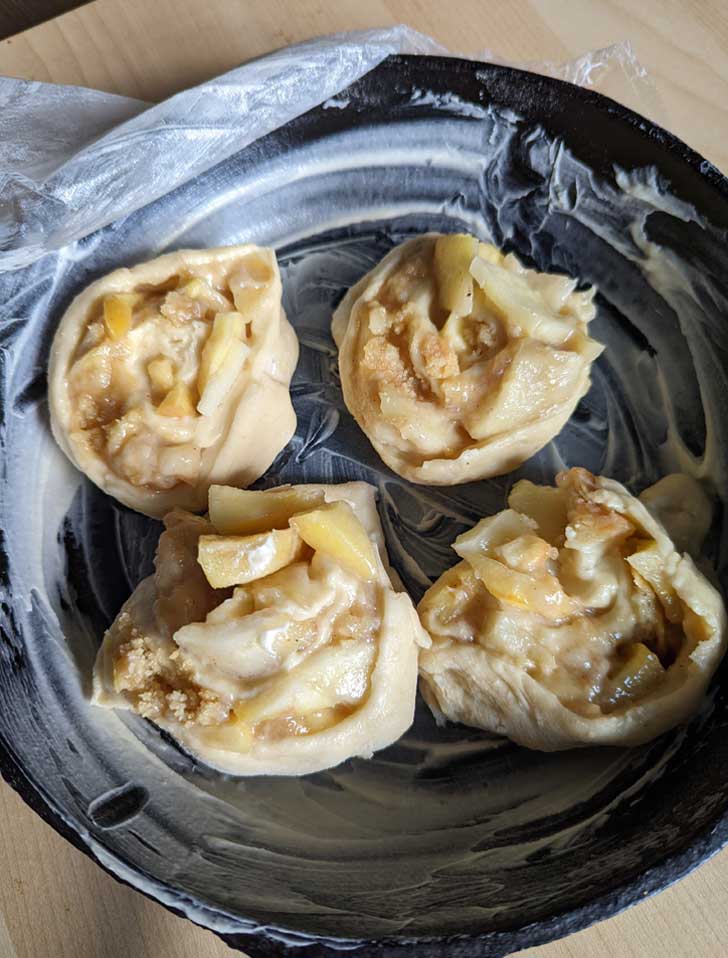 These were fun, and now we have 6 more left in the freezer. If you try the recipe or attempt it with a different flavor pie, let me know! I'll post updates when I try it with another fruit pie. I might even test it with pecan pie.
Recipe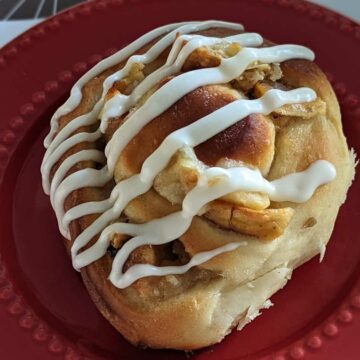 Apple Pie Cinnamon Rolls
Soft cinnamon rolls filled with apple pie. Literally.
Ingredients 
Lots of butter for greasing pan

½

cup

whole milk

(120 grams)

1 ⅛

teaspoons

active dry yeast

4

tablespoons

granulated sugar

(50 grams)

1

large

egg, room temperature

2

tablespoons

plus 2 teaspoons salted butter or margarine, softened

(40 grams)

2 ¼

cups

all-purpose or bread flour, divided use

(280 and 35 grams total)

½

teaspoon

kosher salt (Morton) or table salt

Leftover apple pie, mostly apples and some bits of crust
Vanilla Icing
2

tablespoons

salted butter, softened (or use unsalted and add a pinch)

1

cup

powdered sugar

(120 grams)

2

tablespoons

milk or as much as you need

(28 grams) pr as needed
Instructions 
Grease a 9 x13 inch pan or two 8 x10 inch cast iron skillets generously with butter.

Heat the milk to around 105 degrees. Add a teaspoon of the sugar along with the yeast, then give it a stir and let proof for about 10 minutes.

In a stand mixer bowl, beat the softened butter, egg and remaining sugar until creamy. Beat in the salt, then add the carefully measured 280 grams (2 cups) of flour. Keep the other ¼ cup of flour nearby for adding later.

Stir until mixed, then pour in the proofed yeast/milk mixture. Mix as well as you can by hand, then put the bowl on the stand and attach the dough hook.

Start kneading with the dough hook. About a minute after you first start kneading, note whether or not the dough is still clinging to the side of the bowl. It probalby will be. Begin adding the reserved ¼ cup flour 1 tablespoon at a time, Kneading (and scraping every so often) for about 6 minutes or until dough is smooth and elastic and clings to the hook and bottom of bowl only (not sides). So far I have only had to add about 2 tablespoons of the extra ¼ cup flour.

Scrape the dough into the center of the bowl to form a ball, then cover and let rise for an hour. If you need the bowl for other things, you can transfer to a greased bowl and cover. (Lately I've been letting dough rise in the mixing bowl without extra oil, then plopping it onto a pastry mat dusted with plenty of flour)

Let rise for 1 hour or until doubled in bulk.

Punch down the dough and turn it onto a lightly floured pastry mat. Press into a rectangle about 16 by 10 inches with the 10 inch sides on the top and bottom.

If you want richer rolls, brush your rectangle lightly with some extra salted butter and a bit of cinnamon sugar or brown sugar. I did NOT do this, but was happy with the richness level of the rolls.

Spread apple pie pieces, mostly apples with some bits of crust, onto the rectangle and press them into the dough. Starting at the top, roll downward to make a cylinder, pinching together as you go to hold in the pie. Hold the cylinder together with one hand and use the other hand to carefully slice rounds about 1 ½ inches thick. Place about ½ to 1 inch apart in your greased pans. Cover with a piece of greased plastic wrap and let rise for another 45 minutes or so.

Preheat the oven to 400 degrees F.

Bake at 400 degrees F for the first 15 mintues.

Reduce oven heat to 350 and bake for another 10 to 15 minutes or until a thermometer inserted in the dough part of a roll stops at 205 degrees F.

To make the icing, just beat together the softened butter and powdered sugar. Add the milk gradually and stir until icing is smooth. Add a little vanilla. You can spoon it over the rolls or put it in a freezer bag, snip off the bottom corner and pipe it over.