The people on our street are rather sociable, and tonight they have organized an Easter Egg Hunt. My contribution is 16 filled plastic eggs and a batch of these oatmeal crusted brownies.
This recipe, which is a lot like Revel Bars or the old Fudge Jumble Bars that Pillsbury used to sell.  It has a base of oatmeal cookie, a layer of fudgy brownie and a final topping of more crumbled oatmeal mixture. It can be made entirely from scratch, or you can do what I did and try making the middle with brownie mix. As much as I appreciate scratch brownies, I did enjoy the ease of the boxed mix version and knowing the middle would turn out just as planned. In this case, the brownie layer is very fudgy and dense like the brand of brownies I used. Make sure you don't over-bake.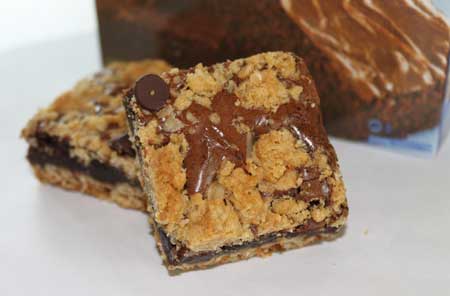 Summary: Like Revel Bars or the old Fudge Jumbles, but with a brownie center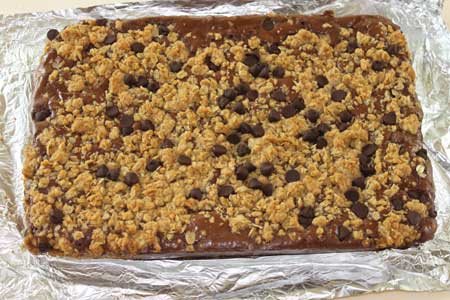 Ingredients
2 1/2 cups oats
3/4 cup all-purpose flour
3/4 cup packed brown sugar
1/2 teaspoons baking soda
1 1/2 sticks (6 oz butter)
, melted
19 oz box brownie mix (Pillsbury Fudgey Style Family Style)
1/2 cup oil
1/4 cup water
2 large eggs
3/4 cup dark or semi-sweet chocolate chips
Instructions
Preheat oven to 350 degrees. Line a 9×13 inch metal pan with non-stick foil.
In a large mixing bowl, mix together oats, flour, brown sugar, salt (if using) and baking soda; stir in butter. Reserve 1 cup of the oatmeal mixture and put it in the refrigerator to chill. Press remaining oatmeal mixture in pan. Bake 10 minutes; cool for at least 5 minutes.
Prepare brownie batter. In a mixing bowl (I used the same one from the oatmeal), mix the brownie mix, oil, water and eggs and beat 50 strokes with a wooden spoon. Spread dough over baked layer. Crumble up chilled, reserved oatmeal mixture and sprinkle it over the top. Sprinkle on the chocolate chips.
Bake for 30 minutes or until top appears set. Cool completely. Chill if desired (It will give you a cleaner cut). Lift from pan, set on a cutting board and cut into 32 squares
Quick Notes
Very easy and a great make-ahead.
Variations
Look for scratch versions if you don't like brownie mix.
Cooking time (duration): 15
Diet type: Vegetarian
Number of servings (yield): 12
Meal type: dessert
Culinary tradition: USA (General)
Related posts: