It's been a while since I talked about Revel Bars, but this week we needed a last minute bake sale item and the fudge filled oatmeal bars (Fudge Jumbles) I loved as a kid came to mind. They have a tempting appearance, are easy to cut and wrap, and they taste great. Plus you get the best of both worlds -- oatmeal cookies and fudge!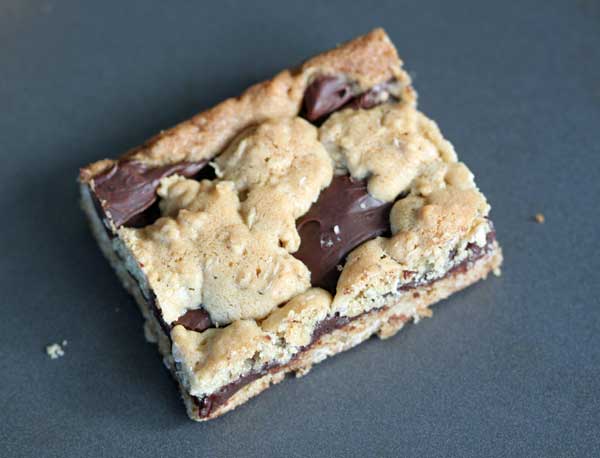 My Favorite Revel Bars Recipe
There are lots of variations on Revel Bars, but the one I usually use calls for 2 ½ cups of flour, 3 cups of oats a full cup of butter and 2 eggs. The key with this version is not to not accidentally pack in too much flour and to not over-bake.  If you have a scale, you can weigh the flour -- 10.5 to 11 oz works for me.  Otherwise, just be sure to stir it and aerate it will before measuring.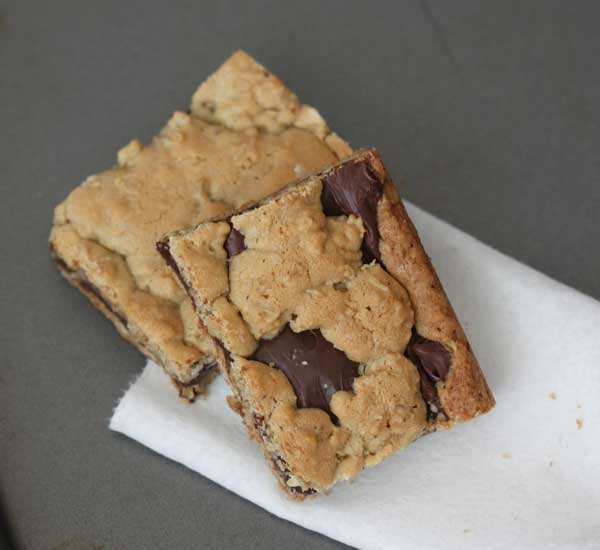 And this recipe gives you lots of bars. For bake sale purposes you might want to cut them very large (you'll get at least 24), but if you are making them for a party or get together, you could easily get 60 small squares. And if you don't need all those squares or want to use your ingredients for another recipe, you can halve this one very easily and use a 9 inch square pan.
As I made this batch I got kind of fixated on Revel Bars and their many variations, so maybe I'll try a few more and let you know if one seems better than the others.
Recipe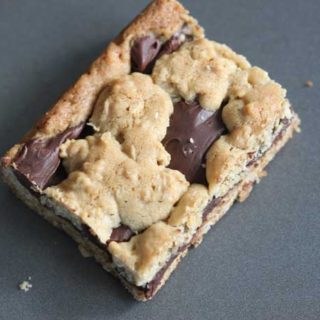 Oatmeal Fudge Revel Bars
Oatmeal Fudge Revel Bars (also known as Fudge Jumbles) are oatmeal bars with a creamy fudge filling. Some versions call for peanut butter, but this one does not.
Ingredients 
Oat Crust:
2

sticks

unsalted butter, 8 oz, salted

(230 grams)

2

cups

tightly packed light brown sugar

(400 grams)

2

large

eggs

2

teaspoons

vanilla extract

2 ¼ to 2 ½

cups

well stirred all-purpose flour

(290 grams)

1

teaspoon

baking soda

1

teaspoon

salt

if using salted butter, decrease to ½ teaspoon

3

cups

quick cooking oats
Filling:
1

can

sweetened condensed milk

14 oz can weighing (392 grams)

Tiny Pinch of salt

omit if using salted butter

2

tablespoons

unsalted butter

(28 grams)

12

oz

semisweet chocolate chips

1

teaspoon

vanilla
Instructions 
Preheat oven to 325 degrees F. Line a 10x15 inch pan with nonstick foil or line with regular foil and grease the foil.

In a large mixing bowl, beat the softened butter and brown sugar until creamy. Beat in the eggs and vanilla, scraping sides of bowl often.

Mix together flour, baking soda and salt. Add flour mixture to batter gradually, stirring until blended, then stir in the oats.

Drop about ⅔ of the mixture (30 oz by weight) in globs on the lined pan, then dampen your fingers and press to make a crust. Put the rest of the oat mixture in the refrigerator (this makes it easier to crumble) while you make the fudge filling.

Fudge Filling: Combine the condensed milk, pinch of salt and butter in a large saucepan and heat over medium just until condensed milk is very hot and butter is melted. Add chocolate chips, then reduce heat to medium low and stir until smooth. Remove from heat and stir in vanilla.

Spread filling evenly over crust.

Crumble reserved oat mixture over the top leaving gaps here and there.

Bake for 25 to 30 minutes (25 works for me) or until topping is light brown around the edge. Fudge should still seem very soft, but it will set as it cools.

Allow the bars to cool completely. If you have room in your refrigerator, you may want to chill them a bit for neater slicing.

Lift from pan, put them on a big cutting board and cut into large squares.
Notes
Most versions of the recipe call for 2 ½ cups of flour, but since flour varies in moisture and people pack it in cups differently, 2 ½ cups may be a little high. For best results, I recommend using 2 ¼ cups (if no scale) or weighing out 10.5 oz.
Do you have a favorite variation on Fudge Revel Bars?