Frozen Lemonade Pie is an old recipe that uses lemonade concentrate, a product found in the frozen foods section of the grocery store. Minute Maid makes it, and then there's usually a store brand as well. My mother used to buy it all the time when I was a child, but then along came Crystal Light and the little squeeze bottles of lemon flavor that you put in water bottles, and the sugary lemon concentrate was no longer a regular grocery item. But it has its uses, and this pie is one of the best.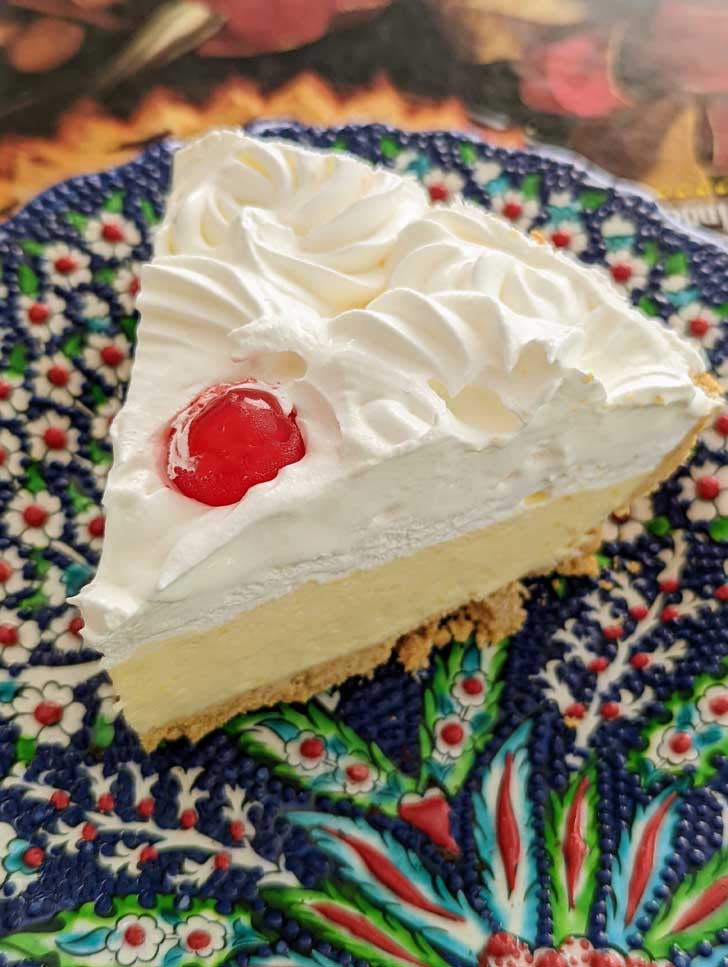 Frozen Lemonade Pie Sizes
This Lemonade Pie can be made two ways. You can make one pie in a homemade deep dish graham crust or you can buy two 6 oz grocery store Keebler type ready made graham crusts for two shallower pies. Smaller shallower pies give you plenty of room for a thick layer of whipped cream topping. Also, the small pies are a slightly easier to serve and cut into modest size pieces. This make it easier for people to cut sample size pieces when there are a lot of other desserts on the table.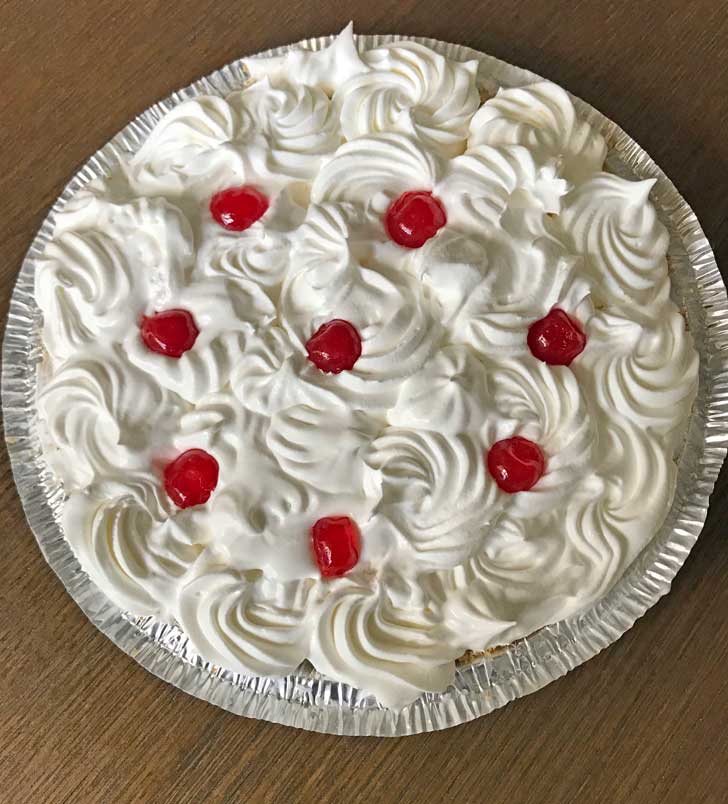 Leftover Lemonade Concentrate
Some stores sell small tubes of lemonade concentrate, but you may end up having to buy a larger package If you have leftover lemonade concentrate, you can pour it into ice cube molds and freeze it. It adds a little lemony sweetness to smoothies, or you can use it to make frosty lemonade.
Recipe
Frozen Lemonade Pie
A light and creamy lemon pie made with lemonade concentrate. This version of the recipe was inspired by one I saw in Our State magazine.
Ingredients 
2

small

store-bought graham cracker crusts

Such as the Keebler 6 oz Ready Crusts
Lemon Filling
¾

cup

evaporated milk

1

package

lemon pudding mix (3.4 oz)

16

oz

cream cheese, softened

¾

cup

lemonade concentrate

¾

teaspoon

lemon zest

½

teaspoon

vanilla extract (optional)

3 ¾

cup

whipped topping or sweetened whipped cream

an 8 oz tub or equivalent fresh whipped cream

Cherries (Maraschino or fresh) for garnishing
Instructions 
Whisk together the evaporated milk and the lemon pudding mix and let it thicken slightly while you beat the cream cheese.

In the bowl of a stand mixer or with an electric hand held mixer, beat the softened cream cheese until light and fluffy. Gradually add the lemonade concentrate, beating until well mixed. Beat in the lemon zest and vanilla extract

Stir the lemon pudding mixture into the cream cheese mixture until smooth.

Divide the lemon mixture between the two unbaked crusts and cover with sheets of plastic wrap (or use the little plastic dome that comes with the crusts). Freeze for at least 4 hours or until firm. Once firm, cover the pies with whipped cream or whipped topping. Garnish with Maraschino cherries if desired. Return to the freezer and keep frozen until about 30 before you are ready to serve.

To serve, allow the pies to stand at room temperature for about 30 minutes before slicing. Alternatively, you can pop the pies out of the crust and cut into slices while frozen. Plate, then let the plated pie slices come to room temperature. If you are only serving 2 or 3 people, you can plate the frozen pie slices and put the rest in a freezer bag for later.