Happy Fourth of July! I hope you're having a good one. Ours has been really nice due to the fireworks ban, as there are no wild and tormented (or otherwise sedated) dogs running around.
I  didn't miss the fireworks at all.  It would have been fun to have a few sparklers, but we had good company, good food and even a flag cake.  Never mind that it looked like a five year old made it, people loved it!   Next year I'll put more time into it and maybe enlist the help of Fuzz, who was too busy playing on the neighbors' Slip & Slide to help.
A Strawberry Refrigerator Cake Recipe is what I used, but with a thin layer of whipped topping across the top so the stripes would be white and not a yellow vanilla pudding mix color.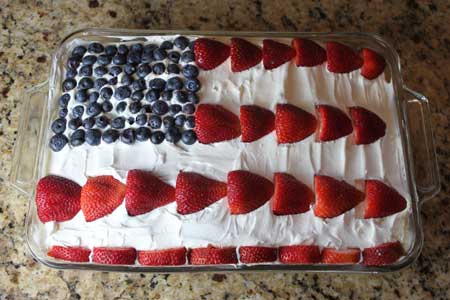 While the flag cake was chilling, I made two other things, including these Red, White and Blue Rice Krispies Treats. The color didn't turn out quite right, unfortunately. If you have any tips on making a deep red, white and blue, let me know.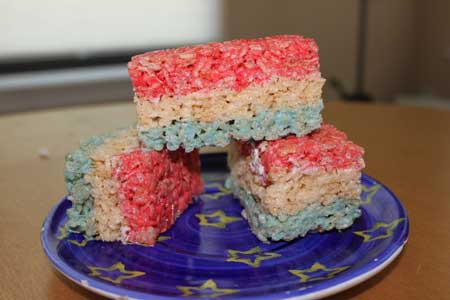 Colors weren't an issue in these cheesecakes, though.  A little Wilton Royal Blue Gel and Wilton Red Gel made them delightfully garish. I would have preferred  plain cheesecakes topped with berries or even red, white and blue sprinkles, but the food coloring was on the counter and I just had to try this.  Next time I'd probably due it with a little less blue….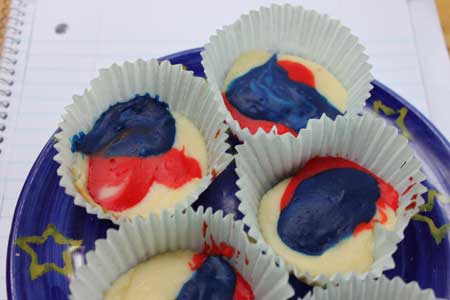 Mini Cheesecake Cups
18 vanilla wafer cookies
16 oz cream cheese, softened
3/4 cup granulated sugar
2 large eggs
1 teaspoon vanilla extract
Preheat oven to 350ºF. Line muffin pans with cupcake papers.  Line 18 muffin cups with paper liners and put a vanilla wafer on the bottom of each one.  Beat the cream cheese and sugar until smooth. Reduce mixer speed to low and beat in the eggs and vanilla. Measure out about 1/2 cup of batter and divide it between two custard cups. Dye one part blue and another part read. Spoon most of white batter over the wafers, dividing evenly. Then spoon bits of red and blue and remaining white over the wafers, diving evenly among all 18. Bake for 15-17 minutes. Let cool completely, then chill for a few hours. For taller cheesecakes, use fewer wafers (12 to 16) and make fewer cheesecakes. Mine were short.
Related posts: